Stalking Invasive Species
Latest efforts enlist waterfowl hunters to help stop the spread
TIME TO TAKE ACTION
June is Invasive Species Action Month. Celebrate the people and partnerships taking on these threats to our ecosystems, economy and outdoor fun. Learn about new efforts that are making a difference. Help by looking for and reporting aggressive invasive species not yet detected here or present only in small numbers. For more information on invasive species in Wisconsin, check Invasive species.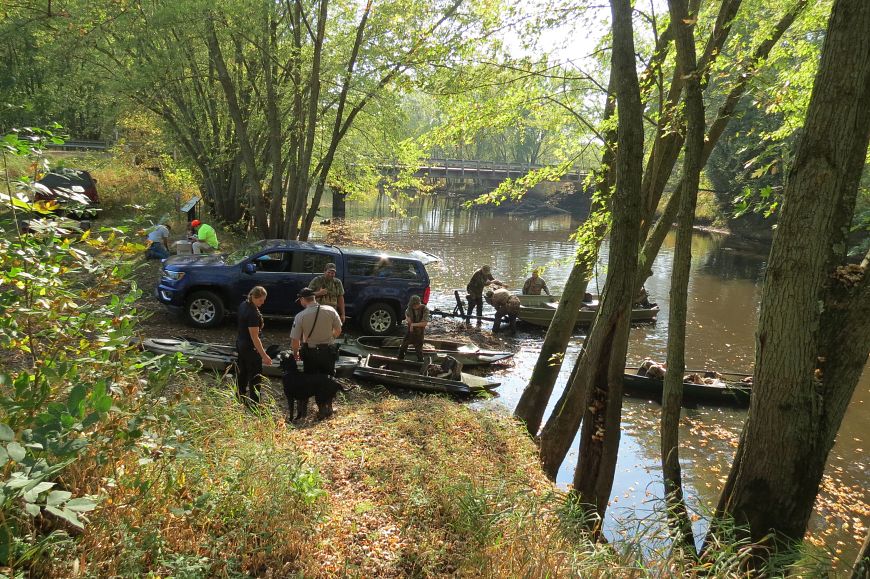 CHRIS HAMERLA
Waterfowl hunter Bruce Ross lingers in the cold and dark to drain water from his boat, pull plants and mud off his push poles, decoy anchors and bag, and clean up his dog Tar before leaving a marsh.
Tiny faucet snails hidden in mud or plants can carry intestinal flukes deadly to the scaup, coots and other waterfowl that eat them. Phragmites and non-native cattails can cling to equipment and spread to other sites, crowding out the native plants that waterfowl rely on for nesting, resting and feeding.
"Wisconsin Waterfowl Association is all about habitat restoration and making sure we're taking care of our marshes," says Ross, who is executive director of the association. "If we can keep invasive species from requiring a restoration sometime in the future … it's work well done."
Ross appeared in prevention videos for waterfowl hunters in 2019. Statewide, WWA members have been installing boot cleaning stations at wildlife areas, cutting buckthorn, phragmites and other invasive species to preserve quality habitat, and using biocontrol beetles to munch on purple loosestrife popping up in state wildlife areas.
Their efforts are an example of the growing outreach and on-the-ground projects, by hunters and for hunters, targeting invasive species as a way to protect quality wildlife habitat and the pastime they love.
"All waterfowlers should be concerned about the impact of invasive species on waterfowl," Ross says.
Invasive phragmites and purple loosestrife outcompete native plants yet don't fuel the same production of the aquatic insects that young waterfowl need. The invaders' stiff stems are poor nesting material and decrease the open water attractive to waterfowl.
Robbed of the native habitat they've evolved with over time, waterfowl will not produce as many eggs and hatchlings may not be as robust or find the foods they need.
"If we don't have the ducklings on the ground in the spring, then we don't have them in the sky in the fall," Ross says.
OUTREACH CREATES A CONNECTION
Avid hunter and trapper Chris Hamerla has worked on invasive species outreach for a dozen years, but hunting has been in the crosshairs only more recently as a potential vector.
"We've been focusing on boaters and anglers about not spreading aquatic invasive species for years, and now outreach is expanding to target hunters and other recreational users," he says.
"Fortunately, a good percentage (of waterfowl hunters) are also anglers and boaters so their awareness of invasive species is pretty good, but sometimes there's a disconnect. They don't necessarily think of spreading invasive species when they are waterfowl hunting, but they're doing the same thing boaters and anglers are doing — later in the year."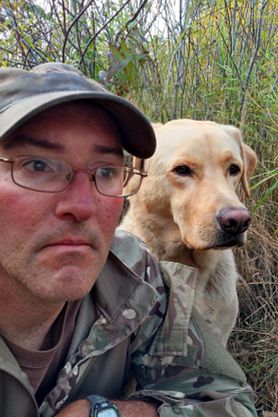 COURTESY OF CHRIS HAMERLA
Hamerla was part of the DNR's first class of "Water Guards" in 2008, deputy conservation wardens conducting outreach and enforcing invasive species laws. He now is a regional aquatic invasive species coordinator for Golden Sands Resource Conservation and Development Council Inc., which conducts invasive species outreach, education and surveys in nine central Wisconsin counties.
In 2016, Water Guards — assisted by staff and volunteers from the DNR's Clean Boats, Clean Waters initiative with the UW-Extension Lakes Program — started working opening weekend of the waterfowl hunting season at hunting access points. Hamerla has helped expand and fine-tune this and other outreach to hunters.
"Chris is the go-to person the partners rely on," says Jeanne Scherer, outreach coordinator for the DNR and UW-Extension. "He and his dog Cisco have done in-person presentations for the partnership, on local news broadcasts and at many hunter events.
"He has also provided photos and video to help the partnership get to know waterfowl hunting in particular."
PART OF THE SOLUTION
Hamerla focuses on the invasive species specifically impacting waterfowl hunting, like faucet snails and phragmites, a non-native plant hunters sometimes incorporate into their blinds. He stresses the practical prevention steps hunters can take at the end of their hunt when it's cold and dark.
"We tell them to drain their boat and do the best you can to clean off the mud and the big stuff they can see," Hamerla says. "When you're home the next day, you may see some stuff you missed, so clean that off before you go hunting at a different site."
Last fall, he teamed up with WWA's Ross and Amy Kowalski of UW-Stevens Point Extension Lakes to videotape a message to hunters and demonstrate prevention steps at the Ne Pee Nauk Duck Club on Lake Puckaway.
Find the video on the association's website: wisducks.org/habitat/invasives-control.
It's not a one-way conversation; hunters are also part of the solution, reporting new infestations of invasive species so the DNR and other organizations can tackle the invaders while their populations are still limited.
"As a duck hunter, you're used to what plants belong in the marsh and what doesn't," Hamerla says. "Being those extra eyes on the landscape … hunters are a really great partner to have."
GETTING DIRTY TO GIVE BACK
Increasingly, hunters are part of the workforce helping to control invasive species, giving back to the marsh and a pastime they love.
Through the Adopt a Wildlife Program, more than 30 fish and wildlife areas have been adopted by local groups, many of them hunting groups.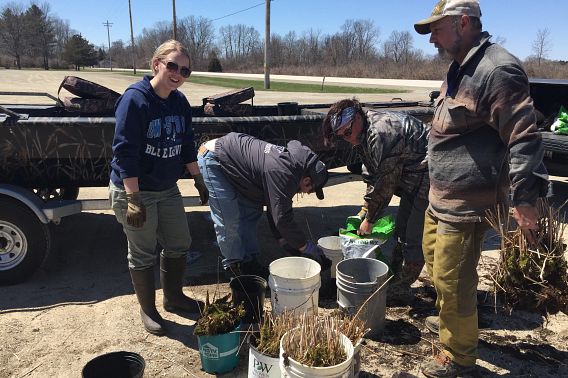 MIKE ALAIMO
The Wisconsin Waterfowl Association, for example, has agreements to care for seven wildlife areas statewide. Their volunteers do everything from building and installing wood duck boxes, to banding ducks, to controlling invasive species like buckthorn and honeysuckle.
At some sites, members have built and installed educational signage and boot cleaning stations. At Rome Pond Wildlife Area, WWA members and DNR staff worked together to raise Galerucella beetles, which eat only invasive purple loosestrife, to be returned to the marsh to chow down on that invasive species at the site. 
"There are a lot of people who want to get their fingernails dirty doing something to contribute back to the cause," Ross says. "There is so much more that Wisconsin Waterfowl Association can do and hopefully we will do."
Lisa Gaumnitz is a natural resources educator and program and policy analyst for the DNR.
Targeting invasives with excise funds boosts quality habitat on public lands
"One of the main challenges wildlife managers face is working with invasive species," says Bret Owsley, who supervises DNR wildlife management staff in southern Wisconsin.
"Invasive plants can move to an area and take over, creating a monoculture much less attractive to wildlife and they will move from that area. Certain invasive species can even make hunter access much more difficult."
Those problems are why Owsley and wildlife managers appreciate an extra bump in federal Pittman-Robertson funds targeted to invasive species control to enhance wildlife habitat. Over the past two years, more than 120 state properties have been boosted by extra investment from the funds tied to hunting-related excise taxes.
Jason Granberg, a DNR invasive species specialist administering the grant funding, notes a variety of projects benefitting from PR money, including:
Avon Bottoms State Wildlife Area, straddling Rock and Green counties, is one of the projects in Owsley's area that received funding to control invasives and restore native grasses and oak seedlings. Work will benefit turkeys, deer and pheasants — along with the hunters who pursue them.
"With the majority of the hunters in Wisconsin being deer hunters, an understory of native plants will attract more deer than a solid understory of garlic mustard," Owsley says.
Grassland birds such as grasshopper sparrows, field sparrows and Eastern meadowlarks also will benefit.
At Theresa Marsh Wildlife Area in Dodge and Washington counties, increased PR dollars and financial contributions from Ducks Unlimited made it possible to hire a helicopter pilot to spray 265 acres of non-native cattails and phragmites in fall 2019.
The spraying was followed by a prescribed burn in the winter, and a second round of spraying is planned for this year, says Angela Rusch, the DNR wildlife technician running the project. In a typical year, there is only enough money to maintain infrastructure, like repairing and mowing dikes, she notes.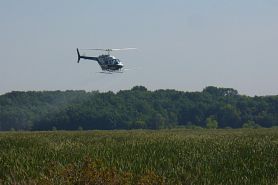 ANGELA RUSCH
"We were able to double the acreage we had planned on treating with financial assistance from DU," Rusch says. "And DU tag-teamed with DNR staff to acquire permits and bid proposals necessary to complete the treatment."
The reduction in cattails and phragmites will allow more of the native vegetation waterfowl rely on as a food source and create the open water they need for feeding and resting areas. It also will allow more open water areas, attracting more waterfowl and improving hunter access.
"The open water to emergent vegetation ratio should be 50-50," Rusch says. Recently on Theresa Marsh, vegetation "was far outweighing the open water," she adds.
Some projects allowed DNR managers to buy equipment for staff and volunteers to tackle invasive species and conduct prescribed burns on public lands open to hunting.
For example, State Natural Area crews in the La Crosse area now have a UTV-mounted leaf blower to help them more efficiently put in firebreaks for prescribed burns that can kill invasive garlic mustard and make it easier to control invasive buckthorn and honeysuckle, says Armund Bartz, a district ecologist for the DNR's Natural Heritage Conservation Program.
Buckthorn and honeysuckle often displace wild plums, hazelnuts and oak trees, which are important food sources for deer and turkeys as well as wildlife cover. 
DNR wildlife manager Sara Kehrli is using project money to tackle woody and herbaceous invasives and hybrid cattails on six properties in Columbia County — Pine Island, Mud Lake, French Creek, Swan Lake, Peter Helland and Grassy Lake wildlife areas.
On Pine Island, for example, staff used a forestry machine to mow and mulch 400 acres of mostly autumn olive, an invasive shrub, plus honeysuckle, small cedar and other woody species. They followed up with herbicide treatment on resprouting shrubs and treated 50 acres of invasive crown vetch.
In addition, by renting a forestry skidder pulling a sprayer tank, they were able to treat another 200 acres of savanna to beat back encroaching autumn olive, honeysuckle and native sumac.
Popular species hunted on this property that use grasslands or savannas for nesting or brood rearing are wild turkeys, pheasants, blue-winged teal and mallards, as well as a host of other non-game grassland and savanna-dependent species. 
"There's sort of a 'Field of Dreams' mindset here: If you build it, they will come," Kehrli says. "Providing quality habitat to these animals allows them opportunity to produce the next generation and give hunters a chance to pursue them."