A Message from the Secretary
Preston D. Cole
Although life is a little different right now, with summer upon us it's a great reason for getting into the great outdoors. Getting outdoors has both physical and mental health benefits and can help relieve stress as well as do wonders to reduce our anxieties, especially during this public health emergency.
From visiting our wonderful Wisconsin state parks and trails to hunting and fishing across the state, there are a myriad of ways for people to enjoy the outdoors safely during this pandemic. And with more than 15,000 lakes and 84,000 miles of rivers and streams across Wisconsin, there is a special fishing spot, a serene place to kayak, a quiet place to catch a sunset and more all close to home.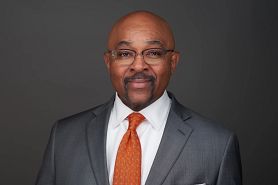 © MIKE GORSKI
This issue is dedicated to the outdoors, touching on topics including state parks, air quality, invasive species and state natural areas.
If you're looking for some ideas for adventure, the cover story, "Head outdoors for inspiration," has tips on where to find unique outdoor spaces with breathtaking scenery and ideas for simple and fun outdoor activities.
Not only does getting outside slow us down, it provides the much-needed time to reflect and relax. Taking a walk, bike ride or hike helps us to think quietly, walk softly and create memories.
Wisconsin's natural resources are truly incredible. The outdoors are essential to our health and well-being, and we encourage you to recreate responsibly. Take part in using the gift of nature and be a steward of the land.
May was Clean Air Month. In the piece, "Change in the air," you will learn how the Clean Air Act signed 50 years ago has left Wisconsinites able to breathe air every day that is clean to a degree once unimaginable and how following the science helps decision-making. The piece, "Just the kind of place to Cherish," highlights the comeback of the Lawrence Creek State Natural Area.
Other stories include the latest efforts to enlist the help of hunters and nonprofit groups to help stop the spread of invasive species. There is even a handy guide to help you spot invasive species and keep them out of Wisconsin before they spread and become more difficult and expensive to control.
We are also beyond humbled by the overwhelming support for Wisconsin's state parks. The Department of Natural Resources is committed to providing a safe environment for our visitors to enjoy, while also protecting the health of our staff.
The DNR continues to receive the most up-to-date information and we will adjust operations as conditions change. We will also continue to monitor on-the-ground circumstances each day to determine if park closures become necessary.
There may be a lot of uncertainty these days, but one thing you can count on is that Wisconsin's outdoors are available to you.