Cooperative Endeavors Spell Success
Regional nonprofit groups known as CISMAs attack invasives where they live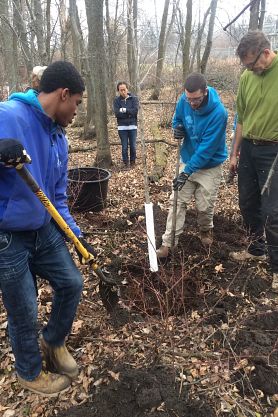 PERRY ROSSA
Lisa Gaumnitz
Giant hogweed? It's hogtied in Wisconsin.
The invasive plant — feared for its size and the painful blisters it gives to those who touch it — has been contained to a few sites in four counties thanks to a "rapid response" by the Department of Natural Resources, regional and local partners, and private landowners.
"Hogweed has not spread, the population has been reduced to one-quarter of its size, and we're working to eradicate it," says Jill Hapner, executive director of the Southeastern Wisconsin Invasive Species Consortium.
The DNR notified Hapner at SEWISC in 2016 that giant hogweed had been found in Sheboygan County. She assessed the infestation and secured a contractor to begin herbicide treatments, which have contained the two populations in that county.
Small infestations in Iron, Manitowoc and Portage counties also are being contained, and hundreds of reports to DNR of hogweed have been checked out and found to be other plants, primarily the native cow parsnip plant.
The shared success in containing hogweed is an outcome that invasive species experts hope to make more common in Wisconsin as more regional groups like SEWISC form.
These groups, known as Cooperative Invasive Species Management Areas, or CISMAs, increase the capacity to detect and quickly control "prohibited" invasive species. Such species are not yet in Wisconsin or are here only in small numbers, so control is feasible.
"These groups have very high potential," says Kelly Kearns, a DNR conservation biologist who has been working on invasive species issues since the 1980s.
"For decades, people have been working at the local level on invasives. CISMAs provide a forum for partner groups to share their work, identify needs in an area and expand to what their priority needs are."
STATEWIDE PARTNERSHIPS
These nonprofits generally bring together local groups, government agencies, businesses, landowners and other individuals working on invasive species in a geographic region. There are now 15 CISMAs and two in the works in northeastern and south central Wisconsin. Each CISMA depends on donations from residents and governments to continue their important work.
All do education and outreach to some extent, and most coordinate some form of invasive plant surveys along roadsides, lakeshores or conservation lands. Some coordinate control work of new invasive plants just coming into an area to prevent their further spread, Kearns says.
SEWISC, one of the more established groups, is coordinating assessment and control of prohibited early detection plants in Kenosha, Ozaukee, Milwaukee, Racine, Sheboygan, Walworth, Washington and Waukesha counties.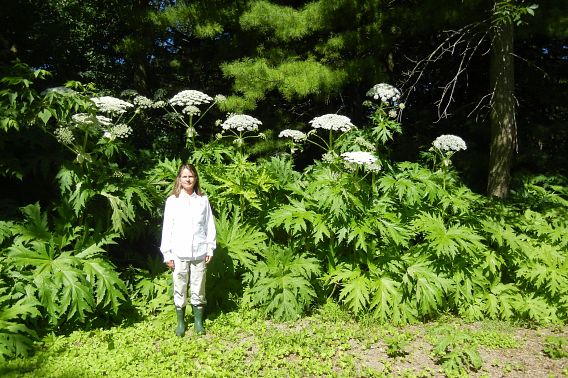 JAMES REINARTZ
"As soon as we get a report from the DNR, I can have someone local look at it that day," Hapner says.
Contractors are dispatched to the location and begin control work with the landowner's permission — and free to the landowner. "It's all starting to work like a well-oiled machine," she adds.
Other efforts, like the group's garlic mustard pull-a-thon fundraiser and past roadside surveys for key invasive species, tapped lots of local partners and volunteers. SEWISC used roadside surveys to provide local highway departments with maps and recommendations on when to mow to avoid spreading invasive plants, then secured $550,000 in a federal grant to help highway departments enact those changes.
LOCAL BUY-IN BRINGS CRITICAL RESPONSE
In other areas of the state, the Door County Invasive Species Team has worked with their townships to declare the non-native phragmites as a noxious weed, along with helping those townships to survey for phragmites.
The Lower Chippewa Invasives Partnership Inc., a CISMA working in Chippewa, Dunn, Eau Claire, Pierce and Pepin counties, similarly has conducted roadside surveys and targeted highway mowing practices to avoid spreading invasives, according to Executive Director Chris Gaetzke.
Most recently, that partnership has funneled DNR rapid response funding to local townships and county governments to control wild chervil, a plant spreading south into Dunn and Eau Claire counties, and to slow the spread of the invasive Amur cork tree.
After the Lower Chippewa Invasives Partnership discovered Amur cork tree in Dunn County in 2015, they surveyed the tree density and successfully received three grants to pay up to 90% of the cost of arborists, loggers and local students to cut, treat and remove these trees.
Residents continue to control this tree on their own and the LCIP is working with the city of Menomonie to develop a revised ordinance requiring removal of female Amur cork trees in city limits, Gaetzke says.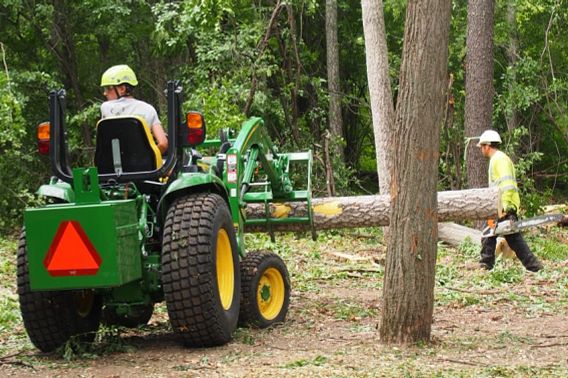 LOWER CHIPPEWA INVASIVES PARTNERSHIP
Such local buy-in is critical to the success of invasive species control efforts.
"It's never one and done," he says. Controlling a population of invasive species, even a relatively small and newer one, takes multiple years.
CISMAs bring people from different backgrounds and viewpoints together in a neutral location to focus on the common good.
"We try to find those folks already organized and help increase their capacity," Gaetzke says. "CISMAs are the only way you're going to get lots of work done … and keep up the enthusiasm."
Lisa Gaumnitz is a natural resources educator and program and policy analyst for the DNR.