Partners Tackle Bird Conservation Near and Far
Lisa Gaumnitz
IN THIS ISSUE: ABOUT BIRDS
Partners tackle bird conservation near and far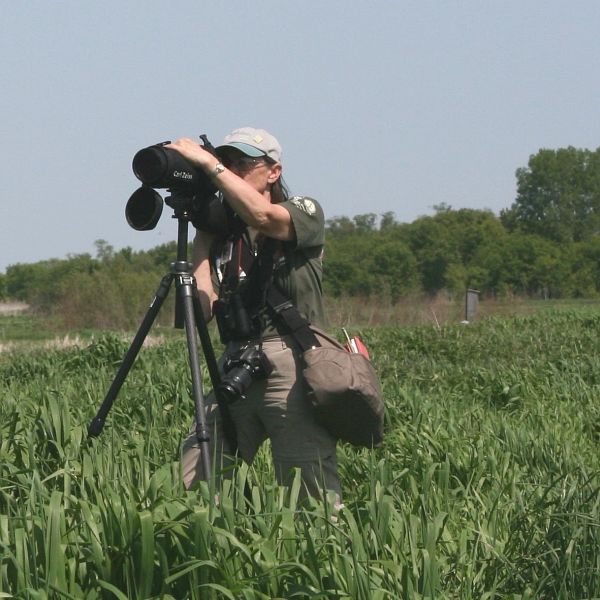 ©COURTESY OF KAREN ETTER HALE
Karen Etter Hale discovered the beauty and wonder of birds as a 4-year-old taking yard walks with her Aunt Peg in Lake Mills.
"Birds are captivating," she says. "They fire the imagination with their flight, diversity, beauty and fascinating behaviors. And because you can find them everywhere, birding is like a treasure hunt. Birds are our direct connection with nature."
Her early experiences launched a six-decade flight path of appreciating birds and working on their behalf, including 25 years as executive secretary for Madison Audubon and, for the last 18 years, as chair of a coalition of 180 partners committed to conserving Wisconsin's native birds.
Now, as study after study documents birds' declining fortunes globally and at home, Etter Hale finds hope in the comeback in Wisconsin of bald eagles, sandhill cranes, wild turkeys, eastern bluebirds, peregrine falcons and more — and in the growing partnerships of organizations and individuals working to save birds.
"In Wisconsin, we have all of these groups working very hard," she says. "We know what needs doing. By collaborating and not duplicating efforts, we will make more progress in bringing back our birds.
"None of us can do it alone. Focusing on that and on all the great people working on behalf of birds is what keeps me going."
The Wisconsin Bird Conservation Partnership, Southwest Wisconsin Grasslands Network and the Neotropical Flyways Project are some of the many partnership efforts working together to save Wisconsin birds.
Partners work at large geographic scales to better protect and restore bird habitat here and in the Central and South American lands where dozens of Wisconsin's migratory bird species winter.
Here's a look at each of these partners working on behalf of birds.
WISCONSIN BIRD CONSERVATION PARTNERSHIP  
More than 65 bird clubs, hunting and fishing groups, government agencies, land trusts, nature centers, environmental groups, universities and businesses came together in 2001 to create the Wisconsin Bird Conservation Initiative.
Members pledged to work collectively to assess bird populations, restore bird habitat, promote breeding bird populations, protect migrating species and help more people enjoy watching birds.
In the organization's first 18 years with Etter Hale at the helm, the number of partners grew to 180. Collectively, they identified and designated 93 Important Bird Areas, critical habitat sites for birds statewide, and developed the Wisconsin All-Bird Plan detailing actions to save 116 species most in need of help.
Partners actively engaged citizens in bird conservation through volunteer monitoring projects and establishing the Bird City Wisconsin program. More than 110 communities are now recognized as Bird Cities for everything from installing nest boxes, to hosting bird festivals, to working with the Milwaukee Bucks to incorporate bird-friendly measures at Fiserv Forum.
In the last two years, the group released a new strategic plan, swapped the "Initiative" in its name to "Partnership" to better characterize the longstanding effort, and unveiled a new logo. They brought on board a project manager to evaluate the status of the 93 Important Bird Areas.
"Our goal is to determine which five to 15 would be highest priority to have conservation actions that can help keep common birds common and bring back those that are declining," Etter Hale says. "We'll partner with local stakeholders to develop strategies for each of these, which will serve as a catalyst for the rest."
 Learn more: wisconsinbirds.org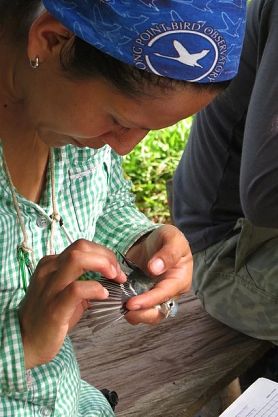 ©NICK BAYLY
SOUTHWEST WISCONSIN GRASSLANDS NETWORK
In 2009, the DNR completed a master plan for a nearly 500,000-acre area in southwestern Wisconsin as one of the best opportunities in the Upper Midwest to conserve the open grassland and savanna habitats eastern meadowlarks need — and to reverse their population decline, along with declines in Henslow's sparrows, bobolinks and many other grassland birds.
That Southwest Wisconsin Grassland and Stream Conservation Area is now embedded in an even larger partnership project, the Southwest Wisconsin Grasslands Network. The DNR and over a dozen federal, state and county agencies, land trusts and other nonprofit conservation organizations have joined to work with landowners and each other toward common goals of protecting and managing grasslands for the benefit of wildlife, water quality and working lands.
Cindy Becker is coordinating the effort. She has been involved in private lands outreach and education in the Driftless Area for 13 years and before that worked as an inventory botanist, surveying sites across the Midwest.
 "We have a lot of people already doing amazing work," says Becker, who works for the Driftless Area Land Conservancy out of its Dodgeville office in a position mostly funded by the DNR's Natural Heritage Conservation Program and the U.S. Fish and Wildlife Service.
"There's a lot of energy around the issue of grassland birds and, more recently, pollinators."
The network area includes a high number of unplowed prairie remnants, concentrations of rare grassland plants and animals, and many landowners who already maintain open fields and pastures. Some have voluntarily enrolled their croplands and grassland fields in conservation programs that pay for erodible fields to be planted to grassland cover including prairie restorations, left uncropped or planted with cover crops.
Network partners are seeking new landowners who may be interested in preserving grasslands. Becker listens to their hopes for the land, talks about the rare and high quality resources they may already have, and steers them to the agency or program that may be the best fit.
To aid those efforts, Becker and partners are writing a landowners' guide to agency partners and programs providing technical and financial help. They're also seeking out grant opportunities to expand funding sources and working to complete grassland restoration projects on private lands across the region.
In 2021, the network's "Celebrate Grasslands" exhibits funded by a Cornell Lab of Ornithology grant will rotate through local libraries including in New Glarus, Mount Horeb, Dodgeville and Mineral Point. Family field days will aim to introduce more landowners to grassland birds and opportunities to help them, Becker says.
"Our survey of landowners in the region shows grassland birds matter to people as an influence for their decision-making. That was surprising to me and inspiring," she says.
"We really all do have a common ground. Landowners do what they can individually to benefit wildlife and water, and collectively, all of these efforts are making a big difference."
 Learn more: driftlessconservancy.org (under "What We Do" tab)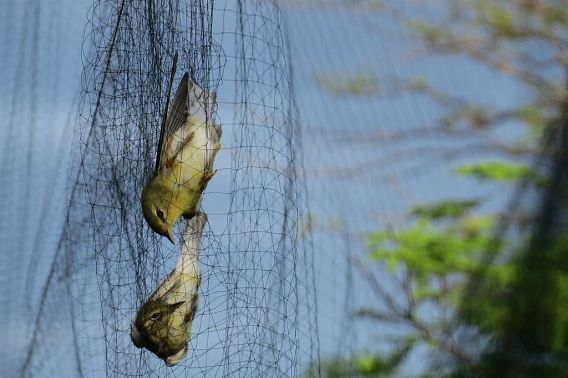 ©NICK BAYLY
NEOTROPICAL FLYWAYS PROJECT
Half of Wisconsin's bird species are considered neotropical migrants, meaning they spend the winter in Mexico, Central and South America and return here in the spring to nest.
"So what happens in Nicaragua, Colombia, Panama, Mexico — really all of Central and South America — impacts our birds," says Craig Thompson, who leads the DNR's bird conservation efforts.
Forests in those places are declining, being converted to agriculture and degraded for fuel wood, which in turn reduces winter habitat for Wisconsin birds. One third of the 340 migratory bird species in the U.S. are declining in part due to habitat loss and other threats in these lands.
"We have to have conservation strategies that are hemispheric in scope, and that is very challenging to do," Thompson says.
One challenge is a lack of knowledge about migration and critical stopover sites in the southern hemisphere. To help find answers, the DNR and the Natural Resources Foundation of Wisconsin are part of a partnership with the Cornell Lab of Ornithology and a nonprofit in Colombia called SELVA to identify critical migratory stopover regions and habitats.
Money raised through the Natural Resources Foundation's Great Wisconsin Birdathon, which continues through Oct. 15, helps to pay for this and eight other priority projects aiding Wisconsin birds.
New stopover sites will be identified and mapped, and mist netting and radio tracking will determine how birds use these sites. Study results will be used to develop conservation plans.
"The Neotropical Flyways Project is unlocking the secrets of hemispheric migration," Thompson says. "The effort will help ensure this avian phenomenon that has played out over eons will continue and thrill bird lovers well into the future."
Lisa Gaumnitz is a natural resources educator and program and policy analyst for the DNR.
LEARN MORE ABOUT SIMPLE WAYS TO HELP BIRDS
3 Billion Birds Gone is the simple, stark name of a website — a cooperative effort of bird conservation groups — designed to draw attention to the dire challenges facing many bird populations today.
The website offers details on the billions of birds lost since 1970, a video looking at "What's Behind the Declines?" in bird populations and ways everyone can help be part of the solution. The latter includes "7 Simple Actions to Help Birds."
In short:
• Make windows safer;
• Reduce plastic use;
• Keep cats indoors;
• Plant native plants;
• Do citizen science;
• Drink shade-grown coffee; and
• Avoid pesticides.
For more on bird declines and ways to help, check 3billionbirds.org. For bird habitat and conservation information from the DNR, go to dnr.wi.gov and search "birding."