Run for the record books
Ultrarunner takes on the Ice Age Trail to become fastest ever 'thousand-miler'
Story by Joshua Morris and photos by Kevin Youngblood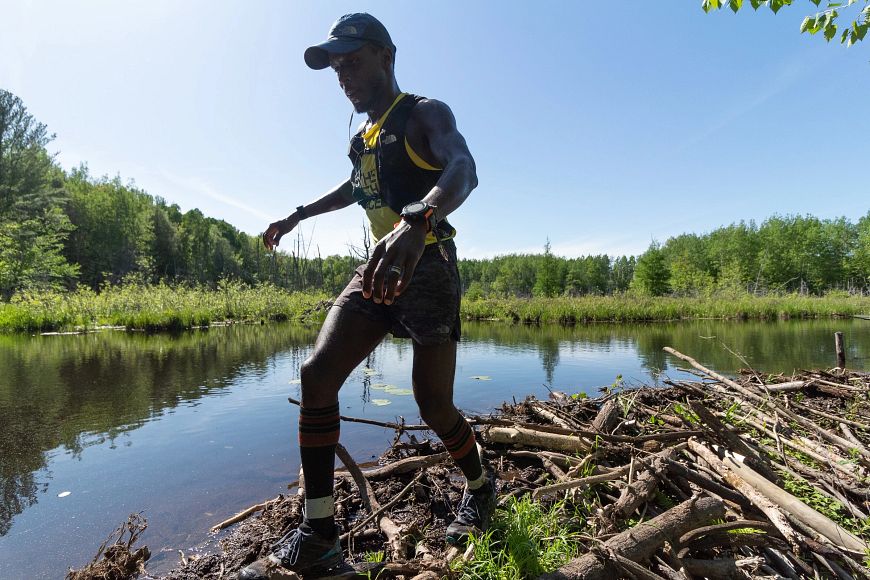 Setting out to run the fastest known time for Wisconsin's Ice Age National Scenic Trail was not a deliberate goal for Coree Woltering.
The ultrarunner from Ottawa, Illinois, stumbled on the idea of running the trail after all other races were canceled due to COVID-19. Shifting gears, Woltering added a few tweaks to his training routine and was off to the races.
Woltering took three weeks to prepare for breaking the IAT's fastest known time (FKT) and three more weeks to run it to completion. On June 22, he finished the roughly 1,200-mile run in 21 days, 13 hours and 35 minutes, beating the previous FKT record set by Milwaukee's Annie Weiss by just about 4½ hours.
"I didn't necessarily do any special type workouts or anything," said Woltering, who already does much of his training at Devil's Lake State Park and the Kettle Moraine State Forest-Southern Unit, which features a segment of the IAT.  The terrain was familiar enough for him to comfortably choose the IAT for his next trail run despite the spontaneity of that decision.
"Training in the Wisconsin area provides a perfect mix of runnable terrain but hilly enough that it's challenging," he said. "If you can do well here, you can usually also do well when you go to other places."
The Ice Age Trail is unique in that it is one of only 11 National Scenic Trails in the U.S. It is cooperatively managed by the Wisconsin Department of Natural Resources, the National Park Service and the Ice Age Trail Alliance.
Over a million people use the IAT each year to hike, backpack and meditate while being surrounded by beautiful Wisconsin scenery. In its 60-year history, many have finished the lengthy hike, whether segmented or all at once, earning the coveted designation of "thousand-miler."
Only a select number of people run the trail for a record time, and only one holds the FKT record. As of now, that's Woltering.
CHALLENGES APLENTY
Woltering started running on June 1 at the IAT's western terminus, located in Interstate State Park in St. Croix Falls. To beat the record, he planned to run roughly 50 miles a day.
By day six, he had experienced a heavy barrage of obstacles during the run, including an ankle sprain that would plague him for the entirety of the race.
"The funny story would be the remnants of the tropical storm (Cristobal) that were coming across Wisconsin," he said. "We had ticks, mosquitoes, mud, humidity and water.
"I didn't think it was funny then, but I can laugh about it now."
As with many ultrarunning events, the last legs of Woltering's Ice Age Trail run were the most challenging. With more than 1,000 miles of the IAT behind him, he had to muster all the strength he had left if he had any shot of breaking the FKT.
He endured a final push of roughly 157 miles in 40 hours, sacrificing two nights of sleep in the process, and finished at the trail's eastern terminus in Door County's Potawatomi State Park.
On top of becoming the new FKT record holder, Woltering also raised over $28,000 for Feeding America, a national nonprofit that assists food banks across the country. Donations to his "Big Run for Grub" can still be made; check Facebook - Big Run [exit DNR] to learn more.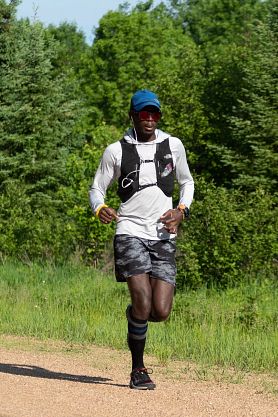 WINDING ROAD TO SUCCESS
Like the changes that led to his record trail run, Woltering's origin in the sport of ultrarunning follows a recurring theme of shifted plans. In high school, he began running merely to stay in shape for other sports but eventually realized he had what it took to run competitively.
In college and his early 20s, Woltering began training and participating in cross country, half Ironman races and other triathlons. While living in Colorado in 2014, he was intent on becoming a professional triathlete.
After training with a group of trail runners, Woltering realized he was
most passionate about this form of running. Ultrarunning generally means any race over the marathon distance of 26.2 miles.
Approaching seven years as an ultrarunner, Woltering, now 30, adds the new Ice Age Trail FKT to a long list of career accomplishments. He is sponsored by The North Face and has participated in races internationally, reaching as far out as Japan.
Woltering said he runs because of his passion for competition and trails, and he uses his platform to promote diversity in outdoor sports.
Joshua Morris is a communications specialist in the DNR's Office of Communications. Kevin Youngblood is a freelance photographer who spent three-plus weeks chronicling Coree Woltering's Ice Age Trail journey for UltraRunning magazine.
ABOUT THE ICE AGE TRAIL
The Ice Age Trail Alliance has information for everyone from history buffs to day hikers to aspiring thousand-milers. Check Ice Age Trail Alliance [exit DNR] to learn more.
HEAR MORE 'OFF THE RECORD'
Shortly after completing a new fastest known time on the Ice Age Trail, ultrarunner Coree Woltering sat down with Katie Grant, the DNR's digital publications section chief, to talk more about his record-setting experience.
An excerpt of their conversation is featured below. You can hear the full interview on an upcoming episode of "Wild Wisconsin: Off the Record," the DNR podcast that brings you inside voices on Wisconsin's outdoors. Find it at: Wild Wisconsin - Off the Record.
Q: Have you ever done a race that's this long before or this many consecutive days?
A: No. So, the longest race that I've ever done was like 106 miles.
For consecutive days maybe a little over a week, but it wasn't all just running. So, yeah, this was completely different for me.
Q: What was the longest single day run you did?
A: So, in like a 24-hour period, I believe I covered 104 or 105 miles in one stretch.
Q: You got into this run sort of at the last minute. What does it look like
to train for something like this?
A: For me, I was going about it as if I was training for a 100-mile race or something. I didn't really increase my overall run volume. I didn't necessarily do any special type workouts or anything.
I guess the biggest thing was that I had a couple weeks where we did some back-to-back long run days. Or I'd go out for maybe four hours on one day and six hours the next day.
I didn't put in a six-month build of big back-to-back long run weekends or big midweek workouts. I just consistently ran 80 to maybe 100 miles a week for a few weeks.
Q: You recently tweeted about the discovery of a "burrito pocket" in your vest. While you're running, other than burritos — which I just want to add is a great idea for portable food — what snacks or meals do you like to carry with you?
A: Yes, the "burrito pocket" became a "many things pocket" over the course of this FKT. So, we discovered that Kwik Trip has cheeseburgers and chicken sandwiches that are enough calories and the right size to also fit in that pocket.
My diet on this thing was Kwik Trip cheeseburgers, chicken sandwiches, and then I was eating chicken and stars condensed soup straight out of the can and SpaghettiOs.