More news from the world of birding
IN THIS ISSUE: ABOUT BIRDS
More news from the world of birding
Museum pulls strings to save birds from window collisions
Visitors migrating to the Leigh Yawkey Woodson Art Museum this fall for the internationally renowned "Birds in Art" exhibition will find another new installation reflecting the museum's commitment to birds.
Museum staff took advantage of the building closure during the early months of the COVID-19 pandemic to turn a 40-foot-high glass window into an aesthetically pleasing example of how a few hours and a few simple, inexpensive materials can save birds from colliding with windows.
Up to 1 billion birds are estimated to die each year in
the United States after hitting windows. By day, birds perceive reflections in glass as habitat they can fly into. By night, migratory birds drawn in by city lights are at high risk of colliding with buildings.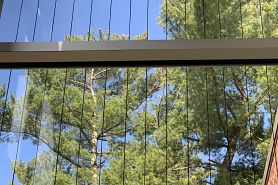 ©CATIE ANDERSON
Breaking up window reflections by using film, paint or string can help reduce collisions and save birds.
At the Woodson Art Museum, migrating birds would occasionally fly into a glass-enclosed stairway in the museum's new wing, particularly during the spring. Curator of Education Catie Anderson mentioned the problem last fall to Craig Thompson, a DNR bird expert who was at the museum giving a presentation about steps people can take to help birds.
After the talk, Anderson showed Thompson the window. He suggested creating a curtain of cords running the length of the window and spaced a few inches apart to break up the reflection.
The museum director committed to doing the project, and the quarantine was the perfect time because there were no people on the grounds or in the building, says David Jones, the museum's facilities manager.
Jones purchased L-shaped angle irons and 1,100 feet of parachute cord. Following instructions found on the birdsavers.com website, Jones and Anderson drilled holes in the angle irons and threaded them with long lengths of paracord. They safely got on the roof and secured the angle irons with the paracord hanging down.
The paracord lengths could then be pulled tight and secured at ground level. All told, the materials cost $250 and the project took the two of them about six hours over two days.
"It's a very doable project for almost any facility or homeowner … and it has been wildly successful," Jones says. "Anybody concerned about a situation like that should just go ahead and do it. It's paid for itself."
Museum staff haven't found any stunned or dead birds beneath the window since the "bird savers" were installed in May. The museum has an appealing and accessible solution to share with visitors.
"We've had a long history of using an interdisciplinary approach and this year, the bird friendly window is a great example of combining science, engineering and technology," she says. "For us, it was another teachable moment."
For Thompson, it's a compelling example of what can be done for birds. "It's a dandy conservation success story," he says. "Anyone, especially homeowners, can easily do this."
— Lisa Gaumnitz
ABOUT THE EXHIBITION
Artwork from 114 artists worldwide will be featured in the 45th annual "Birds in Art" exhibition, on view Sept. 12 to Nov. 29 at the Leigh Yawkey Woodson Art Museum, 700 N. 12th St.,  Wausau. "Birds in Art" presents original paintings, sculptures and graphics created within the last three years. In light of COVID-19, check the museum's website for the latest visitor information: lywam.com.
Birdwatching takes flight, promotes diversity
Birds' brilliant colors, beautiful songs and feats of flight impress even the most casual outdoor enthusiasts and draw many outside to connect with nature.
Never were these attributes more valued than during the COVID-19 impacts of spring, when many people found themselves at home, unable to enjoy typical social activities and eager to find relief outdoors. Birdwatching was a solution.
Nationally, downloads of popular bird identification apps like those from the Cornell Lab of Ornithology and National Audubon Society reportedly doubled this spring compared to last year. According to one source, sales of bird feeders, nesting boxes and birdseed jumped 10% to 15%, even as demand for other nonessential goods plummeted.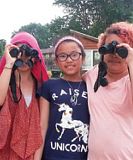 ©LISA GAUMNITZ
The popular online bird reporting system, eBird, declared May 2020 the most active usage month in its 15-plus years, including a 37% increase in submitted sightings compared to the same time last year. In Wisconsin, the number of eBird checklists submitted in spring 2020 increased 27% over 2019, far outgaining annual jumps of 4%, 15% and 16% recorded over the three previous years.
Subscribers to the DNR's weekly birding report grew 18% since spring 2019, and 48% more teams joined the Great Wisconsin Birdathon. Through mid-summer, $17,000 more had already been raised for priority birds than the previous year, with donations still being collected through Oct. 15. Check wibirdathon.dojiggy.com for details.
Finally, an informal poll of nearly 40,000 Wisconsin-based birding-oriented social media users seemed to validate anecdotal accounts of increased birdwatching activity in the state this spring.
Of more than 750 respondents, about 62% indicated they birdwatched more often in spring 2020 compared to previous years, while only about 7% said less often. A recurring theme among established birders was spending more time watching birds at or close to home than past years, with many citing the joy of discovering nearby public spaces they had not previously explored.
Another bit of birdwatching news also came this spring: the celebration of Black Birders Week. The virtual initiative developed in late May and early June via social media after a racist incident in New York's Central Park involving a Black man falsely reported to 911 while birdwatching.
Coming alongside nationwide demonstrations for racial justice, Black Birders Week featured hashtags such as #BlackInNature, #AskABlackBirder and #BlackWomenWhoBird to promote events on Twitter and encourage Black birdwatchers and others to join the conversation about their own experiences and diversity in the outdoors.
With birdwatching in the news and gaining popularity, a significant number of new birders found the time and motivation to take up the hobby — discovering the relief from stress, gateway to nature and genuine entertainment birding can provide.
— Ryan Brady, DNR conservation biologist