Kimberly-Clark Corporation - Kimtech Facility
Tier 1 participant since 9/8/2017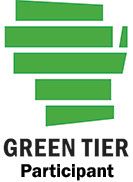 Kimberly-Clark's Kimtech Facility, located in Neenah, Wisconsin, Winnebago County, designs and produces manufacturing machinery that is used by Kimberly-Clark Corporation worldwide. The equipment produced here helps manufacture some of the company's well-known global brands such as Kleenex, Scott, Huggies, Pull-Ups, Kotex®, Poise® and Depend®. These brands are used by people in more than 175 countries. Kimberly-Clark is a global company with over 42,500 employees working at manufacturing facilities in 37 countries.
The Kimtech facility joins three other Kimberly-Clark facilities in Green Tier including: the Neenah Cold Spring and Neenah Nonwovens facilities (which both joined in 2015) and the Kimberly-Clark Experimental Mill which has been in Green Tier since 2006.
Environmental Activities
Kimtech developed an Environmental Management System (EMS) in January of 2017 and implementation is currently in progress.
Kimtech's Neenah facility has identified these environmental performance goals for 2017:
Recycling 99% of manufacturing waste;
Recycling 100% of universal waste;
Recycling 100% of used oil and anti-freeze;
Recycling 100% of office waste; and,
Continuing program to puncture and drain aerosol cans and recycle empty cans as scrap metal.
Documents
Annual reports
Commitment outline
Acceptance letter
Application
DNR contact
Company contact
Jean Romback-Bartels
2984 Shawano Ave
Green Bay WI 54313-6727
920-662-5114
Cell: 920-360-8082
Karen Davis
EHS Site Leader
1109 Henry St
Neenah WI 54956
920-721-4361
Kimberly-Clark
Related participants