FOR IMMEDIATE RELEASE: 2021-11-19
Find Your Adventure: 170th Nine-Day Gun Deer Season Begins Saturday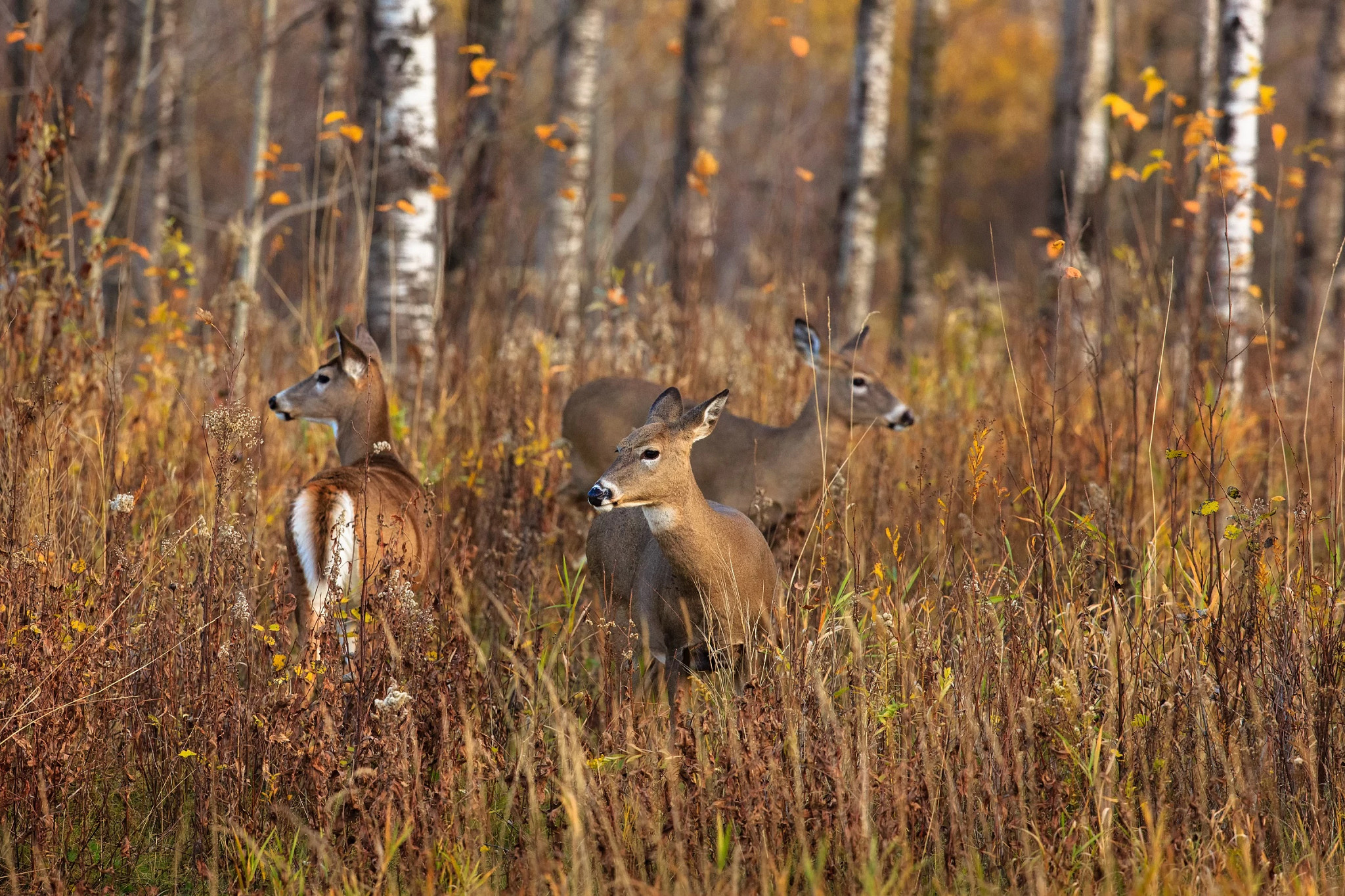 Photo credit: Linda Freshwaters Arndt
MADISON, Wis. – It's time to gear up and head out for Wisconsin's famed nine-day deer season officially starting Saturday, Nov. 20 and running through Nov. 28.
Wisconsin is a nationally-recognized state for hunting white-tailed deer with an abundant herd and a proven reputation for producing some of the largest bucks in the world. Nothing beats this unique hunting experience for all levels to find their adventure afield.
As of 10 a.m. Nov. 19, sales for gun, bow, crossbow, sports and patron licenses reached 686,320. Of that total, 327,544 are for gun privileges only.
Use the DNR's free Hunt Wild Wisconsin mobile app for everything Wisconsin hunters need in the field from property boundaries and electronic regulations, including shooting hours, to chronic wasting disease (CWD) sampling and deer carcass disposal locations.
Don't forget to tag the DNR or use the hashtag #WildWisconsin on social media.

2021 Deer Hunting Forecast
With a mild 2020-21 winter and below-average harvests in 2019 and 2020, Wisconsin deer hunters can look forward to increased harvest opportunities around the state. Although more deer will be taken on private land, the state's 7 million acres of public land offer hunters a wide range of diverse habitats with great hunting possibilities.
Check out the 2021 deer hunting forecast here.

Hunter Safety
It's important for all hunters to do their part to keep Wisconsin a safe place to hunt by following these firearm safety rules:
T - Treat every firearm as if it is loaded
A - Always point the muzzle in a safe direction
B - Be certain of your target, what's before it, and what's beyond it
K - Keep your finger outside your trigger guard until you are safe to shoot
Anyone born on or after Jan. 1, 1973, must have a hunter education certification to purchase a hunting license unless hunting under the Mentored Hunting Law. To learn more about safe hunting in Wisconsin and to register to take a hunter education course, visit the DNR website here.

Deer Harvest Registration - GameReg
All harvested deer must be registered electronically by 5 p.m. the day after the deer is recovered. GameReg is simple, fast and convenient for hunters. The system will prompt hunters to answer a series of questions. A unique harvest authorization number is required.
Hunters have three options to register their deer:
Online at Gamereg.wi.gov (fastest and easiest option)
By phone at 1-844-426-3734
Proper registration provides accurate harvest data for DNR wildlife managers and County Deer Advisory Councils for the management of deer in Wisconsin.
Visit the DNR's Gamereg Electronic Game Registration webpage for more information.

Additional Hunter Resources
The DNR offers hunters a variety of resources for a successful season:

SARS-COV-2 And White-Tailed Deer
The DNR is aware of recent findings that people can spread SARS-CoV-2, the virus that causes COVID-19 in people, to white-tailed deer.
There is no evidence that SARS-CoV-2, the virus that causes COVID-19 in people, can be transmitted to people through handling or eating wild game. Person-to-person transmission is still the greatest risk for spreading COVID-19. There are no documented cases of humans becoming infected with SARS-CoV-2 from white-tailed deer, and risk is likely low.
For more guidance on staying safe while hunting during the pandemic, please visit the Department of Health Services COVID-19 webpage.