Public Access Lands Mapping Application
Real Estate Program
The Public Access Lands mapping application is a map-based system that allows you to locate and obtain information on public access properties.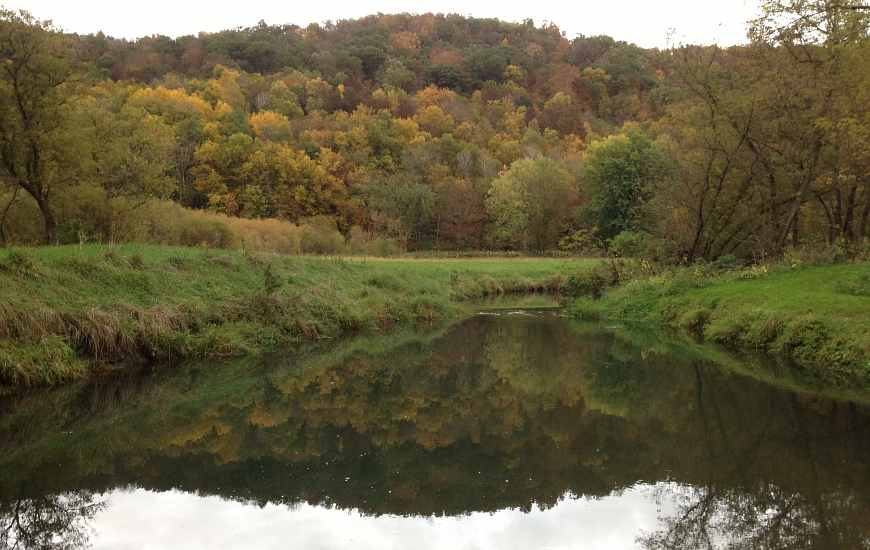 LAUNCH the mapping application.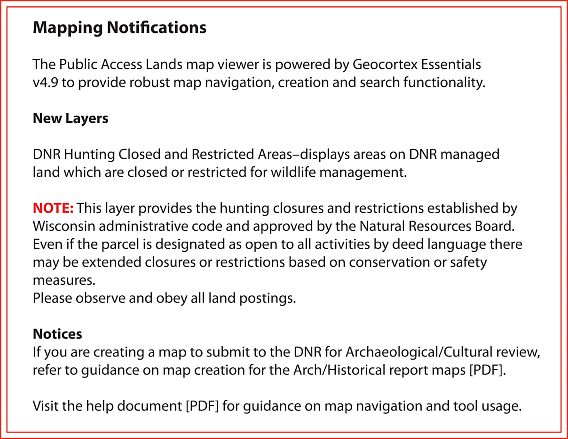 Features

Home Data Frame -- Displays application updates and provides guidance to data layer usage. Includes data disclaimers and links for feedback and questions regarding the display and content of the application.

Layers Data Frame -- Displays the map layers. Dropdown in the Layer List provides a selection of Map Themes, pre-set map layers for specific business needs.

Option button allows the user to toggle between Legend and Layer List. Change Layer Drawing Order is available to customize the layer display.

 
Select the arrow to the right of the data frame to expand or collapse the data frame
 

 

Global Search Box — Allows the user to enter a name to search for map features. Layers that would return a high number of results, such as roads or water, do not have search functionality. Use the I Want to Find tool to search for these features.

Layers that would return a high number of results, such as roads or water, do not have search functionality. Use the I Want to Find locator tool to search for these features.



I want to… — Short cuts to popular tools such as Identify a Property, Print Map, Open Layer List or Bookmark Extent. This option also allows the user to Sign in to the application to Save and Open map projects. Note— different maps may have different short cuts.

Map Themes Layers — Dropdown available in the Layer List to allow the user to select a map based on a specific theme.

Default/Basemaps — Displays short-cuts to aerial photos, county tax parcels, Wiscland, wetlands, topo quads and Town/Range/Section. 2010-2013 aerial photos are organized as a "Slider" group in which the user can drag to fade one aerial into another. Base maps vary between map applications.

Coordinates — Selection will open the map coordinate display from cursor placement. User can define coordinate system as Lat/Long, Decimal Degree, Degree- Minutes-Seconds or Wisconsin Transverse Mercator (meters) and UTM in some applications.

Scale Input – Selection will open the scale text. User can input specific scale for map viewing.

Map Tools — Mapping functions organized by tabs to provide display options, map analysis and feature search capabilities within the mapping application.

 

Helpful Links — provides links to DNR Home page and other DNR programs
Basic Tools — Map navigation, identify/locate map features, print and map sharing tools
Customize Map — Add custom graphics and text, upload/export to shapefile to map; plot coordinates

 

Unselect "Tool Labels" to hide tool labels for a slimmer toolbox. Use mouse-over tool-tips to identify tools.

 


 

FAQ

Why can't I see the property the state recently bought?
The property has not been entered into our GIS spatial database. We attempt to enter them into the layer as fast as possible but quality digitization will take time.

Why is the map not available?
The web map server might be down temporarily. Please try again in a few minutes. If it still isn't available, contact us.

How can I see air photos/topographic information?
Zoom to your area of interest. Click on the Layers tab in the Home data frame, scroll to the bottom of layer list and expand (+) the Base Map Layers folder. Expand (+) the Aerial Photos folder and select the aerial photo that best meets your needs or select the USGS Topo Quads layer to display the topography.

OR select the Default/Basemap icon in the bottom left corner of the map. The icon will expand to display additional icons. Select the Aerial Photos icon; a slider will display. Slide the bar between available aerial photos to compare the display of the different years and seasons. Select the USGS Topo Quad icon to change the background to topography. Select Default to return to the roads/rivers layer.

Are Managed Forest Lands (MFL) available on this map?
No, private forest lands open to public recreation through Managed Forest Law and Forest Crop Law programs are not available on this map. See Private Forest Lands Open to Public Recreation Web mapping application.

Are private lands (plat books) available on this map?
No, they are not available on this map. This web map contains those lands that for the most part are open to the public. For more information, see Platbooks and Land Ownership Maps or your county office.

How do I add lat/long coordinates to the map as points?
Map coordinates in spreadsheet format can be added to display as points in the map. Spreadsheets must be saved as .CSV files and clearly organized to allow for a successful upload. For more information on uploading map coordinates see Adding Coordinates from Spreadsheets to the Map.

How do I find out detailed information for a specific site?
Several tools allow for identification and information of map features. Some feature results will display links to program web pages for additional details.

Identify - Select tool then select the map feature to display information in the left-side Identify Results data frame
Search - Type a feature name in the text box in the upper right of the map (Global Search) to display information in the left-side Search Research data frame

A list of layers with matching results will display. Expand the layer and select the desired item to open the Description data frame with details about the selected feature. Links to more information may also be included in the Description.

I see coordinate positions reported on the map system; can I use these with my GPS?
The accuracy of these lat/long, UTM or WTM coordinates is unknown. While we have generally found it to be quite good, we do not consider it to be an appropriate tool incorporating them into a database. These coordinates are generated "on-the-fly" by the application. You must be aware of how your GPS collects, stores and displays data.

I need to submit a map to the DNR Archaeologist/Cultural Resource Manager. What information do I need on the map?
In order to create an accurate analysis for the potential location of archaeological/historical sites, the DNR archaeologist will require adequate mapping information of the area of concern. Directions for creating a map for submission can be found at map creation for the Arch/Historical report maps [PDF].

Map Themes

Map themes are designed to display spatial information specific to an individual program/project. While certain layers may be "turned off" for a theme, layers can be manually "turned on" if so desired.

Public Land (default): Displays a basic theme of DNR and other public lands. Also included are parking lots, boat access sites, public shooting ranges, leased hunting lands and trails.

Land Sales: Displays DNR parcel that have been selected for sale to the public. Selection of the sale parcel will link to the DNR Real Estate Land sale pages for more information on the sale parcel.

BCPL: Intended to enhance the Board of Commissioners of Public Land (BCPL) land program, this layer displays additional land which is open to public access. For more information on the BCPL school trust lands go to the Board of Commissioners of Public Lands website.

Background

The state of Wisconsin has a variety of outstanding natural resources, such as rushing trout streams, quiet wetlands, pristine wild rivers, clear lakes, native prairies, vast green forests, Ice Age eskers and picturesque waterfalls. Wisconsin's increasing population, together with out-of-state visitors, is placing increased pressure and demands on these resources. Each year, thousands of people boat, camp, fish, hunt, hike, bike, ski, canoe, sightsee, study nature and pursue other outdoor activities. Our public lands are places where we can get away from daily routines and enjoy the natural beauty Wisconsin has to offer.

Over the years, Wisconsin citizens have recognized the need to protect Wisconsin's natural resources and have provided DNR with the ability and funding to purchase land. DNR's first purchase was made in 1876 and, since then, DNR's land acquisition program has become an important tool to protect natural resources and provide outdoor recreational opportunities for the public.

DNR purchases land to manage and protect natural resources and to provide recreational opportunities to all the people of the state. Through the land acquisition program, wetlands, forests, scenic areas, prairies, savannas, wildlife and fish habitat, rare species habitat, glacial features and other resources are being protected and managed.

Disclaimer

The Department of Natural Resource manages lands through ownership, easement or lease rights. The map data should not be interpreted as representing legal property boundaries. State lands depicted are generally open to the public. Public use restrictions may apply due to public safety, or to protect endangered or threatened species or unique natural features. Lands may be temporarily closed due to specific management activities. Contact DNR customer service for more information.

Neither the state of Wisconsin, the Department of Natural Resources, nor any of its employees shall be held liable for any improper or incorrect use of the information described and/or contained herein and they assume no responsibility for anyone's use of the information.

DNR web mapping applications contain the most current information about DNR properties and private lands under DNR management with public access for hunting and recreational activities. Please be aware that third party web mapping applications (e.g., Google Maps, commercial mapping companies, etc.) may display erroneous boundaries of these properties. To ensure that you can reach your intended area and avoid trespassing, use DNR web mapping applications to plan your outing. Confirm the ownership of non-DNR public land (e.g., municipal, county, federal), tribal land, and private land through other means, and recognize that on-ground postings and property boundary signs override property boundaries shown in DNR and 3rd party web mapping applications and should be respected.