Veridian Homes LLC
Tier 1 participant since 10/03/2005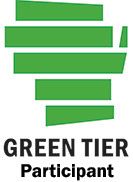 Veridian Homes LLC is the largest builder of residential homes in Dane County. The company has identified aspects of its land development, home building operations and business processes that have significant impacts on the environment. Veridian commits to include all contracted trade activities at its building sites that have the potential to impact the environment. Veridian will use the land development and building industries "first" environmental management system. Veridian Homes LLC is a participant in the Clear Waters Initiative Charter.
Environmental Activities
Veridian cares about their environment, neighbors and customers, and they continue to succeed in both environmental improvements and business advances. They build increasingly energy efficient homes and continually test new technology that benefits homeowners and the environment. They have improved methods of reducing sediment releases and maintain erosion minimization goals. The company continues to develop expertise to build homes at a high level through the Focus on Energy Program.
Veridian Homes includes specific environmental requirements in agreements with over 200 trade partners. Their partners indicate that they also routinely use these requirements as best practices when working for other companies.
Throughout 2020, Veridian continued to show improvement in the energy efficiency of new build homes. Improvement is verified by performance testing and REMRATE v 15.7.3. High efficiency housing minimizes environmental impacts, not only for the current year, but over the life of the house. Approximately 527 Veridian homes were certified by Focus on Energy in 2020. Veridian achieved a REMRATE estimated total energy savings of over 658,000 kWh and 70,000 therms per year.
Video
Documents
Annual reports
Commitment outline
Acceptance letter
Application