Clear Waters Initiative
Charter since February 9, 2006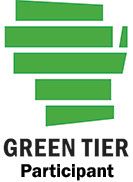 The Clear Waters Initiative Charter aims to reduce the overall sediment delivery to Dane County's lakes and streams beyond current state and local requirements.
About the charter
The Charter is a partnership effort between the regulatory community (Dane County, the City of Madison, the City of Sun Prairie, and the Department of Natural Resources) and the building sector (Veridian Homes LLC and Homburg Contractors). This Charter allows other building and development sector businesses and municipalities to join the Charter by demonstrating an ability to comply with the terms and conditions of the Charter. This effort to involve multiple stakeholders is providing an opportunity for industry, state and local governments to work together as never before. The charter includes routine self reporting through periodic third party audits, a weekly virtual inspection program, a contractor training program, early involvement by the regulatory community in the planning phase of developments, and establishment of minimum performance standards for subdivisions and individual lots.
Charter participants
The following entities have signed the Clear Waters Initiative charter.
Documents
Reports
Charter
DNR contact
Related participants
Eric Rortvedt
3911 Fish Hatchery Rd
Fitchburg WI 53711
608-273-5612