Homburg Contractors, Inc.
Tier 1 participant since 12/23/2010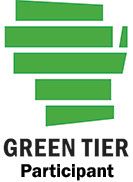 The Homburg companies are a family run small business with a full line of services. Homburg Contractors specializes in design-build site work projects from small parking lot rebuilds to large industrial and commercial developments, as well as major Public Works projects. Homburg Equipment is a real estate division offering services from raw land sales and development to commercial building space and residential home sales. Madison Rock and Sand operates Homburg's Milwaukee Street quarry which provides materials to contractors, municipalities, and homeowners. They provide pick-up and delivery of materials including crushed rock, sand, landscape stone, and topsoil, as well as recycling of construction debris.
Environmental activities
To direct their environmental performance, Homburg applies the following policy statement: "We are committed to environmental awareness in all areas of operations. This includes continually improving our environmental performance in all areas, especially the areas that will have the greatest impact such as recycling, advanced erosion control and equipment upgrades. This policy shall be communicated to our employees and made available to the public. We believe this commitment is both good business, and a benefit to our employees, their families, our customers and the communities we serve."
Documents
Commitment outline
Acceptance letter
Application