Fredman Bag
Tier 1 participant since 5/14/2012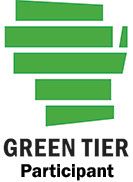 Founded in Milwaukee in 1889, the Fredman Bag Company is currently owned and operated by the 5th generation of the Fredman family. Fredman Bag is a manufacturer of custom flexible packaging products for consumer goods, as well as promotional and specialty applications. Printing is performed on wide web flexographic presses, using solvent-based inks, with a regenerative thermal oxidizer in place to control and reduce volatile organic compound emissions. Printed webs are then run on various converting machines to create custom configurations that can have many available features.
Environmental activities
Working with the State of Wisconsin and the Green Tier program allows Fredman Bag to leverage two of the core values in their Mission Statement: "Partnering with regulatory agencies" and "providing a clean and safe environment". An environmentally conscious philosophy has been practiced from the inception of Fredman Bag over 120 years ago and continues to drive their commitment to sustainability today.
The company's desire to minimize its environmental footprint and to build on its commitment to sustainability shows through many different facets of the business:
Documents
Annual reports
Commitment outline
Acceptance letter
Fredman Bag Environmental Policy Statement
Application
DNR contact
Company contact
Mike Griffin
1027 W St Paul Ave
Milwaukee WI 53233-2641
414-308-0208
Ken Hennen
Technical services manager
5801 West Bender Ct
Milwaukee WI 53218
414-462-9400
Fredman Bag