FOR IMMEDIATE RELEASE: 2020-11-12
Celebrating America Recycles Day: DNR Recycling Excellence Awards Honors Wisconsin Recyclers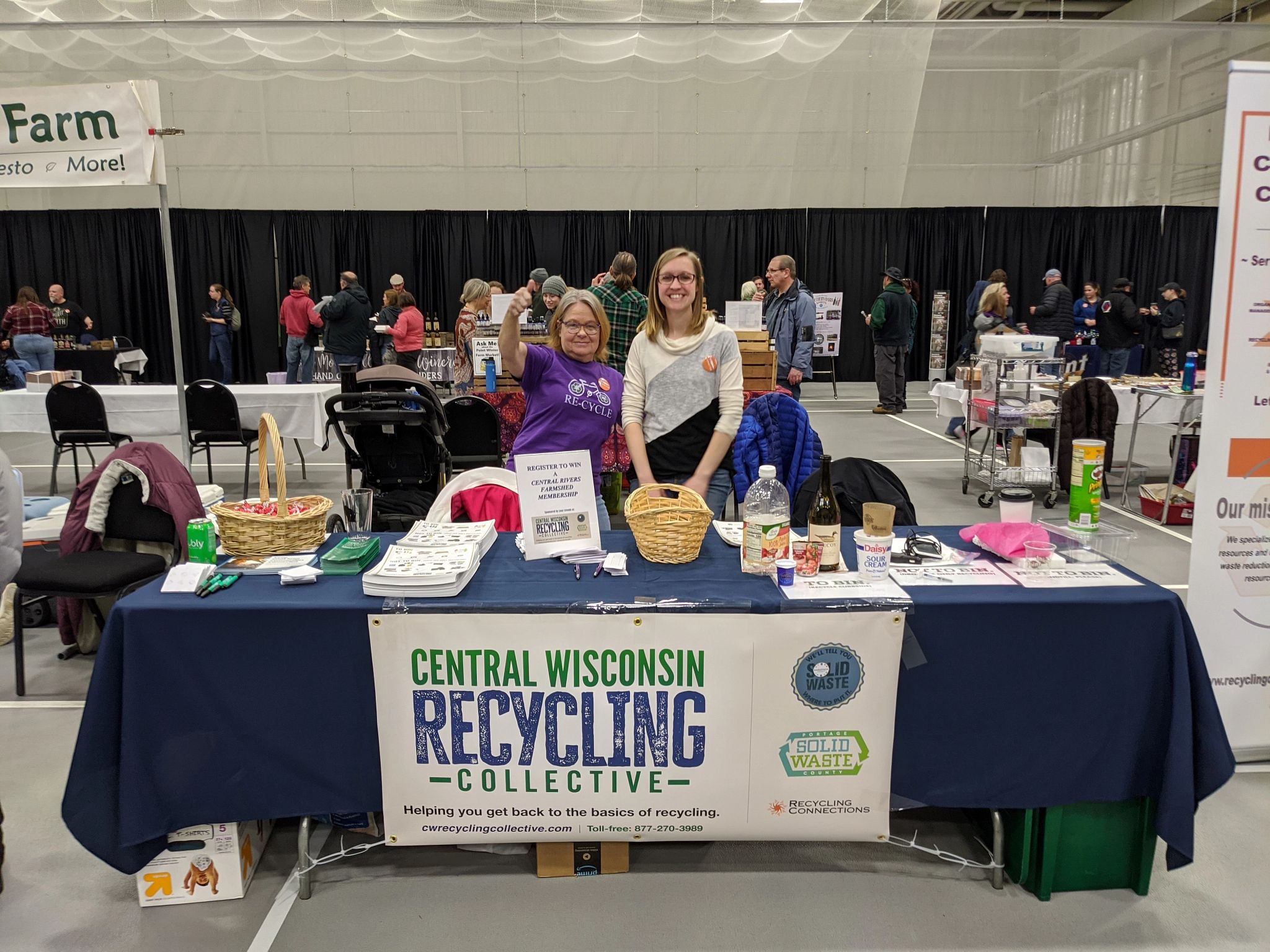 Photo credit: The CWRC
MADISON, Wis. – The Wisconsin Department of Natural Resources (DNR) congratulates 15 recycling programs for winning a 2020 Wisconsin Recycling Excellence Award. The winners are a mix of businesses, nonprofits and local governments.
"This year marks the 30th anniversary of Wisconsin's landmark recycling law, which has encouraged 'reduce, reuse, recycle' since 1990," said Brad Wolbert, DNR Waste and Materials Management Program Director. "This year's winners exemplify outstanding recycling and diversion practices, which we hope others will emulate."
In recognition of this milestone and in honor of America Recycles Day on Nov. 15, the DNR is recognizing the following groups.
The Overall Program Award recognizes robust and constantly improving efforts while demonstrating a commitment to improving the overall recycling or diversion program.
Calibre, Inc., Ozaukee County – Calibre, Inc., is a paint finish company with four locations in Ozaukee County that serves customers in the marine, powersport and transportation industry. They work with Enviro-Safe Resource Recovery in Germantown, Wis. to recycle or repurpose their generated hazardous waste. In addition, they have a single solvent recovery distillation unit at multiple paint application facilities to reclaim and reuse cleaning solvents used to clean paint guns and flush paint lines. They also send all empty and flattened steel paint cans to a steel recycler, and since 2013, they have recycled approximately 150,000 pounds of steel. They have sent approximately 27,000 pounds of plastic shrink wrap material to be recycled in that same period.
City of Baraboo Public Works, Sauk County – The City of Baraboo has improved the organization and efficiency at the residential yard waste drop-off site and increased efforts to repurpose that material into usable compost. They have also focused efforts on improving their curbside recycling program. The city also revised its recycling ordinance to allow the purchase of an additional recycling cart to fit overflowing materials. This revision provides residents a better opportunity for compliance and significantly reduces the risk of injury to collection staff and others. Additional community outreach enhancements include an improved biannual newsletter and flyers showing the "Do's and Don'ts of Recycling."
Fredman Bag Corporation, Milwaukee County – Fredman Bag is a manufacturer of custom flexible packaging products for consumer goods, as well as promotional and specialty applications. They work with customers to downsize material thickness and package dimensions, recapture and recycle unconsumed solvents and ship on recycled pallets. Additionally, Fredman Bag utilizes motion detectors and setback thermostats to help conserve energy, utilizing regenerative thermal oxidizer to destroy volatile organic compounds. Fredman Bag tracks waste carefully and monitors recycling using a daily scoreboard to keep up employee interest and engagement. As of July 30, they have sent zero waste to the landfill for 1,794 days.
Outlook Group, LLC, Winnebago County – Outlook Group is a manufacturer of flexible packaging, folding cartons, pressure-sensitive labels and shrink sleeve labels in Neenah, Wis. They divert more than 95% of manufacturing waste from going to landfills – either by recycling fiber and other materials or by sending laminated films, pressure-sensitive label material, matrix waste and release liner to their Waste-to-Energy (WTE) partners. Outlook Group limits potential waste before materials enter the facility for processing, guiding customers to achieve sustainability goals related to packaging waste reduction and landfill diversion. They utilize sustainable packaging development, material selection and design for recycling consultation services and inventory management programs.
Pierce Manufacturing, Inc., Outagamie and Winnebago counties – Pierce Manufacturing, a company that builds fire trucks and equipment, has placed collection containers that sufficiently store waste materials generated by waste streams, worked with suppliers to reduce packaging and design returnable packaging. In addition, Pierce Manufacturing reuses product drums and shipping containers, utilizes separate bins for compostable paper hand towels and tracks all materials that are diverted from landfills. They have held annual drives to collect electronic waste and recycle those materials at the company's expense, collecting over 40,000 pounds of electronics from employees. Since 2014, Pierce Manufacturing has sent over 100,000 pairs of safety glasses to Contractivity, a Goodwill job-training program to be cleaned and repackaged. By reusing safety glasses, Pierce Manufacturing has substantially reduced the number of safety glasses purchased.
Vernon County Solid Waste and Recycling – Vernon County's recycling program continues to utilize a source-separated collection system rather than "single stream" where all recyclable materials are combined. Despite challenging commodity markets, Vernon County continues to provide recycling services to its participating municipalities at no cost, covering two-thirds of the county's population. Free dumpsters are provided in spring and fall for municipal clean up events, collecting tires, appliances, e-waste and mattresses. The county remains committed to offering mattress and battery recycling despite the challenges in collecting and processing these materials. Continuous operational improvements with site attendants and strong recycling messaging are cornerstones of the program.
Projects and Initiatives Award winners are recognized for increasing materials recycled or diverted through a specific action or project.
Central Wisconsin Recycling Collective – Marathon County Solid Waste, Portage County Solid Waste and Recycling Connections have partnered to form the Central Wisconsin Recycling Collective (CWRC). Getting back to the recycling basics was a priority in the CWRC's clever "To Bin or Not To Bin" campaign. The CWRC's mission is to be consistent in the region when it comes to recycling education with a goal of reducing contamination coming into material recovery facilities. Together the three organizations have created a recycling guide and a social media presence on Facebook, Instagram and YouTube. The CWRC attended the local food fair where representatives from the three organizations spent the day teaching eventgoers on recycling correctly with a game of "To Bin or Not To Bin."
City of Sheboygan Department of Public Works, Sheboygan County – The City of Sheboygan has been hard at work adopting an automated cart-based garbage and recycling collection program. The Department of Public Works (DPW), along with Sun Graphics Media, worked closely with The Recycling Partnership to develop a communication strategy. The DPW used a combination of printed materials, direct mailers, videos, social media advertising and blog posts. Preliminary data shows an increase of four pounds in recycling per household – accounting for a 13% increase in recycling with a total of 112 new tons.
Iron River Recycle and Waste Transfer Center – Iron County's Waste Transfer Center has worked to make an easier experience for customers and attendants through new signage and equipment. The new signage directs customers through the center, improving compliance with where to dispose of household garbage, cardboard, appliances, yard waste, construction waste and recyclable materials. The center also encourages users to repurpose items by offering a shop of free, reusable items. Another unique practice is staging automobiles brought for disposal for training situations with the Iron River Volunteer Fire and Ambulance.
Yunker Industries, Inc., Walworth County – Yunker Industries, a graphics and décor manufacturer for the retail industry, began a partnership with Trex Plastic Recycling in 2019 when they were looking for recycling resources. Trex recycling bins were placed in their building to collect items like plastic strapping, plastic bags, grocery bags and bubble wrap giving employees one centralized location to recycle plastic from home. This effort also improved recycling awareness for employees and their families. So far, over 1,000 pounds of plastic have been kept out of the landfill. With approximately every 40,500 plastic bags they collect, Trex makes a bench. Yunker donated their first bench to Tree House Child & Family Services in Elkhorn, Wis.
The Innovation Award recognizes programs that demonstrate unique and innovative approaches to recycling.
Advanced Drainage Systems, Inc., Outagamie County –  Advanced Drainage Systems (ADS) has made sustainability and sustainable practices a priority through five recycling facilities. ADS purchases bales, flakes and pellets of recycled high-density polyethylene from post-consumer and post-industrial sources. Over half of the plastic they purchase is recycled. ADS and Infiltrator Water Technologies combine to create the second-largest plastic recycler in North America. Approximately 730 million pounds of carbon emissions are avoided by using recycled ADS plastics annually.
Green Bay Packaging, Brown County – Green Bay Packaging is a privately owned containerboard company and fully integrated pulp and paper mill that produces linerboard and corrugated medium using 100% post-consumer recycled fiber. Between 2005 and 2018, the mill achieved a 15% reduction in overall water use and an 18% reduction in water use per ton of paper production while increasing production by 10%. Improving water reuse and recycling also reduced energy use and related greenhouse gas emissions, providing resource savings to the community.
Waukesha County Department of Parks and Land Use – Waukesha County designed and developed a system to collect and report on programmatic data, which culminated with the release of a new educational guide. The guide includes recycling right, backyard composting, plastics recycling, reducing back-to-school waste, upcycling, leaf mulching and green gift-giving for the holidays. An app was developed in 2019 for recycling drivers to identify contaminated recycling carts. Once a cart is identified as containing a specified prohibited item(s), a postcard is mailed to the resident noting any mistakes along with a recycling guide. By utilizing the app, the time management and safety concerns typically associated with traditional cart tagging are removed while providing the resident with important, individualized feedback on how to improve their recycling.
The Special Events Award recognizes effective recycling at special events, offering participants an enhanced opportunity to recycle or reuse materials. 
Good News Project, Marathon County – Good News Project is a small nonprofit in Wausau that has been a long-standing registered collector with Wisconsin's E-Cycle Program. In 2019, they responsibly recycled 272,076 pounds of e-waste, utilizing 908.5 hours of volunteer time. Over the past decade, they have recycled 2,287,663 pounds of electronics. Since 2016, Good News Project has worked specifically to increase outreach locally and to communities that have difficulty accessing e-cycling. This effort is a much-needed service in northern Wisconsin. Proceeds from the events are shared with partnering nonprofits to provide additional services in their communities with the funds raised.
Scenic Bluffs Community Health Centers, Monroe County – Scenic Bluffs Community Health Center has made substantial investments to improve environmental health in the communities it serves. One of the most notable efforts is the annual Technolog-E Recycling Event, held at Scenic Bluffs in Cashton during the National Health Center Week celebration. This event is free and open to the public, allowing individuals to recycle unwanted electronic devices. Since 2016, more than 153,000 pounds of recyclable electronics have been collected and kept out of landfills. Through Dynamic Lifecycle Innovations in Onalaska, every portion of the recycled electronics collected is recycled or reused. This investment in safer recycling totals nearly $30,000 in recycling costs since 2016. Scenic Bluffs' staff dedicates more than 400 hours collecting and unloading materials brought by community members.
More information on the awards program is available on the DNR webpage.
For more information on recycling visit the DNR webpage.