Wisconsin Printing Industry Superior Environmental Performance Charter
Charter participant since 9/30/2015
Printing For A Cleaner Future – External Solar Rebate Program
The Wisconsin Printing Industry Charter presents a Solar Group Rebate Program provided to WI printers. The rebate is based on total kilowatts (kW) of solar panels contracted by December 31, 2021. More information available at: Solar Group Rebate Program for Wisconsin.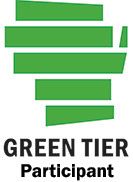 The Department of Natural Resources in collaboration with the printing industry created the Wisconsin Printing Industry Superior Environmental Performance Green Tier Charter in 2015. Through the printing charter, the PRINTING United Alliance, Great Lakes Graphics Association, Flexographic Technical Association and the DNR commit to:
Improving the Wisconsin printing industry's environmental footprint and green bottom line;
Streamlining regulations that affect printers; and
Encouraging beyond-compliance actions through participation in both Green Tier and the national Sustainable Green Printing Partnership (SGP) program.
Learn more about the charter
Project coordinator
Single point of contact/
technical support
Jenni Birkholz
608-266-8226
Renee Bashel
608-266-6977
Cell 608-347-7940
Resources