About the Wisconsin Printing Industries charter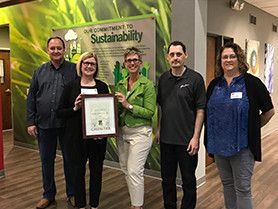 The charter provides a vehicle to improve sustainable business practices within the printing industry, while increasing regulatory efficiency in return. The charter contains commitments beneficial to both the department and the printing industry that provide environmental and economic benefits. This charter includes several overarching goals to:
Identify opportunities for improving compliance and regulatory efficiency. This includes streamlining current environmental regulations, creating new approaches to meet regulatory obligations, and developing and updating support and guidance documents.
Explore and promote alternative approaches to beyond-compliance environmental activities. This includes outreach to the industry about the Green Tier and SGP programs, sustainable green printing practices and new technologies, new or revised regulations, and other resources.
Encourage printing companies to participate in Green Tier and SGP programs to take advantage of additional benefits. This includes:

Recognition at state and national level
Ability to apply efforts to both programs, including:

Working toward the same objectives and continuous improvement projects;
Providing progress updates in one annual report format; and
Conducting one audit to satisfy requirements of both programs.

A fact sheet summarizes additional benefits for Wisconsin printers participating in both programs.
For printers participating in both Green Tier and the national Sustainable Green Printing Partnership program (SGP), the charter recognizes the environmental management system, annual report and tracked metrics under SGP, making it easier for printers to participate and receive recognition in both programs.
About the Charter
The following links provide information to the charter, which was last amended in 2017, and supporting governance documents:
Project coordinator
Single point of contact/
technical support
Jenni Birkholz
608-266-8226
Renee Bashel
608-266-6977
Additional resources