Your Outdoors
Fly fishing 'flatlander' finally gets in the swing of spring
Story and photo by Larry Yellen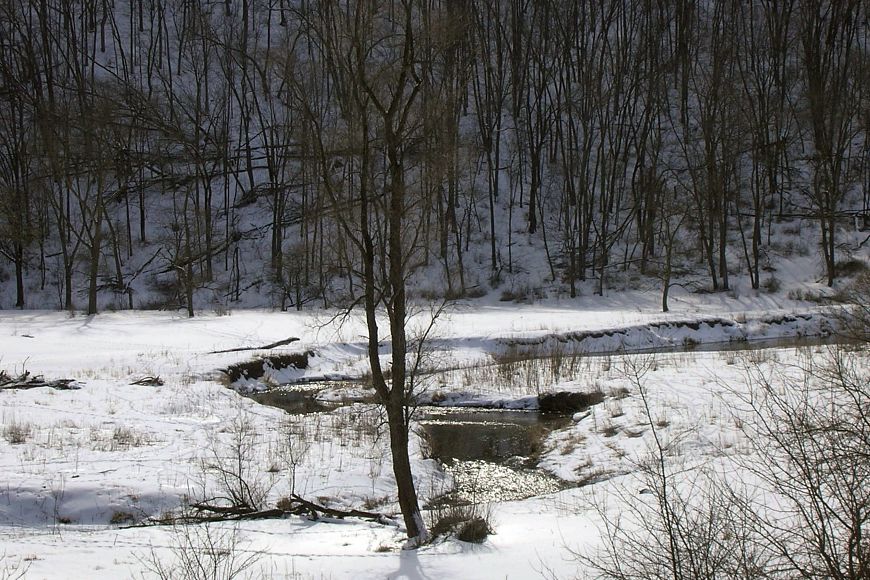 I had hit the road early on this frosty March morning, heading out from my vacation home in Wisconsin's Driftless Region, where I escape Illinois for some first-class fly fishing. My plan was to drive just beyond Viroqua, where the Driftless Angler Fly Shop's stream reports suggested the coulees were running low and clear, with decent action, especially as sun warmed the water.
Driving north through Lone Rock, Richland Center and Readstown, my thoughts focused on the critical questions ahead.
Should I stop at the Driftless Angler for some last-minute tips? Should I fish upstream toward the springheads, which feed water into the creeks at a steady 48 degrees all year long?
Maybe I should start at the pool I remembered from five years earlier. After trekking through 9 inches of early March snow that year, I found trout rising despite the noon sun and landed several with a #18 Griffith's gnat.
At this point, I didn't need to be on a cell phone or texting behind the wheel to be accused of distracted driving. By now, I was thinking of that first cast, followed by an upstream mend, feeling for that first tug of the spring. You've all been there.
Unexpected stop
The tug arrived sooner than expected and in quite a different way — with a flashing blue light in my rear-view mirror.
Viroqua is a delightful place, like many picturesque Wisconsin towns, and the officer here was pleasant. He told me I'd been going 40 mph, exceeding the speed limit by 15 mph, and asked for my driver's license.
As he returned to his police SUV, I wondered, were my tags up to date? I'd triple-checked my fishing license but hadn't once checked the minivan's plates. As a "flatlander," I put Wisconsin tags on my aging Sienna to give every appearance of being a local.
As I waited, I fretted that my plans for the day were disappearing like the patches of snow melting roadside in the morning sun. I imagined arriving at the stream only to find other anglers knee-deep in the cold water, wading toward my pool.
Trying not to panic, I reviewed my options. The west fork of the Kickapoo River was nearby, so was the Bad Axe, but did either offer as much promise as the coulees in early spring?
Fast track to fishing
The officer finally returned and noted I had an Illinois driver's license but Wisconsin plates. He asked if it was a rental. I almost laughed out loud, imagining a rental company offering a rusted-out minivan with the odor of stale french fries.
I explained I used the van only for fishing trips, and my current outing wasn't going too well. He sent me on my way, advising me of the option to pay $88.80 and avoid a court appearance (done!).
A look at my rap sheet would note I've also been caught speeding near the Escanaba River in Michigan's Upper Peninsula and along the Blue River in southwest Wisconsin. On days when I'm fishing, the need to slow down applies to more than just my backcast.
Twenty minutes later than planned, I arrived at my destination. It was wide open! I found a section running clear despite steep, washed-out banks.
At the first bend, a fallen tree had created a deep run where a weighted streamer swung across and downstream seemed just the ticket — the good kind.
My first cast of the day and first cast of the season! A strong tug and a nice brown took a run toward me, then back under the log.
By now, I'd forgotten about downtown Viroqua and just about everything else. This was exactly how a spring fishing season should start.
Larry Yellen recently retired after 25 years as a TV reporter and anchorman in Chicago, leaving him much more time for fly fishing.