Turkey hunting and management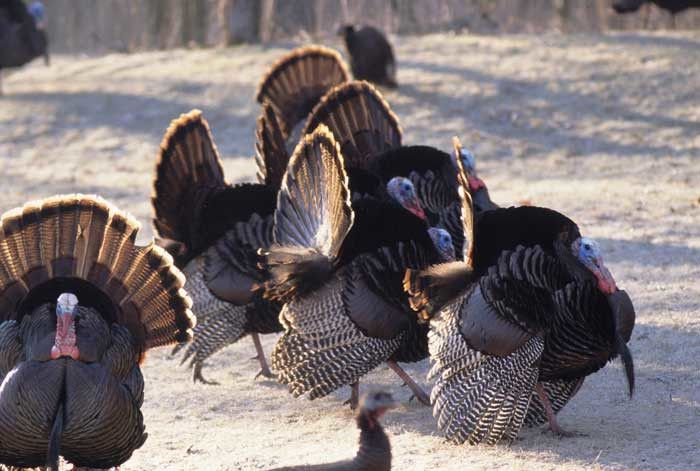 Attention Spring Turkey Hunters: The spring drawing has completed, for results of your permit application, check your
Go Wild
account. Note: there were over 16,000 more applicants for the spring 2021 drawing than there were for spring 2020, as a result there were more unsuccessful applicants than previous years. Check the spring bonus harvest authorization
web page
for more opportunities if you were not drawn for your preferred time period. 
Getting ready for the season
Attention Fort McCoy Hunters: Starting March 2019, Fort McCoy hunting and fishing permits will no longer be available through Go Wild, instead hunters will have to use Fort McCoy's license system, iSportsman. For the 2019 turkey season, hunters must purchase their Wisconsin Spring Turkey License and 2019 Turkey Stamp though Go Wild and their Fort McCoy turkey permit through iSportsman. For more information, visit the Fort McCoy website.
The spring turkey drawing for 2020 has been completed, you can check your application status by visiting your account on Go Wild.
Wild turkeys in Wisconsin
The wild turkey is truly one of Wisconsin's wildlife management success stories. A key role in the success of the wild turkey management program can be attributed to hunters through their purchase of the Wild Turkey Stamp which provides vital financial support in providing for future opportunities for turkey management and hunting in Wisconsin.
Since wild turkeys were first successfully reintroduced into Wisconsin in 1976, population levels continue to increase and expand statewide. Successful restoration of the wild turkey resulted from tremendous hunter and landowner support, good survival and high-quality habitat.
Wild turkeys are susceptible to avian influenza and hunters are advised to take appropriate precautions [PDF exit DNR]. If you observe sick or dead turkeys (or waterfowl, raptors and avian scavengers) while out turkey hunting, please make a note of the specific location and report your observations to your county wildlife biologist (in the DNR staff directory, narrow the search results by using the "counties served" field).