Turkey hunting and management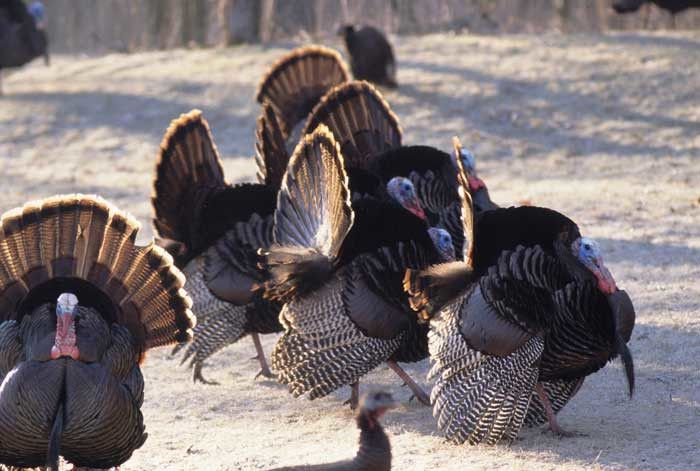 Getting ready for the season
Attention Fort McCoy Hunters: Starting March 2019, Fort McCoy hunting and fishing permits will no longer be available through Go Wild, instead hunters will have to use Fort McCoy's license system, iSportsman. For the 2019 turkey season, hunters must purchase their Wisconsin Spring Turkey License and 2019 Turkey Stamp though Go Wild and their Fort McCoy turkey permit through iSportsman. For more information, visit the Fort McCoy website.
Wild turkeys in Wisconsin
The wild turkey is truly one of Wisconsin's wildlife management success stories. A key role in the success of the wild turkey management program can be attributed to hunters through their purchase of the Wild Turkey Stamp which provides vital financial support in providing for future opportunities for turkey management and hunting in Wisconsin.
Since wild turkeys were first successfully reintroduced into Wisconsin in 1976, population levels continue to increase and expand statewide. Successful restoration of the wild turkey resulted from tremendous hunter and landowner support, good survival and high-quality habitat.
Wild turkeys are susceptible to avian influenza and hunters are advised to take appropriate precautions [PDF exit DNR]. If you observe sick or dead turkeys (or waterfowl, raptors and avian scavengers) while out turkey hunting, please make a note of the specific location and report your observations to your county wildlife biologist (in the DNR staff directory, narrow the search results by using the "counties served" field).
Season information
Season dates
Regulations
Hunter resources
Publications
Wild turkey harvest registration procedures
Register your turkey by 5p.m. the day after harvest. All registration is electronic and available 24 hours a day. No in-person registration stations are available.
The following information is necessary to successfully register your turkey:
A 10-character confirmation number will be issued after successfully registering your turkey. This number is for your records.
NOTE: Only the first two primary wing feathers need to be examined when determining whether your turkey is an adult or a juvenile.
2021 spring season
Season information
Harvest
Preliminary 2021 spring turkey harvest. Last updated 7/01/2021.
| | |
| --- | --- |
| Zone | Harvest |
| 1 | 8,964 |
| 2 | 9,302 |
| 3 | 9,847 |
| 4 | 5,792 |
| 5 | 1,854 |
| 6 | 909 |
| 7 | 511 |
| Fort McCoy | 87 |
| Total | 37,266 |
2021 fall season
Season information
One fall turkey harvest authorization is included with each fall turkey or conservation patron license purchased. Customers will need to specify their zone of choice at the time of purchase. Bonus fall turkey harvest authorizations (formerly known as leftover tags) will be sold over the counter starting August 14.
Harvest
2021 Fall turkey harvest. Last updated 1/11/2022.
| | |
| --- | --- |
| Zone | Harvest |
| 1 | 611 |
| 2 | 1325 |
| 3 | 830 |
| 4 | 558 |
| 5 | 222 |
| 6 | 262 |
| 7 | 130 |
| Total | 3938 |
Where to hunt
Find properties open to public hunting
Management
Wild turkey stamp
Turkey stamp funds have been providing opportunities for turkey management in Wisconsin since 1995. Sale of the turkey stamp currently brings in over $750,000 annually for developing, managing, conserving, restoring and maintaining the wild turkey population within the state. A few turkey stamp projects are highlighted below
Turkey Advisory Committee
The Turkey Advisory Committee, a diverse group representing government agencies, non-governmental organizations, tribal interests and conservation groups, meets to discuss issues relating to turkey management and the Wild Turkey Stamp program. The Committee advises the Wildlife Policy Team on a variety of topics such as hunting regulations, surveys and research priorities.
The goal of Wisconsin's wild turkey management program is to maintain turkey populations in all suitable range and optimize quality turkey hunting opportunities in spring and fall.
Committee meeting information
Saftey Tips
Turkey Hunting Saftey Tips
If you're heading out in the woods for turkey hunting, be extra careful because you're dressed in camouflage. Most turkey hunting shooting accidents occur because one hunter mistakes another hunter as game.
It's a good idea to wear a blaze orange cap or gloves. while walking. And find a hunting spot that allows you to rest your back against a tree or some other object that is as wide as your shoulders. This helps protect you from not only an errant shot, but from the good vision of the turkey.
Follow these simple rules for a safe and successful hunt.
Use gobble calls only to locate a tom, not to attract one. Some other hunter might think you're a turkey.
Keep hands and head camouflaged when calling.
Never stalk a turkey and don't try to approach closer than 100 yards to a gobbler.
Select a calling site from which you can see at least 40 yards in all directions.
Never carry or move an uncovered decoy.
Follow the four rules of basic firearm safety – TABK.

 

T = Treat every firearm as if it is loaded. Never assume a firearm is unloaded and never treat it that way, even if you watch as it is unloaded. Make it a habit to treat guns like they are loaded all the time.
A = Always point the muzzle in a safe direction. About one third of all hunting incidents are self inflicted injuries. That means the muzzle was pointed at some part of the hunter's body. A safe direction is a direction where the bullet will travel and harm no one in the event of an unwanted discharge. There are no accidental discharges with firearms, only unwanted discharges.
B = Be certain of your target and what's beyond it. Positive target identification is a must. To shoot at something you only think is a legal target is gambling. In the case of human injury, that means gambling with human life. You must be absolutely certain and correct in judgment before deciding to shoot. Otherwise, it's reckless behavior. In addition to identifying the target, a hunter must know that a safe backstop for their bullet is present in every shooting situation. We don't always hit our target, and, in some cases, the bullet passes through the target. A safe backstop guarantees that no one will get hurt.
K = Keep your finger outside the trigger guard until ready to shoot. If a hunter stumbles with a firearm in one hand and nothing in the other, whatever that person does with their free hand will automatically happen with the hand holding the gun. If a finger is inside the trigger guard, that hand is likely going to close around the pistol grip of the gun and on the trigger causing an unwanted discharge.