Yunker Industries, Inc.
Tier 1 participant since 9/12/2017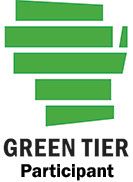 Yunker Industries, Inc., is a graphics and décor manufacturer with its headquarters in Elkhorn in Walworth County. Yunker Industries is a Tier 1 participant in Green Tier and also a participant in the national Sustainable Green Printing Partnership program.
Yunker is a Woman-Owned Business Enterprise family owned established print service provider. Yunker designs, engineers, manufactures and implements custom signage and décor programs for retailers and brands. Yunker has been servicing national accounts since 1948, creating retail imaging solutions. Yunker's primary business segments include: creative and industrial design, prototyping, large format printing and fabrication, program management and nationwide installation, warehousing and fulfillment, online reporting and customer support.
Yunker Industries is a member of the Sustainable Green Printing Partnership (SGP), which requires they have a functionally equivalent EMS in place. Yunker Industries has been actively managing and tracking their environmental performance for decades, maintaining an internal compliance recordkeeping program, which is reviewed by an outside environmental consultant on a quarterly basis. Since 2006, Yunker's has lowered their air emissions by over 80%.
Yunker Industries works with vendors and other companies to continuously improve streamlining manufacturing processes, reduce waste, non-recyclable materials, energy consumption, prevent pollution and improve the use of recyclable/reusable materials.
Environmental Activities
Future environmental performance goals include:
Evaluating a Zero Land Fill certification;
Converting to LED lighting at their Elkhorn facility;
Increasing recycling through employee education;
Upgrading to low flow fixtures in rest rooms; and,
Re-evaluating their Hazardous Waste Generator classification from 'small' to 'very small' classification based on reduced waste stream.
Documents
Annual report
Commitment outline
Acceptance letter
Application
DNR contact
Company contact
Renee Bashel
101 S Webster St - EAS/7
PO Box 7921
Madison WI 53707-7921
608-266-6977
Cell 608-347-7940
Nadine Seitz
Marketing manager
310 O'Connor Dr
Elkhorn WI 53121
877-798-6537
Yunker Industries, Inc.
Related participants