Wisconsin Department of Military Affairs
Tier 1 participant since 12/28/2010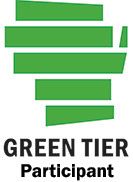 The Wisconsin Army National Guard manages 85 facilities around Wisconsin that work to maintain state and national security. In addition to administrative facilities, the guard also operates armories and maintenance support facilities including the Maneuver Area Training Equipment Site, the Combined Support Maintenance Shop, Field Maintenance Shops, and Army Aviation Support Facilities.
Environmental activities
To contribute toward its environmental stewardship, the Wisconsin Army National Guard has implemented waste minimization strategies and recycling efforts, including recycling oil, antifreeze, batteries, tires, and other components. Standard operating procedures have also been introduced for responding to emergency spill situations in order to prevent or mitigate any corresponding environmental impacts. The guard has also implemented an environmental management system that conforms to the International Organization for Standardization 14001 EMS standard.
The Wisconsin Army National Guard has demonstrated the ability to perform at high levels of environmental performance and the commitment to the processes found in the environmental management system. They have excelled in the environmental performance area.
Documents
Annual reports
Commitment outline
Acceptance letter
Application
DNR contact
Organization contact
Jared Seidl
473 Griffith Ave
Wisconsin Rapids WI 54494-7859
920-420-5960
Adam Jakubowski
State of Wisconsin
Dept. of Military Affairs
2400 Wright St
Madison WI 53704-2572
608-242-3350