The Toro Company – Tomah
Green Tier participant since 06/29/2012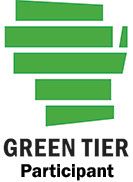 The Toro Company is a leading global manufacturer of turf equipment and precision irrigation technologies. Toro's manufacturing operation in Tomah, Wisconsin, produces commercial and landscape maintenance equipment to help customers worldwide care for golf courses, sports fields, public green spaces and commercial and residential properties. The Tomah facility employs roughly 550 people at its 300,000 square foot manufacturing plant, which includes operations such as welding, painting and assembly.
Environmental activities
Within the company's operations, it has implemented a formal Environmental Management System to provide continuous improvement in the area of environmental performance. In 2011, Toro's Tomah manufacturing facility obtained ISO 14001 certification and has adopted environmental commitments and programs, such as low volatile organic compound (VOC) emissions through water-based coatings, and waste minimization through recycling paper, wood, metals, plastics and solvents. The facility also has implemented energy-saving projects through:
relamping the facility;
installing occupancy sensors;
integrating more energy-efficient air compressors;
adopting heat recovery units; and
utilizing new energy-saving welding equipment.
Documents
Annual reports
Commitment outline
Acceptance letter
Application