TCLAD Inc.
Tier 1 participant since 10/6/2014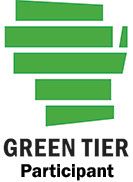 Since 1997, TCLAD Inc., a Polytronics related company, and its predecessors (Bergquist Company and Henkel) have produced one of the world's most trusted thermal management materials at their Prescott, Wisconsin location. Multi-award-winning formulations in various mediums provide essential heat dissipation for applications within numerous markets. These markets include automotive, consumer, telecom/datacom, power and industrial automation, computing and communication. TCLAD has facilities in Europe and Asia as well.
Environmental activities
The TCLAD facility in Prescott, WI has a history of positive environmental performance and believes that its Environmental Management System (EMS) is a strategic part of doing business and TCLAD's future.
TCLAD consistently reviews every project for environmental improvement opportunities through its management of change process.
Facility improvements over the years have reduced water and energy usage. A closed loop chiller installed in 2017 resulted in saving approximately 20,000 gallons of water per day. A switch to high bay LED lighting resulted in less electricity use, fewer replacements and the end of fluorescent lighting in the facility.
The Thermal Clad (see diagram) units produced at the Prescott facility are designed to help products run cooler, last longer and use less energy. For example, Thermal Clad can help lower automobile fuel consumption and can reduce electrical and replacement costs in LED lighting.
Documents
Annual reports
Commitment outline
Acceptance letter
Application