STRATTEC Security Corporation
Tier 1 participant since 8/15/2016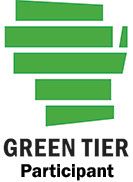 STRATTEC and its predecessor, Briggs & Stratton Technologies, have been in the vehicle lock manufacturing business for more than 80 years. STRATTEC's record of environmental performance is guided by an Environmental Management System (EMS) that outlines the company's commitment to preventing pollution and continual improvement.
Environmental activities
STRATTEC's environmental achievements to date include:
installing a water re-use system in the Plating Department resulting in annual reductions of over 3 million gallons;
eliminating the use of cyanide and related wastewater treatment chemicals in the zinc plating process; and
receiving ISO 14001 EMS certification, an international standard for environmental performance.
Future sustainability goals include:
reducing the die cast reclaim rate to less than 1.75%;
increasing use of intermodal shipping to five times/week and reducing use of premium freight;
increasing usage of water-soluble die lube by 2%;
utilizing a recycling system to reduce oily wastewater production; and
better communicating EMS benefits and cost savings from sustainability projects.
Documents
Annual report
Commitment outline
Acceptance letter
Application