Standard Process, Inc.
Tier 1 participant since 8/21/2014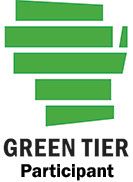 Standard Process, Inc. is a 90-year-old Wisconsin business that manufactures dietary supplements. Since the development of their first multivitamin, Catalyn®, Standard Process' goal has been to provide nutrients for the body as they are found in nature, in a whole food state where their natural potency and efficacy can be realized. Since 1929, Standard Process has remained committed providing the safest, highest quality dietary supplements through health care professionals to help improve and optimize health and wellness. The third generation, family-owned company's corporate headquarters, manufacturing facility and 623-acre certified-organic farm are all located in Palmyra.
Environmental activities
A core value of Standard Process is to be a steward of the land by using environmentally safe farming, manufacturing and business practices. Significant accomplishments from 2010 through 2018 include:
Electrical reductions - 1,800,000 kWh/yr (est. 1,260 metric tons CO2e/yr)
Natural gas reductions – 100,000 therms/yr (est. 525 metric tons CO2e/yr)
Water and wastewater reductions – 6,000,000 gal/yr of annualized potential use and discharge averted through identification from visual audits and reductions in water usage
Initiated paper reduction effort that resulted in a 40% reduction in paper usage during the first year (reduced usage by 400,000 sheets of paper)
Implemented program to beneficially reuse RO regeneration water – saving 600,000 gallons per year of water usage and wastewater generation
Installed motion sensors in the Farm Production building – reducing electrical usage in that building by 35%
Identified a beneficial reuse option for byproduct solids – over 400,000 pounds of solids rendered in facility that makes raw materials for animal feed, fuel, cosmetics, etc.
Composting byproduct solids from the Farm processes – beneficially using approximately 5,000,000 pounds of solids per year to produce a valuable soil amendment
Under the Green Tier program, Standard Process committed to continue its long tradition of commitment to the environment by focusing on the following:
continuing compliance with all applicable rules and regulations;
continuing organic farming practices;
implementing a formal Environmental Management System (developed and implemented the first year in the Green Tier program);
expanding beneficial reuse, waste reduction and recycling efforts; and
identifying and implementing opportunities for additional energy conservation/reduction measures.
Documents
Annual reports
Commitment outline
Acceptance letter
Application
DNR contact
Company contact
Renee Bashel
101 S Webster St - AM/7
PO Box 7921
Madison WI 53707-7921
608-266-6977
Cell: 608-347-7940
Matt Waite
Environmental Engineer
1200 W Royal Lee Dr
Palmyra WI 53156
262-495-2122 Ext 1255
Standard Process Inc.