Standard Imaging
Tier 1 participant since 10/16/2009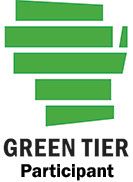 Founded in 1989, Standard Imaging has become a leading supplier of radiation calibration and quality assurance instruments and software. Their product and service solutions support a broad range of radiation treatment applications, including dosimetry, brachytherapy, intensity modulated radiation therapy, image guided radiation therapy and stereotactic radiosurgery. Standard Imaging products are used by medical physicists, radiation oncologists and technologists at major research universities and hospitals worldwide. In February 2007, Standard Imaging moved into its new, energy efficient, eco-friendly 27,000 square foot corporate headquarters in Middleton. Standard Imaging is actively led by three individuals who originally founded the company; their dedication to Standard Imaging, and its mission, are shared by its employees.
Environmental activities
Past environmental achievements include the installation of solar panels at their facility, as well as goals to reduce radiation exposure, use of geothermal power and engineering products to accomplish environmental and economic goals. In addition, the company has committed to have an environmental management system in place within 12 months of acceptance into the Green Tier program as further demonstration to manage their environmental footprint.
Documents
Annual reports
Commitment outline
Acceptance letter
Application