Smithfield Packaged Meats Corporation
Tier 1 participant since 11/09/2012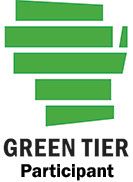 Smithfield Packaged Meats Corporation (formerly Patrick Cudahy LLC), has been producing premium meats including bacon, ham, sausage and deli and specialty meats in Cudahy, Wis. since 1888.
Environmental activities
The facility uses an Environmental Management System (EMS) certified to the internationally recognized ISO 14001 standard to closely monitor its environmental footprint. In 2011, Patrick Cudahy:
achieved a 19% decrease in electricity use from the previous year;
decreased landfilled waste by 27%; and
recycled 83 tons of plastic.
To continually improve performance, Smithfield Packaged Meats Corp plans to install additional LED lights to conserve electricity and to evaluate the feasibility of taking remaining landfill wastes and converting them into alternative fuels to be used by other companies for energy.
Documents
Annual reports
Commitment outline
Acceptance letter
Application