Smart Sand - Oakdale plant
Tier 1 participant since 8/27/2014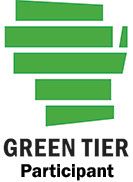 Smart Sand Inc.'s Oakdale facility in Monroe County is located on over 1,000 acres. The operation supplies frac sand in a broad range of mesh sizes to natural gas producers. Smart Sand is in Tier 1 of the Green Tier program.
Environmental activities
The Smart Sand Management Team and their employees are committed to running a sustainable and environmentally responsible facility. On an ongoing basis, Smart Sand conducts air monitoring tests, smokestack observations, required and voluntary groundwater tests and ongoing inspections related to storm water erosion and dust control measurements.
Since entering Green Tier, Smart Sand has implemented an environmental management system and has maintained and improved upon their monitoring and testing. In addition, Smart Sand is proposing a voluntary habitat project to improve the aquatic habitat of a trout stream that passes through their property.
Documents
Annual reports
Commitment outline
Acceptance letter
Application
DNR contact
Company contact
Brad Johnson
225051 Rib Mountain Dr
Wausau WI 54401-3336
715-340-5281
Thomas Young
General manager
29499 US Highway 12
Tomah WI 54660
262-741-5034
Smart Sand