Serigraph, Inc.
Tier 2 participant since 08/26/2011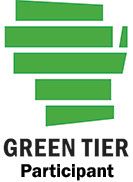 Serigraph is a full-service printing, molding and custom graphics company that specializes in decorative, functional, and brand identity solutions for customers in appliance, automotive, consumer, medical, electronics, industrial and point-of-purchase markets. Serigraph has been a Green Tier participant at the Tier 1 level for five years and was welcomed as a Tier 2 participant in August 2011. Serigraph's environmental accomplishments include:
since 2000, Serigraph's biofiltration system has eliminated more than 180 tons of volatile organic compounds from its emissions;
recycling 1.5 million pounds of plastic in 2006;
keeping 75 of the 100-acre main Serigraph campus in natural state; and
improving reclamation processes that reduced water consumption by 65%.
Environmental activities
Serigraph will expand upon these past successes and will identify additional areas for environmental improvement by utilizing their environmental management system.
Proposed goals for the facility under the contract include:
minimize waste and increase recycling;
minimize solvent usage;
reduce electrical consumption;
restoration and maintenance of on-site prairie;
reduce water usage; and
convert to ultraviolet inks to further reduce volatile organic compounds.
Documents
Annual reports
Participation contract
Application