Sadoff Iron & Metal - Oshkosh Facilty
Tier 1 participant since 8/31/2017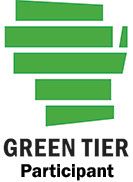 Sadoff Iron & Metal has been recycling scrap metal in Wisconsin for over 60 years. Sadoff Iron & Metal offers recycling for non-ferrous metals (aluminum, stainless steel, copper, titanium, brass) and ferrous scrap (cast iron, sheet iron, unprepared steel) and auto salvage. It also offers electronics recycling to steel mills, foundries, smelters and many others.
Environmental activities
Since 1995 Sadoff's Wisconsin facilities have been members of the Cooperative Compliance Program (CCP). As part of the CCP, each of their Wisconsin facilities are audited annually by CCP consultants. As part of Green Tier participation, Sadoff Iron & Metal's Oshkosh facility was ISO 14001 certified within its first year in the Green Tier program. Sadoff believes in continuous improvement in all aspect of business, including utilizing formal management systems to ensure process and organization controls.
In 2017, Sadoff's Oshkosh facility made the strategic decision to further develop capabilities for the collection, processing and shipment of electronics items. These expanded services have allowed for developing a sub-brand, bringing more awareness of Sadoff's services and marketing new services to new customers.
Documents
News Release
Annual reports
Commitment outline
Acceptance letter
Application