SC Johnson & Son, Inc.
Tier 1 participant since 07/09/2012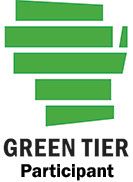 SC Johnson is a fifth generation, family-owned and managed business that has been in business for 126 years. What began as a small flooring business in Racine is now one of the world's leading manufacturers of household cleaning products and products for home storage, air care, pest control and shoe care. The company employs nearly 13,000 people globally and sells products in virtually every country around the world. Its Waxdale, Wisconsin facility, SC Johnson's largest global manufacturing location, produces brands including Glade®, Pledge®, Windex®, and other popular products and the company's corporate headquarters are located in nearby Racine.
Environmental activities
Guided by a commitment to innovative, high-quality products, excellence in the workplace and a long-term commitment to the environment and the communities in which it operates, SC Johnson is a recognized leader in sustainable operations and innovations.
In 2001, SC Johnson developed the patented Greenlist™, an internal process that classifies ingredients in SC Johnson products by their impact on the environment or human health. As an example of Greenlist™ results, Windex® brand glass cleaner was reformulated to cut 1.8 million pounds of volatile organic compounds (VOCs) from the product while giving it 30% more cleaning power.
SC Johnson built its first cogeneration turbine in 2003, which produces 3,200 kilowatts of electricity per hour from landfill gas. A second turbine was built at the Waxdale facility in 2004 and together they meet the daily base load of electricity needs at Waxdale.
These achievements and other renewable energy efforts earned SC Johnson a 2011 Green Power Leadership Award from the U.S. Environmental Protection Agency and the number eight spot on the agency's Top 20 On-Site Generation List.
SC Johnson & Son's 2016 goals include:
manufacturing waste Reduction of 70% by 2016 (vs 2000 baseline);
reducing GHG 48% (vs 2000); and
use 33% renewable energy by 2016.
Documents
Annual reports
Commitment outline
Acceptance letter
Application