Rockwell Automation
Tier 1 participant since 05/15/2008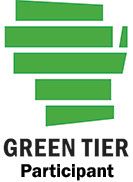 Rockwell Automation is a publicly-traded, global provider of industrial automation control equipment and information systems and services for manufacturers. The company brings together leading brands in industrial automation, including Allen-Bradley controls and services and Rockwell factory management software. The company is both an engineering company and light-manufacturer of industrial automation components.
Rockwell, founded in 1903, has a total of over 22,000 employees world-wide, with over 5,000 employees in Wisconsin. Rockwell was named to CR (Corporate Responsibility) Magazine's "100 Best Corporate Citizens" list.
Environmental activities
Rockwell Automation has four Wisconsin manufacturing facilities (Milwaukee, Ladysmith, Mequon and Richland Center) participating in Green Tier. Corporate establishes the environmental performance goals for each of these facilities under one Environmental Management System (EMS). All results are rolled up each year and reported in a single report. In general, the significant environmental impacts associated with their manufacturing activities relate to electricity consumption and solid waste generation.
Most of Rockwell's energy consumption is to light and heat/cool their buildings, and they use very little natural gas or liquid fuel. Thus, the majority of their CO2 emissions are Scope 2 or indirect emissions (burning natural gas or liquid fuel would be a Scope 1 emission, but that is a tiny fraction of their overall energy and carbon footprint). Rockwell has a 2022 goal to reduce Scope 1 & 2 emissions by 30 percent as normalized to 2008 sales.
Rockwell uses the same software system that they sell to customers to track and monitor in real time their use of air, gas, electricity and steam. This attention to metrics has resulted in substantial reductions of both their energy use and their carbon footprint.
Documents
Annual reports
Commitment outline
Acceptance letter
Application
DNR contact for Ladysmith
DNR contact for Mequon and Milwaukee
Thomas Nedland
107 Sutliff Ave
Rhinelander WI 54501-3349
920-286-3739
Cathy Baerwald
1027 W St Paul Ave
Milwaukee WI 53233-2641
414-333-6805
DNR contact for Richland Center
Company contact
Mike Finlay
26136 Executive Ln Ste C
Richland Center WI 53581-4057
608-434-2146
Alyssa Niechlanski
EHS Specialist
1201 South 2nd S
Milwaukee WI 53204
262-512-7241
Rockwell Automation