Menasha Packaging Co., LLC
Tier 1 participant since 06/13/2011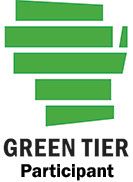 Menasha Packaging specializes in developing packaging products and merchandise displays that use less material and are made from recycled or environmentally friendly material to help customers move and sell their product. The Neenah and Hartford plants and Midwest Fulfillment Center produce packaging including retail-ready packaging, protective packaging and corrugated cartons while the plants in Neenah and Hartford also create merchandising displays. The Green Lake plant, which closed in 2013, was part of Green Tier from 2011-2013.
Environmental activities
As the company moves forward as a Green Tier participant, Menasha Packaging will continue to make changes at its plant locations to improve their environmental performance. A heat recovery project at its Neenah facility will capture waste heat for use during the winter months while the Hartford facility has installed a recyclable water system to reduce water consumption. Menasha has also invested in renewable energy by installing five 20kW wind turbines at its Neenah Campus.
Documents
Annual reports
Commitment outline
Acceptance letter
Application