Fincantieri Marinette Marine
Tier 1 participant since 9/22/2022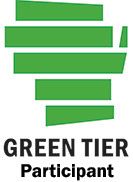 Fincantieri is one of the largest shipbuilders in the world, employing 19,000 shipbuilding professionals in 18 shipyards on four continents. Fincantieri has a rich history dating back more than 234 years and has built more than 7,000 ships. Fincantieri operates in the United States through its subsidiary Fincantieri Marine Group (FMG). This company, which serves commercial and government customers, including the U.S. Navy and Coast Guard, has three shipyards (Fincantieri Marinette Marine, Fincantieri Bay Shipbuilding and Fincantieri ACE Marine) located in Wisconsin on the Great Lakes.
Fincantieri Marinette Marine employs over 1,500 people in Wisconsin and has over 700,000 square feet of manufacturing, warehouse/receiving space, and the capacity to simultaneously build multiple classes of ships. The company is internationally recognized for innovative and highly efficient, modular, subassembly and assembly-line manufacturing techniques. Since its founding in 1942, the Marinette facility has designed and built more than 1,500 vessels.
Fincantieri Marinette Marine is currently building the Freedom Class Littoral Combat Ship, Multi-Mission Surface Combatant, and Constellation Class FFG 62 for the United States Navy.
Environmental Activities
Preserving and protecting the environment is a key aspect of Marinette Marine's company culture. Before their Tier 1 application, the facility implemented an environmental management system certified to the ISO 14001 standard. Environmental goals for the facility include reducing water and energy consumption and increasing environmental awareness among employees to understand the positive impact of their everyday work. The facility has pursued creative awareness campaigns for its employees to promote water and air quality protection and waste reduction through recycling programs.
In January 2022, Marinette Marine became a participant in another voluntary, environmentally focused program called Green Marine. Green Marine is the largest voluntary environmental certification program for North America's maritime industry.
Other environmental goals for 2022 include:
Completing a full transition to LED lights across the facility
Implementing drain guards on all spouts in the facility yard
Documents
News Release
Commitment outline
Acceptance letter
Application