Madison Gas and Electric (MGE)
Tier 2 participant since 9/27/2012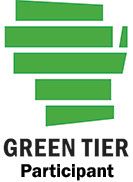 Madison Gas and Electric Company (MGE) generates and distributes electricity to more than 141,000 customers in Dane County, Wis. The company also purchases and distributes natural gas to more than 147,000 customers in seven south-central and western Wisconsin counties. For ten years, MGE participated in Wisconsin's Environmental Cooperation Pilot Program (ECPP), which helped DNR learn about innovative environmental initiatives and helped formulate the Green Tier program. MGE has now converted to a Tier 2 Green Tier participant.
Environmental activities
Madison Gas and Electric has a strong record of environmental leadership. Its Blount Generating Station was the first Wisconsin power plant to certify its Environmental Management System to the internationally recognized ISO 14001 standard. The company's Energy 2015 plan has guided the efforts to provide reliable energy and reduce emissions by adding more renewable energy, increasing conservation, replacing power from old coal units and ending the burning of coal at its Blount plant. Other achievements include:
Purchasing electricity from a manure digester in Dane County. The digester reduces the amount of phosphorus that would otherwise discharge into the watershed and helps reduce greenhouse gases. MGE purchases this electricity at a premium price, which helps subsidize the digester.
Offering customers a mercury thermostat recycling program and removing old mercury-containing equipment at Blount through its voluntary Mercury Reduction Plan.
Maintaining an ISO 14001-certified Environmental Management System at Blount. The power plant has passed all of the independent third-party audits, which have concluded with no findings of nonconformance to the ISO standard.
Documents
News release
Participation contract
Reports
DNR contact
Company contact
Samantha Whitens
3911 Fish Hatchery Rd
Fitchburg WI 53711
608-273-5947
Cell: 608-512-9257
Jeff Jaeckels
PO Box 1231
Madison WI 53701-1231
608-252-7060
MGE