Lauterbach Group, Inc.
Tier 1 participant since 11/16/2012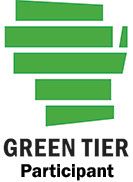 The Lauterbach Group is an award-winning flexographic printer located in Sussex providing packaging and labeling products to a variety of markets including direct mail, household products, food and beverage, and security authentication. The Group's corporate headquarters and production facility are housed in a Silver Certified LEED™ (Leadership in Energy and Environment Design) building that incorporates concepts like porous pavement, native vegetation and natural lighting to efficiently utilize the site's resources.
Environmental activities
Lauterbach Group uses defined environmental and sustainable policies and practices to manage business processes. These include:
energy management through efficient lighting, power management and facility design;
water conservation using its very own water purification plant within the production facility along with dual/low flow systems, motion sensors and reclaiming rain waters for plant irrigation;
continual environmental and sustainable education and training to encourage members to become environmental stewards at work and at home; and
3R principles: Reduce, Reuse and Recycle to monitor and utilize resources effectively and efficiently to eliminate waste.
Sustainable practices led Lauterbach Group to be named a 2012 Green Master in the Wisconsin Sustainable Business Council's Green Masters Program. Along with this leadership award, the Group holds a Chain of Custody Certification for Transfer Systems and Fiber Sourcing from the Forest Stewardship Council® (FSC) and from the Sustainable Forestry Initiative® (SFI), both designed to certify and track responsible use of forest products.
Documents
Annual reports
Commitment outline
Acceptance letter
Application