Kikkoman Foods, Inc.
Tier 1 participant as of 11/29/2013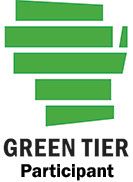 Kikkoman Foods, a producer of naturally brewed soy sauce, has been ISO 14001 certified for more than 10 years and continues to strive for better results. The company's creed, "make haste slowly", defines a culture of continually looking for improvements and recognizing impacts. Kikkoman is proud to be on a journey of sustainability.
Environmental activities
According to Kikkoman Foods, their soy sauce has its origins in the 17th century, when the Mogi and Takanashi families began soy sauce production along the Edo River in Noda, a small Japanese city. In Japanese folklore, the tortoise lives for 10,000 years and thus stands as a symbol of longevity. The Mogi family chose "kikko," or tortoise shell, and "man," meaning 10,000, as the trademark—first for their top soy sauce, and later for the name of their company.
Wisconsin, which is known for its cheese and beer, is also a major producer of Asian staples like ginseng and soy sauce. Wisconsin's relationship with Kikkoman began in 1973 when Kikkoman became one of the first Japanese firms in history to establish a production plant in the United States. The plant is still located in Walworth, Wis.
Documents
Annual reports
Commitment outline
Acceptance letter
Application