Holsum Dairies LLC
(Irish Dairy) Tier 1 participant since 10/03/2005; (Elm Dairy) Tier 1 participant since 06/18/2009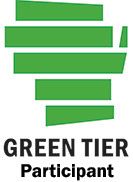 Holsum Dairies' two farms, Irish Dairy and Elm Dairy, are located near Hilbert, Wisconsin, midway between Lake Michigan and Lake Winnebago. Each Grade A milk producing site cares for about 3,600 milking cows and about 400 dry cows at any one time.
Environmental activities
Holsum Dairies focuses on continually optimizing their Nutrient Management Plan, their surface and groundwater protection strategy and their conversion of manure into electricity and fertilizer. Holsum's Environmental Management System aids in implementing and consistently documenting their core culture of environmental sensitivity, environmental protection and environmental restoration. Both the design and daily operation of the dairies reflect this commitment.
In 2012, Holsum Dairies was chosen as a national winner in the inaugural U.S. Dairy Sustainability Awards by the Innovation Center for U.S. Dairy®. The awards recognize dairy farms and businesses for practices that deliver outstanding economic, environmental and/or social benefit, all helping to advance sustainability of the dairy industry.
By continuing to grow their rural business, Holsum Dairies say they create more opportunities for their feed, equipment, construction, animal health suppliers and serve as a reminder that modern dairies and Wisconsin's beautiful countryside can thrive in respectful partnership.
Documents
Annual reports
Holsum Dairies - Elm Tier 1 documents
Holsum Dairies - Irish Tier 1 documents
DNR contact
Company contact
Bethani Chambers
625 E County Road Y Ste 700
Oshkosh WI 54901-9731
920-573-8033
Brent Cousin
General manager
N6206 Elm Rd
Hilbert WI 54129
920-853-7138