Hi-Crush
Tier 1 participant since 11/10/2017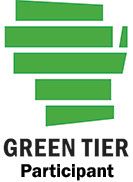 Hi-Crush was founded in October 2010 to mine and process premium monocrystalline sand, a specialized mineral that is used as a proppant to enhance the recovery rates of hydrocarbons from oil and natural gas wells. Hi-Crush's mineral reserves consist of Northern White sand, predominately found in Wisconsin and limited portions of the upper Midwest region of the United States.
Environmental Activities
Hi-Crush's business operations have been designed to minimize environmental impacts; its processing and rail loading facilities are located on-site, reducing costs and impacts of trucking sand between wet and dry plants. Hi-Crush operations utilize overland conveying systems to transport mined materials, eliminating the need for trucking or hauling the material with heavy equipment or a fleet of diesel burning trucks over local roadways, also helping lessen its air quality impacts. Hi-Crush's EMS, which went into effect earlier this year, is expected to optimize operations over time and improve environmental performance.
Future environmental performance goals include, but are not limited to:
Increasing awareness by hosting meetings and open houses for the public, local government, and other stakeholders to discuss environmental performance and address concerns; along with participating in and/or leading local community beneficial projects;
Going beyond industry standards when rebuilding landscapes with full-phase reclamation projects, along with the planting of trees in or around the facility property and community areas;
Increasing water recycling efforts to reduce groundwater use; and,
Converting all pressure drop gauges to wireless feeds, allowing for real-time monitoring of all air filter-based pollution control devices.
Documents
News Release
Annual report
Commitment outline
Acceptance letter
Application
DNR contact
Company contact
Anna Mares
1300 West Clairemont Avenue
Eau Claire WI  54701-6127
715-492-1853
Dick Reesman
Environmental Compliance Advisor
S11011 County Rd M
Augusta WI 54722
715-286-2079
Hi-Crush Augusta LLC