Chart Energy & Chemicals, Inc.
Tier 2 participant since 7/12/2017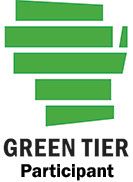 Chart Energy & Chemicals, a division of Chart Industries Inc. designs and manufactures cryogenic equipment used in many parts of the liquid gas supply chain. Chart Energy & Chemical's products are used in the separation of oxygen, nitrogen and noble gases in the processing of natural gas. In addition, their distribution and storage division produces products that are fundamental to the delivery and end-use of liquid gases in many industrial and energy applications.
Environmental Activities
As a part of Green Tier, Chart Energy & Chemicals will continue to implement their environmental management system, undertake all required audits and will submit an annual report to the department. Their recent environmental accomplishments include:
removing all solvents from their standard cleaning process and replacing them with an aqueous system for fin forming oil removal;
reducing aluminum scrap by 15%;
becoming a zero landfill facility;
recycling all metals, plastics and cardboard and incinerating all hazardous waste;
implementing a helium usage reduction program; and
implementing an electrical peak demand shaving goal of 25%.
Documents
Annual reports
Participation contract
Acceptance letter
Application