Syntegon Packaging Technology LLC
Tier 2 participant since 8/14/2012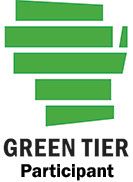 Syntegon Technology is a leading global process and packaging technology provider. Formerly the packaging division of the Bosch Group, the company, headquartered in Waiblingen (Germany), has been offering complete solutions for the pharmaceutical and food industries for over 50 years.
More than 6,100 employees at 30 locations in more than 15 countries generated a total revenue of 1.3 billion euros in 2018. The portfolio of intelligent and sustainable technologies includes stand-alone machines, as well as complete systems and services.
Environmental activities
Syntegon received ISO 14001 certification in 2011 for their Environmental Management System (EMS). The company achieved a 12% reduction in relative carbon dioxide (CO2) emissions from 2007 to 2011. The company has significantly reduced waste, energy usage and water usage. It has committed to continuing these efforts as well as maintaining its EMS, performing compliance audits, training employees and doing integral environmental planning with research and development.
Documents
Annual reports
Acceptance letter
Participation contract
Application
*Formerly Bosch Packaging Technology LLC