Bergquist Company
Tier 1 participant since 10/6/2014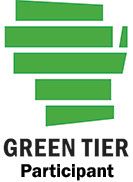 The Bergquist Company is a privately-held, family-owned business started by Carl Bergquist in 1964. The company began by distributing electronic components in the upper Midwest and consists of three main divisions: Thermal Products, Membrane Switches and Touch Screens. Today Bergquist supplies the world with some of the best-known brands in the business. Bergquist Company's corporate headquarters is located in Chanhassen, Minnesota. They have two other facilities in Minnesota, as well as one in South Dakota. Bergquist also maintains sales offices in The Netherlands, Germany, Taiwan, Korea, Hong Kong and China as well as sales representatives in 30 other countries. Bergquist's Prescott facility is 95,000 square feet and is the only facility in the world of its size solely dedicated to the production of Insulated Metal Substrates (IMS).
Environmental activities
Bergquist Company has been a sustainable, industry-leader for years and has made a strong commitment to transparency and continual improvement with the development of their Environmental Management Strategy. It is the policy of the Bergquist Company to operate their business around documented and defined processes to ensure compliance to customer requirements and to minimize their environmental footprint. Their application to the Wisconsin Green Tier program further enhances their environmental policy and practices.
Documents
Reports
Commitment outline
Acceptance letter
Application
DNR contact
Company contact
Kurt Rasmussen
3550 Mormon Coulee Rd
La Crosse WI 54601-6768
608-785-9910
Cell: 608-799-2419
Chris Vesperman
Process engineer
1600 Orrin Rd
Prescott WI 54021
715-262-8203
Bergquist Company
Related participants