WARDENS TO THE RESCUE FOR ANIMAL FRIENDS
Teamwork is key to resolving creature concerns
Joanne M. Haas
Late fall and winter can be a busy time for the DNR's conservation wardens.
Several hunting seasons take place, including the nine-day gun deer season. Colder weather brings attention to snowmobile and ice safety.
Still, when the situations arise, these dedicated wardens find time to help with creature concerns as well as people ones, often in partnership with local residents and law enforcement agencies.
Here are a few animal rescue cases successfully resolved by the DNR's conservation warden team.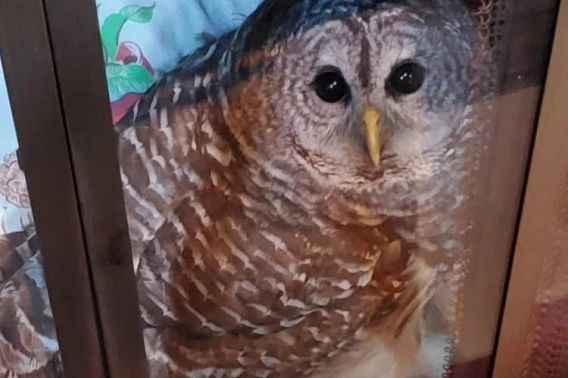 PHOTO COURTESY OF DNR CONSERVATION WARDEN
OWL DOUBLES AS CHIMNEY SWEEP
Conservation Warden Mike Burns was called to a home after owners found themselves staring back at a barred owl resting in their fireplace. Somehow, this beauty of a bird got caught in the home's chimney and worked its way into their fireplace. Now what?
Call the DNR wardens, of course!
Burns arrived at the rural home near Woodford in Lafayette County and was escorted into the living room. There, looking back through the fireplace doors, was the round-eyed bird.
Carefully and cautiously, Burns coaxed the owl out of the fireplace and into a plastic tote. Once the lid was on, Burns took the bird to a nearby wooded area, removed the lid and the owl flew to freedom.
LOON LANDING
Early season ice can catch wildlife by surprise. When a young loon got iced in at Palmyra's Lower Spring Lake, Palmyra police officer Paul Blount knew a rescue was in order.
Blount called on Conservation Warden Alex Brooks for the two-man rescue with Palmyra officer Ben Posanski. Brooks used his mud motorboat and broke the ice to retrieve the bird. The men got the bird in the crate for the ride to the Rock River, where it was successfully released into the wil
FAWN ON ICE
Two DNR wardens earned the cheers of a small crowd concerned for the well-being of a fawn discovered stranded on the ice-covered Pella Pond in Shawano County. Wardens Jake Cross and Mark Schraufnagel responded to the call with a canoe and paddles to crack through the ice and travel about 100 yards offshore.
There, the wardens reached the small fawn sitting atop the ice, not sure where to go. Schraufnagel used a catch pole to secure the deer while Cross navigated the trio back to shore. Local wildlife management staff also had arrived and assisted on shore, where the deer was safely released.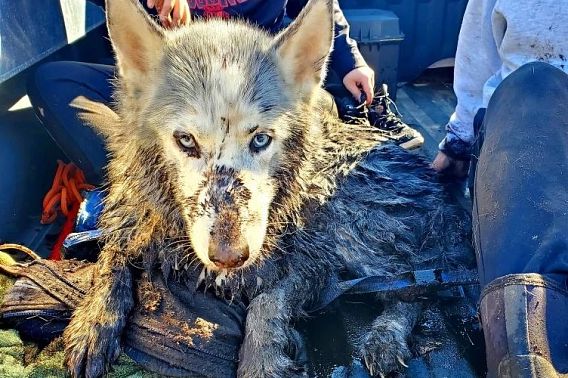 PHOTO COURTESY OF DNR CONSERVATION WARDEN
LUCKY IS LUCKY
Conservation Warden Ben Mott helped release Lucky, a 13-year-old husky, from the grips of a particularly nasty mudhole on state land in Waushara County in late October. Seems Lucky was bent on a solo exploration mission and did a two-step into what was more like quicksand, Wisconsin-style.
He tried to pull himself out but no luck. However, he knew how to call for help using the old canine standby — constant barking.
His owners followed the bark and found their beloved dog hip-deep in the muck. They tried to free him, but he was in too deep and was way too heavy, so they called 911.
Waushara County dispatch alerted Mott, who came dressed correctly in his warden boots. Mott used a towel, a long check cord and a catch pole to secure Lucky, then reached into the mud up to his elbows to pull Lucky's legs free.
Waushara County sheriff's deputies also responded and helped make sure Mott and Lucky made it to Mott's warden truck. He gave Lucky and his happy owners a ride home, with instructions on how to watch for any signs of hypothermia.
A few days later, Lucky sent Mott a video with a thank-you yip.
DOING RIGHT BY 'DUDLEY'
DNR Conservation Warden Erika Taylor was on duty in January when she got a call about a lonely duck sitting on a pond in the city of Marshfield.
A duck by its lonesome, sitting on ice, when all its mates flew south? Taylor knew that wasn't right.
She also knew she was going to need some teammates to help this drake mallard who couldn't fly. She asked the Marshfield Fire Department for two ropes that could be tied together and dragged across the pond to nudge the duck off the unsafe ice for rescue.
We all know how the perfect plan sometimes goes. The duck, called Dudley by the community, had other ideas. He waddled away as the ropes approached but took a detour into a long culvert under the road.
Plan B: Enlist a dog. Taylor, who owns a 2-year-old fox red labrador named Sophie, was game for the job — and so was Sophie. The lab squeezed herself into the tight culvert to convince Dudley to keep moving to the other end.
Voila! Once Dudley presented himself, Taylor and three Marshfield ordinance officers used a fishing net to catch the duck. Dudley was delivered by a volunteer to the Raptor Education Group Inc. in Antigo for treatment.
Here's wishing Dudley a speedy recovery.
Joanne M. Haas is a public information officer for the DNR's Division of Public Safety and Resource Protection.