PIVOTING DURING THE PANDEMIC
Natural Resources Foundation adapts field trips program with safety in mind
Jaime Kenowski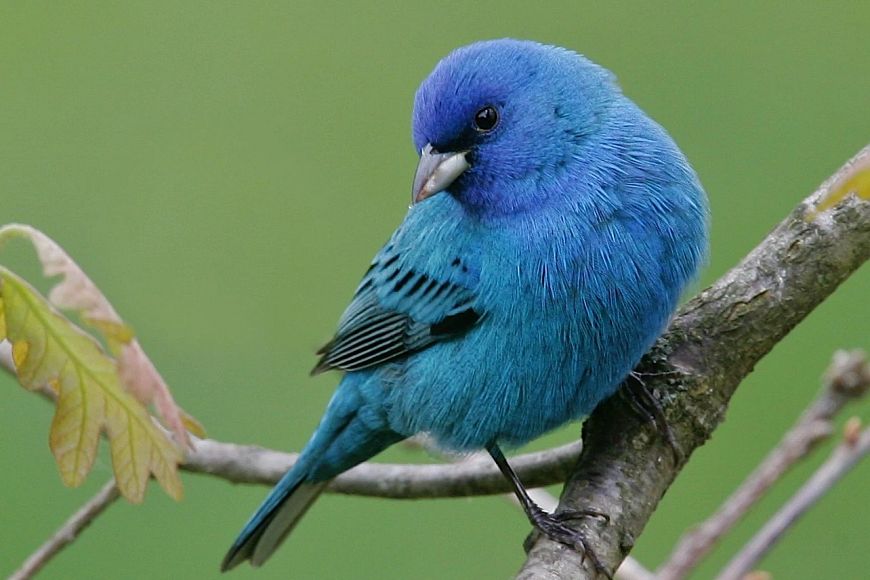 JACK BARTHOLMAI
"Whenever you're ready," field trip leader Bob Welch nods at me and smiles.
I hold my breath and look down at the indigo bunting resting on my hand, its legs grasped between fingers. I marvel at the brilliance of its feathers that almost seem out of place in Wisconsin. At just 5 ounces, it weighs the same as a deck of cards, but I can barely feel it is there.
Welch nods again, and I open my hand. For a moment, I can see the tracking band just fitted to the bird's leg. I blink, and with a whir of wings, the bird is gone, back to the surrounding forest near the Waupaca Biological Research Station where Welch has helped gather data on migratory birds for several years.
I was two weeks into my new job with the Natural Resources Foundation of  Wisconsin, and this was my first time on one of the foundation's field trips, the flagship outreach program.
There were about 20 participants in the bird banding outing, ranging from families and individuals to schoolchildren to retirees. Though that overcast April morning still had the chill of winter in the air, we were surrounded by the warmth and promise of spring.
Baltimore orioles, rose-breasted grosbeaks and American goldfinches seemed to drip from the trees straight into the mist nets that gently caught them. Trained volunteers fitted the birds' legs with a small metal band, a unique ID to help researchers gather data on population, lifespan and range of these birds for years to come.
I left the trip that day amazed at all I had experienced in such a short period of time. I also left with a newfound appreciation for birds and a sense of responsibility for their conservation — exactly the hoped-for outcome of the program.
The foundation's field trip program began over 30 years ago, launching with just three pilot trips and a dream of connecting the public to the hidden wonders of  Wisconsin's natural world. Since then, it has grown exponentially, offering dozens of expert-led trips across the state and reaching more than 5,000 adults and children in a normal year.
But, as we all know, 2020 was anything but normal.
EVERYTHING UPSIDE DOWN
Field Trip Director Christine Tanzer had lined up 243 trips in 2020, the most ever offered. The guidebook was printed, the registration site set and the trips just a few short weeks from launching.
And then news of the pandemic hit. The foundation canceled its spring trips and postponed the season while working to determine when the program might reopen.
"People were turning to the outdoors for relief, for a sense of peace and even normalcy during this time when everything else turned upside down," Tanzer said.
Ultimately, the foundation decided to relaunch the season in the summer with new guidelines for social distancing and safety.
"Spending time outdoors is critical to our mental, emotional and spiritual health, as much as our physical health, and we were flooded with messages from our members saying exactly that," Tanzer said. "We decided that with some common sense practices in place, we could still offer some trips to anyone who felt comfortable participating in them."
Safety measures included offering outdoor-only trips, physical distancing, requiring masks and limiting group sizes to 10 or less. But would people still have the same positive experience with the new format?
NEW APPRECIATION
For foundation member Bruce Bartel, the experience was just what he needed during a challenging year.
Born and raised in Wisconsin, Bartel and his wife, Kathleen, have attended more than 20 trips over the last five years, learning something that surprises them each time. On one trip, they visited Roche-a-Cri State Park in central Wisconsin to learn about the history of the petroglyphs, rock art and effigy mounds there.
"I don't know how many times I've passed by the site on Highway 21, and I never knew anything about its history or significance, or that it even existed," Bartel said. "I think sometimes we can take our state's natural beauty for granted — there are so many natural wonders to discover, some of them quite small or overlooked.
"The foundation's field trips help people to see that hidden world."
Every trip has an educational component to it. On a 2020 outing, a sea kayak tour of Lake Superior's Red Cliff Sea Caves, Bartel and his group learned about changes to the shoreline and challenges to the unique ecosystem.
"The immense beauty of the lake swallows you up," he said. "I had seen the sea caves before during the winter, but being there on the water you felt like you were right in the middle of it all. I felt like I was seeing it in a completely different way."
The group was respectful about following the new safety measures, he added.
"Once we were out on the water, we were able to space ourselves out and just enjoy experiencing this incredible place together."
EDDEE DANIEL
BRINGING OUTDOORS INSIDE
Another change in 2020 was offering "trips" in an entirely new format — virtually.  A series of short video tours were filmed by field trip leaders sharing some of their favorite trip highlights on topics such as banding kestrels, frog calls and identifying wildflowers.
"Originally, we developed the field trip program to bring people to the outdoors,"  Tanzer said. "But the uncertainty at the start of the pandemic pushed us to bring the outdoors to people instead, and we've had a very positive response."
Dianne Moller, director of Hoo's Woods Raptor Rehabilitation Center near Milton, led in-person trips in 2020, but also led a virtual tour, introducing viewers to educational raptors like Clark, a barred owl, and touring the aviary to show larger birds such as golden eagles.
"Whether people join us in person or watch the tour online, we hope they enjoy the magnificence of the birds and the opportunity to see them up close," Moller said. "I hope they come away with a deeper appreciation of the important role raptors play in a healthy ecosystem."
With the format changes, Tanzer said she was most surprised by how much the virtual trips connected with new audiences. Teachers emailed to say they were using the videos in their classrooms, and members unable to attend trips in person for accessibility reasons appreciated being able to share the experience.
"Hearing their feedback made us reflect on who we're reaching, and not reaching, with our trip offerings,"  Tanzer said. "We started to dig into questions we've been considering for some time: Could we offer wheelchair accessible trips? Or trips with Spanish or Hmong translation available? Or a 'birding by ear' trip for the hearing impaired?
"These are things we hope to explore more in the future."
BIRDATHON REIMAGINED
Another foundation program reinvented by the pandemic was the Great Wisconsin Birdathon, an event traditionally involving teams of  birders doing things like carpooling together or sharing binoculars — not possible with COVID-19.
The event had to get creative, Birdathon coordinator Sarah Cameron said.
"We asked teams to try different methods to stay safe, like backyard birding, big sits, birding relays and staying local," she said. "We assumed participation would take a big dip because of all these restrictions, but instead we had a record-breaking year, both for new teams and the amount we raised for bird conservation projects."
The ways people participated were impressive, Cameron added.
"People were more creative than ever. We had teams birding by bike, boat, kayak and even by horseback!"
No matter the circumstances, the foundation learned, people who care about Wisconsin's natural resources will show up for the causes they love.
Each step of the way, the pandemic kept the foundation pivoting — and pirouetting at times. The foundation has reexamined how things have been done and taken a deeper look at its outreach initiatives.
Hopefully soon, the masks will come off. But the lessons of the past year will continue to shape the foundation's work to adapt, develop creative solutions and find ways for people to stay connected to what matters most.
Jaime Kenowski is communications director for the Natural Resources Foundation of  Wisconsin.
ABOUT THE FOUNDATION
The Natural Resources Foundation of  Wisconsin was formed in 1986 to provide sustainable funding for Wisconsin's most critical conservation needs.
With the support of more than 5,000 members and supporters, the foundation has distributed over $9 million in grants to hundreds of conservation partners to support Wisconsin's most urgent needs for lands, waters, wildlife and environmental education. The foundation also holds more than 100 endowment funds with over $8 million in assets.
The Department of Natural Resources is one of the many recipients supported by the foundation's grantmaking program and to date has been awarded approximately 735 projects totaling $5,382,976.
To learn more about becoming a member, investing in the Wisconsin Conservation Endowment or planned giving, visit the website for the Natural Resources Foundation of Wisconsin.
2021 FIELD TRIPS
The Natural Resources Foundation of Wisconsin has more than 150 field trips planned for 2021. Just a few are noted below. For the full list and registration information, check here.
♦ Catching the Peak: Migratory Bird Banding
♦ Ancient Archaeology at Trempealeau
♦ Spring Frog Chorus at The Ridges Sanctuary
♦ Trout Fishing for Beginners: Kickapoo Valley Reserve
♦ Whooping Crane Reintroduction
♦ Nature Writing Workshop
♦ Biking for Birds in White River Wildlife Area
♦ Monarch Tagging: St. Croix Valley
♦ Wisconsin's Wild Turkey Restoration
♦ Milwaukee River Greenway: Celebrating 15 Years
♦ Paddling the Upper Sugar River
♦ Musseling Up in the Little Wolf River
♦ Small Game Hunting Skills
♦ Manoomin (Wild Rice) History, Biology and Harvest
♦ A Night Out with Chimney Swifts