Access no issue for all-season chairs
Powerful wheelchairs help hundreds reclaim ability to enjoy outdoors
Molly Meister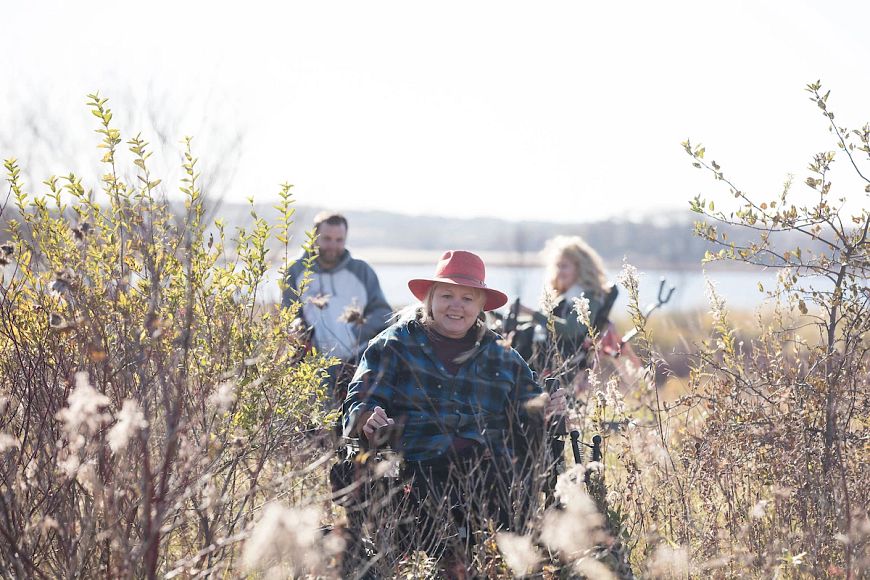 ©ACKERMAN + GRUBER
"The freedom was incredible. I could walk through the marsh, I could go places, I could be alone in nature and not have to be watched or worried."
That's how Monica Spaeni felt while operating an outdoor all-terrain wheelchair for the first time back in 2012.
Nearly 20 years ago, Spaeni suffered a spinal cord injury while chaperoning her son's 6th grade skiing field trip, a devastating blow to her independence. In the years following the ski accident, Spaeni yearned to enjoy Wisconsin's outdoors like she used to. She could still go outside in her standard wheelchair, but doing so was more stressful than stress-relieving.
"Normally, if I'm outdoors in a standard wheelchair, I have to be with my husband who is watching everything, kicking rocks away and making sure I'm not going too fast," she said. "He's very loving and caring and doesn't want me to fall out because I have, many times."
As she adapted to a life of mobility constraints, she befriended a man who also has a spinal cord injury — and who happened to sell outdoor all-terrain wheelchairs. When she took one out for a spin on that spring day more than eight years ago, she was hooked.
"I remember thinking this is nice. I get to go where I want to go, I'm not missing the moment because I'm worried about uneven terrain or looking down at acorns or twigs, which can be very exhausting," Spaeni recalled. "My husband was relieved because he saw me riding through cornfields without any issues.
"He can walk next to me and feel like how we would if I were just a walking person and not a person with a mobility issue."
OPPORTUNITIES TO SHARE
This chair had it all, but at a significant cost — from $13,500 for a sitting model to $18,000 for a standing model. Getting one for herself seemed unrealistic to Spaeni, not to mention the headaches it would create for her and her husband to store it and transport it.
That's when she came up with the idea of raising money to buy one that several people could share.
Now, Spaeni is president of Access Ability Wisconsin (AAW), a nonprofit she founded with a mission to provide recreational opportunities for physically challenged people, including wheelchair users, who want to enjoy Wisconsin's outdoors.
She founded AAW with the support of her husband, Steve, along with Ray Anderson and other certified hunter education instructors in the Madison area. They collaborate with numerous organizations, including the Department of Natural Resources, to purchase and store their fleet and make events and public lands accessible for people with mobility issues. 
From their first chair in Dane County in 2014 to 20 chairs and trailers at 11 host locations around the state this year, Spaeni and her team are transforming the way people with mobility issues can engage with nature across the state.
Outdoor all-terrain wheelchairs are a great option for people with mobility issues to use year-round. OWCs are designed with safety in mind and can easily take on snow, mud and other obstacles that could otherwise pose a threat during the hard winter months.
FREEDOM RESTORED
Thousands of Wisconsinites have benefited from using OWCs over the years, including John Kilian and Gary Stott, both of whom are now involved with AAW.
"Back in 2006, I was in a motorcycle accident in which I lost my leg," Kilian said. "I wondered how I would be able to do things outdoors again.
"When I use one of these wheelchairs, I can go to different holes while ice fishing. Instead of waiting to get picked up, it gives me my freedom back."
Stott, a veteran with a spinal cord injury, said he first became aware of AAW about four years ago when he used an OWC for an annual camping trip with his wife and friends.
"After that I became a volunteer and shortly after joined their board of directors," he said. "I have always been an outdoors person, but for the first few years after my injury that seemed to be something we could not do anymore other than perhaps a walk in the woods on a very developed trail.
"Now, we are able to get out into the deep woods and go on hikes and camp as we did before. In our retirement years, there is virtually nowhere that we will not try to explore and to do the things we had planned to do in these years before my injury."
The chance to bring those same opportunities to others is why he enjoys working with AAW, Stott added.
"That's why I volunteer for AAW today," he said, "so people with mobility issues can do what they used to before their mobility problem or get out into nature if they were born with a disability."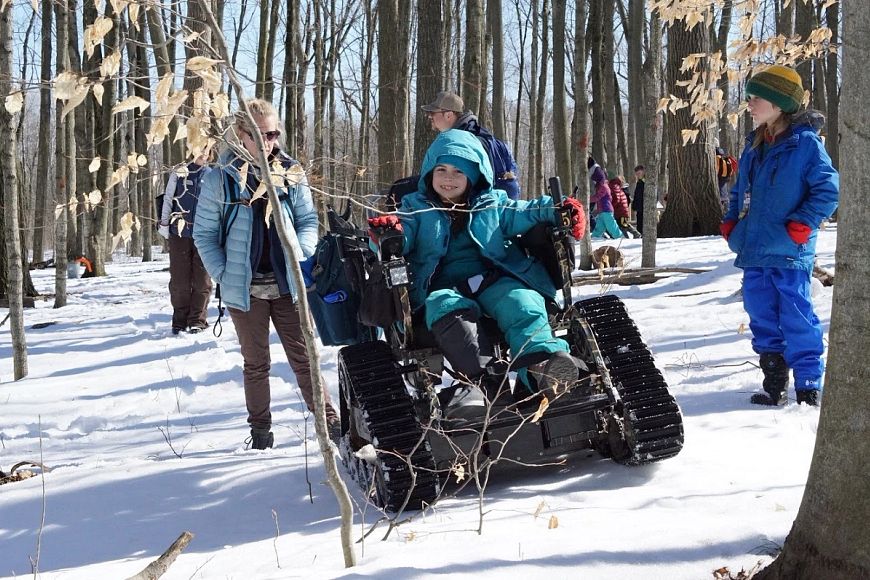 ©RIVEREDGE NATURE CENTER
EASIER TO EXPLORE
Reserving a chair through AAW is easy and free by filling out a simple online form at accessabilitywi.org [EXIT DNR]. Picking up the OWC and trailer does require access to a vehicle that can tow more than 1,150 pounds.
Reservations are recommended a week or two in advance for the best chance of being able to secure one when needed. The OWC can be kept up to two weeks, as long as there are not others waiting to use the same chair.
To make things even easier, the DNR recently stopped requiring special permits for these types of vehicles on public lands.
"There are more than 500,000 people with disabilities just in Wisconsin, and nearly 6 million acres of public lands to explore," Spaeni said. "If we can get people outdoors, it decreases depression, increases independence and social interaction and improves overall well-being." 
The chairs also are a win for the environment, she said, allowing more access to nature with less disruption.
"If we wanted to make nature totally accessible without these chairs, we'd need to have paved paths and have people constantly picking up debris and removing snow," Spaeni said. "The chairs are quiet and safe and leave virtually no trace. Users are able to go into nature and experience it just like everyone else."
Molly Meister is a public information officer in the DNR's Office of Communications.
INFORMATION
To learn more about Access Ability Wisconsin, including details on outdoor all-terrain wheelchairs, how to make reservations and ways to volunteer or offer financial support for the organization, check
accessabilitywi.org [EXIT DNR]
.
OTHER ACCESSIBLE WAYS TO ENJOY THE OUTDOORS
Winter in Wisconsin is a difficult time for many people with disabilities to get outdoors, but the DNR is committed to providing exceptional outdoor recreation opportunities for people of all abilities in all seasons.
Ice fishing is a great option for people with mobility issues because it's generally easier to get out on the ice than it is to access water in a boat, and there is usually no casting involved. For regular fishing, people with disabilities may secure a permit to fish while trolling with an electric motor.
Cross-country sit skis offer an opportunity for people with mobility impairments to savor the peace and solitude of winter on snowy trails. Sit skis are available for free use at state properties including Buckhorn, Governor Nelson and Mirror Lake state parks; Richard Bong State Recreation Area; and Kettle Moraine State Forest-Lapham Peak Unit.
Several state properties have accessible cabins available for people with disabilities and their guests, with reservations required. Accessible canoe campsites can be found at the Chippewa Flowage and Turtle-Flambeau Scenic Waters Area. Adaptive kayaks are available at Buckhhorn, Council Grounds, Devil's Lake, Mirror Lake and Perrot state parks.
And each fall, special dates are set for the Gun Deer Hunt for Hunters with Disabilities. Permits are needed for activities such as hunting from a stationary vehicle, using a laser sight or employing an adaptive device to facilitate firearm use.
The DNR's Open the Outdoors webpage has information on all of these opportunities and other resources to enable enjoyment of the state's outdoors: dnr.wi.gov/topic/OpenOutdoors.
—    DNR STAFF