Let's go walkin'
Winter wonderlands await at scenic state properties
Andrea Zani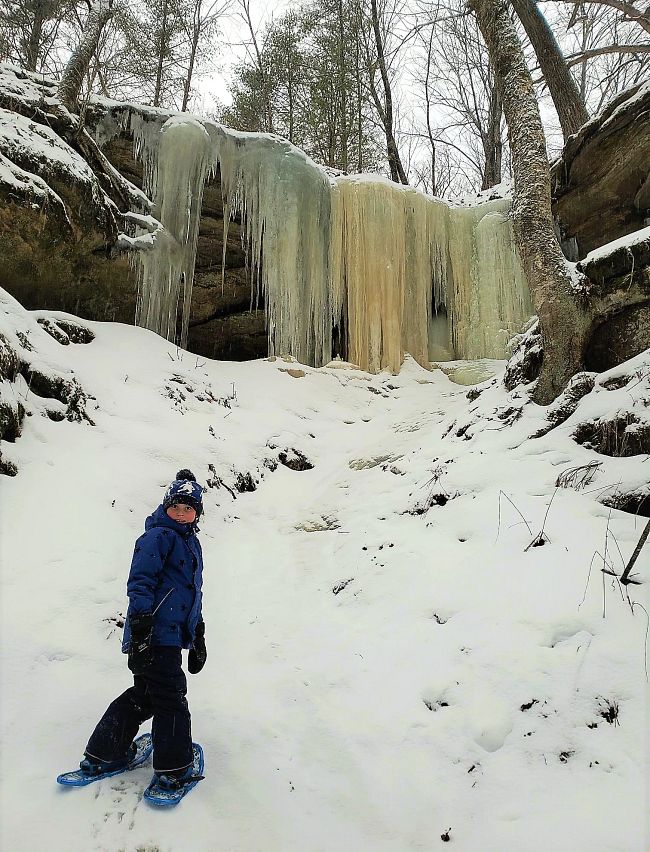 ©RYDER S. WILL
All around Wisconsin, beautiful state parks, forests, trails and more offer opportunities to get outdoors for recreational activities of every sort. And the fun doesn't stop when winter winds blow.
In fact, some would argue that winter brings out the best in our state parks for those who enjoy a quiet walk in the woods. Scenic snow-covered landscapes are perfect for exploring on foot, with generally fewer people around to disrupt wildlife watching, a reflective stroll with a friend or perhaps some much-needed solitude.
Opportunities to get out for hiking and snowshoeing in winter are plentiful and can be found statewide. We've highlighted several locations here, but you'll find much more information on the Wisconsin State Park System's DNR landing page at wiparks.net.
A vehicle admission sticker is required for entry to most state park properties. State trail passes are not required for hiking or snowshoeing on trails but are needed for skiing. Some park stickers and trail passes can be purchased online; annual and daily passes are available at individual properties. Find details on the website.
For skiers, trail conditions can be found at Travel Wisconsin once enough snow allows for grooming to begin. Hiking and snowshoeing are not permitted on designated ski trails.
As for winter events such as candlelight hikes, COVID-19 continues to change the look of things heading into 2021. But for the latest information on activities at state parks, forests, trails and more, check the Get Outdoors! calendar at dnr.wi.gov, search Get Outdoors.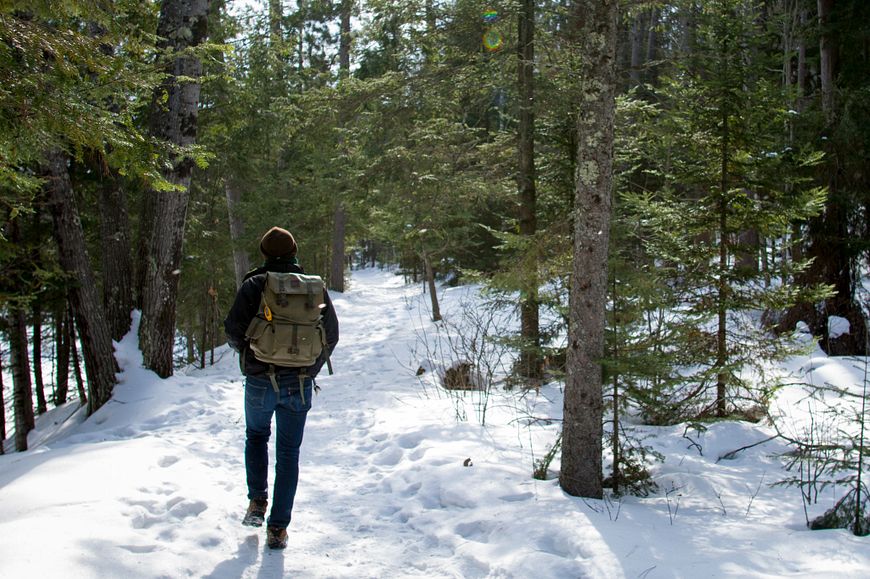 ©BENJI PIERSON
Copper Falls State Park
Location: Ashland County, northern Wisconsin
Highlights: The North Country National Scenic Trail, which stretches from North Dakota to New York (soon all the way to Vermont), passes through the entire length of Copper Falls State Park. Snowshoeing, winter hiking and wildlife watching are all part of the Copper Falls experience. Scenic views of icy waterfalls make this an amazing place to recreate in winter.
Pattison State Park
Location: Superior, in Douglas County
Highlights: Pattison is wrapping up its 100th anniversary year and also celebrating the reopening of several trails that had suffered extensive damage from flooding during a June 2018 storm. "Our newly opened trails will be spectacular in the winter," park supervisor Kevin Feind said. The park's already impressive waterfalls — Big Manitou and Little Manitou  — are uniquely scenic when frozen.
Harrington Beach State Park
Location: Ozaukee County, on Lake Michigan
Highlights: Who says hitting the beach is just a summer thing? At Harrington Beach, more than a mile of Lake Michigan shoreline turns into a near fantasy world of icescapes and snow when January and February arrive. But be sure to bundle up — those cold winds certainly know how to whip across the ice-crusted lakeshore in winter!
Kohler-Andrae State Park
Location: Just south of Sheboygan, on Lake Michigan
Highlights: Just up the Lake Michigan shoreline from Harrington Beach, this park also features fantastic frigid lakeside landscapes in winter. Hit the beach for a rugged winter walk. Or hike and snowshoe on a moderate 1-mile trail through the wooded campground area or the longer 2.5-mile Black River Trail and elsewhere around the park.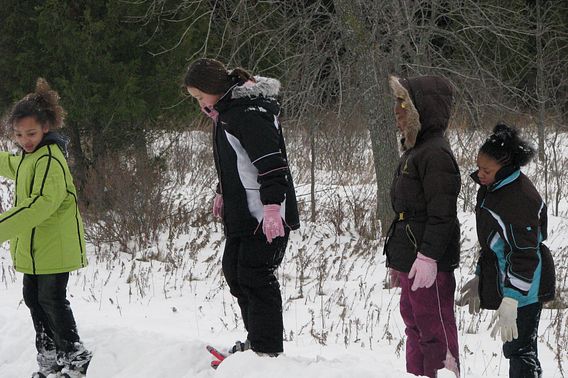 ©LOIS HANSON
Potawatomi State Park
Location: On Sturgeon Bay, in southern Door County
Highlights: A trio of short trails are designated for winter hiking and snowshoeing — and just right for beginners. Try the half-mile nature trail or 1-mile south shore picnic area loop. Or follow the shoreline just north of the campground on a 1-mile section of the Ice Age National Scenic Trail. Explore elsewhere, too, as long as you stay off groomed ski trails.
Wyalusing State Park
Location: Southwest Wisconsin, near Prairie du Chien
Highlights: Candlelight events have been a popular winter pastime at state parks, but with things looking a little different these days, be sure to get updated information about winter events before heading out. Otherwise, you can explore Wyalusing, one of Wisconsin's oldest state parks, on foot or snowshoe anytime. Its picturesque location at the confluence of the Wisconsin and Mississippi rivers makes it special, with miles of trails rewarding hikers with frozen waterfalls and fantastic views.
Skunk and Foster Lakes State Natural Area
Location: Waupaca County, central Wisconsin
Highlights: State Natural Areas are another consideration for a pretty and peaceful winter outing. At this spot, grab your snowshoes for a trek through a glacially molded landscape featuring five kettle lakes, a bog and a forest floor strewn with huge "glacial erratic" boulders transported by the ice. Return in spring after ice-out to explore the lakes for water lilies and a diversity of turtle species.
Fern Dell Gorge State Natural Area
Location: Sauk County, within Mirror Lake State Park
Highlights: Hike or snowshoe through this small, scenic gorge cut into the Cambrian sandstone south of Mirror Lake. White pine, red pine and oaks dominate the forest above the chasm, while impressive ice floes hang from the cliffs and turn outcroppings into a wintry wonderland. Access the gorge to the right just past the gate from the parking lot. To the left, a short (less than 1 mile) trail along the top of the gorge is also accessible from the parking area.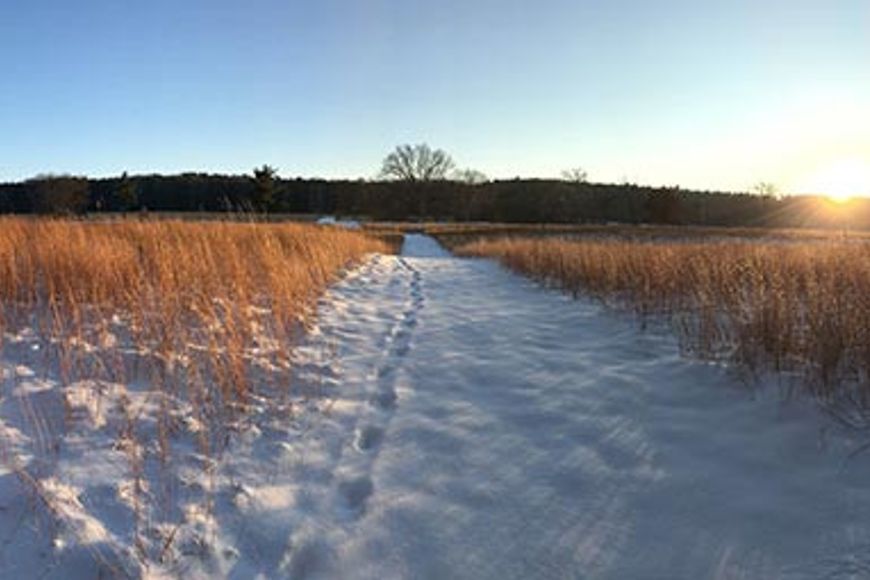 ©CHRISTOPHER TALL
MacKenzie Center
Location: Columbia County, near Poynette
Highlights: The Nature Trail Loop is perfect for winter bird and wildlife watching. Visit the outdoor wildlife exhibit to see and learn about native Wisconsin wildlife. In early March, you may even see tapped maple trees dripping sap for the production of maple syrup. For the winter hiker seeking quiet solitude, this is a wonderful place to find it.
Brule River State Forest
Location: Douglas County, at Lake Superior
Highlights: State forests have acres and acres of beautiful public lands to explore. At Brule River, try the Historical Bayfield Road hiking and snowshoe trail, a 2.25-mile loop that in part follows the first road ever built between Superior and Bayfield, dating to 1870. Or do a self-guided tour with interpretive displays along the 1.7-mile Stony Hill Nature Trail loop, with a breathtaking view of the Brule River Valley. The North Country National Scenic Trail also features a 16-mile segment through this state forest, and 60-plus miles of Hunter Walking Trails are open to hikers.
Governor Dodge State Park
Location: Iowa County, near Dodgeville
Highlights: Scenic landscapes are in abundance on many of the winter trails at Governor Dodge. Some spots meander through meadows and wooded valleys, while other trails climb to the top of rolling hills to provide excellent views. Bird watching is another activity to enjoy along the way.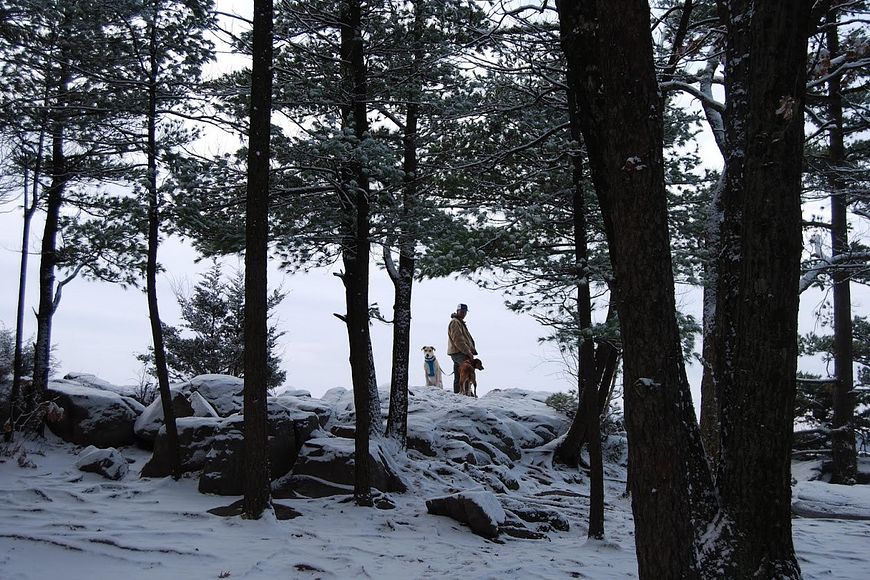 ©JANE SIMKINS
Devil's Lake State Park
Location: Sauk County, in the Baraboo Range
Highlights: One of the busiest state parks quiets down a bit in winter. That offers an opportunity to see the scenic lake and picturesque rock formations without quite the crowds of warmer months. The park's 29 miles of trails range from challenging and rocky uphill climbs to short and easy loops, just right for getting the dogs (and their people) out for a scenic seasonal stroll.
Mountain Bay State Trail
Location: Runs from just east of Wausau to Green Bay
Highlights: One of the state's longest rail-trails, Mountain Bay stretches 83 miles through Marathon, Shawano and Brown counties, which operate and maintain the trail. It is named for the two geologic features found on either end — Rib Mountain and Green Bay. Forests, farmlands, wetlands, rivers and streams create scenic views along the way. A 2-mile stretch in Marathon County follows the Ice Age National Scenic Trail. The flat and easy Mountain Bay State Trail is open for hiking and snowshoeing in winter, with users sharing with skiers and snowmobilers in some areas.
Beaver Brook Wildlife Area
Location: Washburn County, near Spooner
Highlights: Don't forget state wildlife areas when looking for a place to hike in winter. They can be less crowded but just as scenic as state parks. Beaver Brook in northwest Wisconsin offers nearly 2,000 acres to explore. A premier Class I brown and brook trout stream, Beaver Brook, flows through the property and into the Yellow River, with a large lake on each end of the property. The Wild River Recreation Trail runs parallel to the wildlife area on the west.
Andrea Zani is managing editor of Wisconsin Natural Resources magazine. The DNR's Lisa Gaumnitz and Christopher Tall contributed to this story.