Expanded coverage: Of lands and lighthouses
STATE PROPERTIES PRESERVE SOME DECIDEDLY DELIGHTFUL MARITIME HISTORY
Kathleen Harris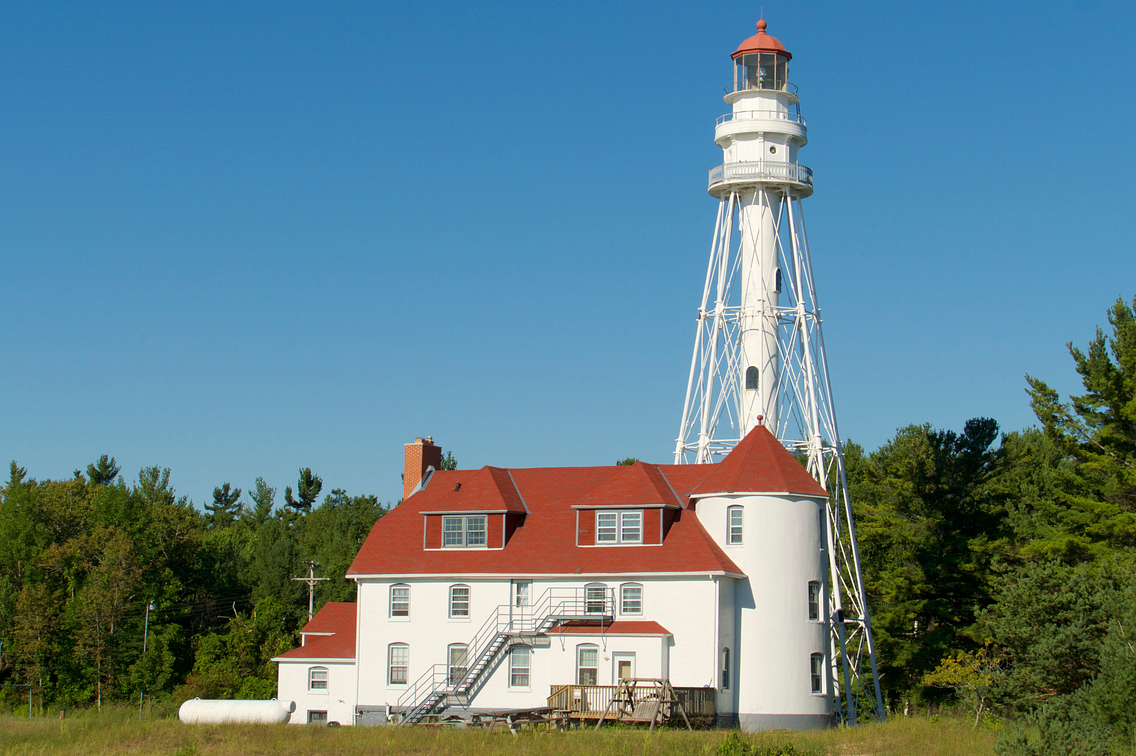 © JAMES BREY/iSTOCK
When winds whip the air and slam water against the shore, a lighthouse stands steadfast. In downpour and darkness, it doesn't rescue but rather guides to safe passage.
The same is true of public lands, especially state parks. Created more than a century ago to renew the human spirit while preserving Wisconsin's natural heritage, parks offer a place of tranquility.
Times can be stormy or calm, but Wisconsin state parks, trails and forests remain constant, guiding us toward healthy living and meaningful experiences.
In northeast Wisconsin, three public properties feature both incredible landscapes and noteworthy lighthouses. All include Lake Michigan shoreline.
Each locale illustrates the interplay between people and place and the significance of nautical history to the Wisconsin story. After all, the state flag features a sailor and an anchor, indicating the importance of maritime industries.
RAWLEY POINT LIGHTHOUSE, POINT BEACH STATE FOREST
Rawley Point Lighthouse is located about 4 miles north of Two Rivers on a sandy peninsula in what is now Point Beach State Forest. Shallow water cradles the land where a skeleton-like steel tower rises 113 feet above Lake Michigan. It is the tallest land-based lighthouse on the Great Lakes.
Before this light burned brightly, the shallow water and jutting land caused trouble for passing ships. Peter Rowley, a settler from Ohio who arrived here in 1835, established a trading post and witnessed the dangers.
In 1841, U.S. land surveyors named the locale after Rowley, with the spelling later changed to Rawley. The area also was called Twin River Point, for the nearby East Twin and West Twin rivers, and sometimes was referred to as Twin River Point on Rawley's Point.
Westward migration and commerce created by Wisconsin's lumbering and quarrying industries brought increased lake traffic during the mid-1800s, and numerous shipwrecks off Twin River Point underscored the need for a lighthouse.
A temporary beacon consisting of four poles rising 75 feet, with a lantern hoisted at the top, may have stood within a few miles of the present location, perhaps as early as 1853. It later was replaced by a wooden structure.
In 1873, after a government appropriation of $40,000, workers built a brick tower. Construction progress was slow, in part because of quicksand, which made foundation work tricky. Late arrival of the original third-order Fresnel lens caused further delay. Finally, keeper Samuel A. Stone lit the lantern for the first time on Dec. 7, 1874.
A fog signal was added in 1890. Powering it used five tons of coal and 96 cords of wood in the first 10 months. Though noisy, it was effective and in good shape compared to the lighthouse tower, which had defective, crumbling brick.
In 1894, the tower was replaced with the erector-style lighthouse seen today, a structure originally used on the Chicago River. It was refurbished as the Rawley Point Lighthouse, with metalwork to create the new light totaling 166,000 pounds.
Imagine the ghosts of voyages past
Today, the Coast Guard maintains Rawley Point Lighthouse as an active beacon, fully automated since 1979. The keeper's residence is used as a respite for active and retired military so tours inside are not available.
Curious hikers can still venture along sandy trails for up-close views that unleash imagination — just think what it was like for keepers and their families when harsh winters made it impossible to leave the grounds.
Or look east past the buildings to see the rollicking waves of Lake Michigan and imagine the ships that met a sad fate nearby. The steamship Vernon plunged down deep in an 1887 tempest, taking 36 people to their graves. The steamer Continental was shipwrecked in 1904 less than 2 miles north of the lighthouse, luckily with no loss of life.
In November 1912, the schooner Rouse Simmons also was shipwrecked nearby. Known as the Christmas Tree Ship, it was commanded by two brothers who filled the ship with Christmas trees bound for Chicago.
When a storm blew up, the ship disappeared without a trace except for a few trees washed onshore at Two Rivers; the brothers and other crew perished. The schooner was finally discovered in the area by a diver in 1971, still containing hundreds of trees.
Picture-perfect lighthouse setting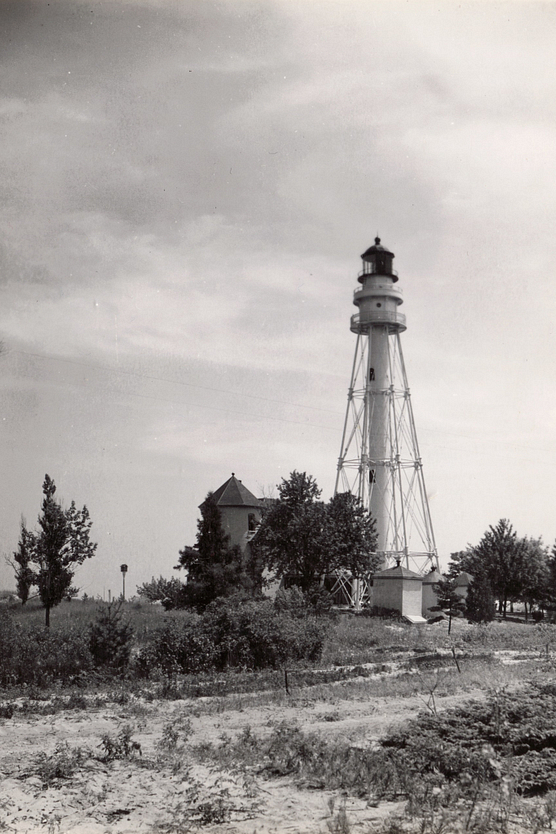 © DOROTHY FERGUSON
As for the surrounding Point Beach State Forest, it dates to 1937 when 280 acres were acquired by the state, including 80 acres of surplus land from the lighthouse donated by the U.S. government. The property is now a 3,000-acre gem with 6 miles of undeveloped shoreline. A vehicle admission sticker is required for entry into the state forest lands.
Point Beach State Forest has 17 miles of hiking trails, biking that features a 7-mile paved trail along Lake Michigan, plus activities including swimming, paddling, boating, hunting, fishing, camping, skiing — and, of course, the beautiful lighthouse to admire.
"Rawley Point Lighthouse has unobstructed views to the east for those wanting to see the sunrise," said Guy Willman, property manager at Point Beach State Forest. "At dusk, the high tower and bright white keeper's dwelling, with its peaked turret, are picture-perfect behind a setting sun."
POTTAWATOMIE LIGHTHOUSE, ROCK ISLAND STATE PARK
From start to finish, visiting Pottawatomie Lighthouse is an adventure. The journey begins with not one but two ferry rides — first to Washington Island across the Death's Door passage at the northern tip of the peninsula, then to the 912-acre Rock Island State Park.
Both islands are part of a bowl-shaped rock ridge, or cuesta in geology terms, that extends 650 miles in a roughly circular pattern. Known as the Niagara Escarpment, it runs northeast through Door County, across Canada's Bruce Peninsula and all the way to Niagara Falls.
Pottawatomie Lighthouse is perched about 100 feet above lake level atop the Niagara Escarpment, but the now-retired lighthouse is not visible from the Rock Island landing dock. Instead, visitors see a massive stone boathouse built by Chester Thordarson, an immigrant from Iceland who made a fortune inventing electrical apparatus such as transformers.
Thordarson began buying property on Rock Island in 1910 and within two years owned the entire island except for a government reserve set aside for the lighthouse. He died in 1945 but the island remained in the Thordarson family for two more decades until it was purchased by the state of Wisconsin, a sale finalized in 1965.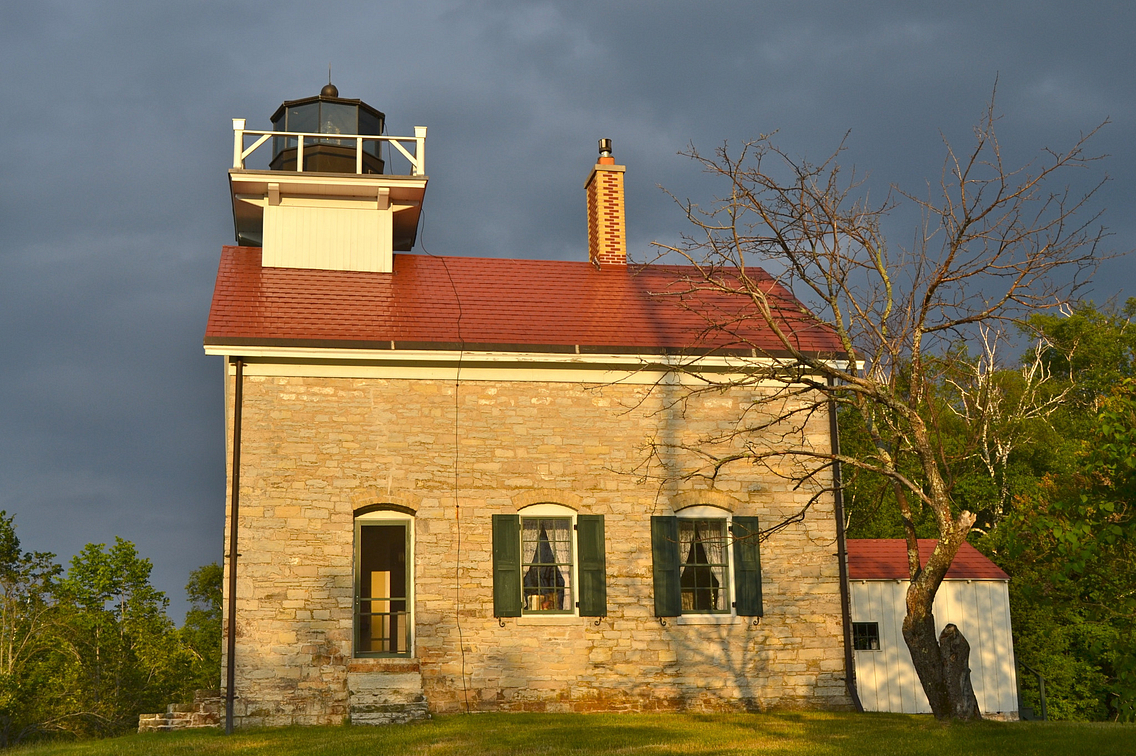 © TIM SWEET
Rock Island's light station dates to the 1830s, the oldest in Wisconsin, though the original structure was replaced in the 1850s. That reconstruction included blasting a basement out of the limestone cliff and building a two-story house using local stone, the structure that stands today.
Colorful keepers of Pottawatomie's past include David Corbin, the first keeper and a War of 1812 veteran. Corbin once was granted a three-week leave on the condition he return with a bride to ease his loneliness at the remote location — a failed undertaking at the time, according to historical accounts.
Unique island beauty
Rock Island can still feel isolated, with the lighthouse on the northernmost tip not far from the watery Wisconsin-Michigan border. Visitors reach the square tower by hiking about a mile along a wide, steadily rising trail surrounded by a beech-maple forest. The beech trees here represent part of the species' western-most range.
The Friends of Rock Island State Park have been instrumental in restoring the Pottawatomie Lighthouse to its 1910 period, a project that began in the late 1990s. Since 2004, Friends volunteers have staffed the lighthouse from late May to early October, with live-in docents offering tours from 10 a.m. to 4 p.m. daily.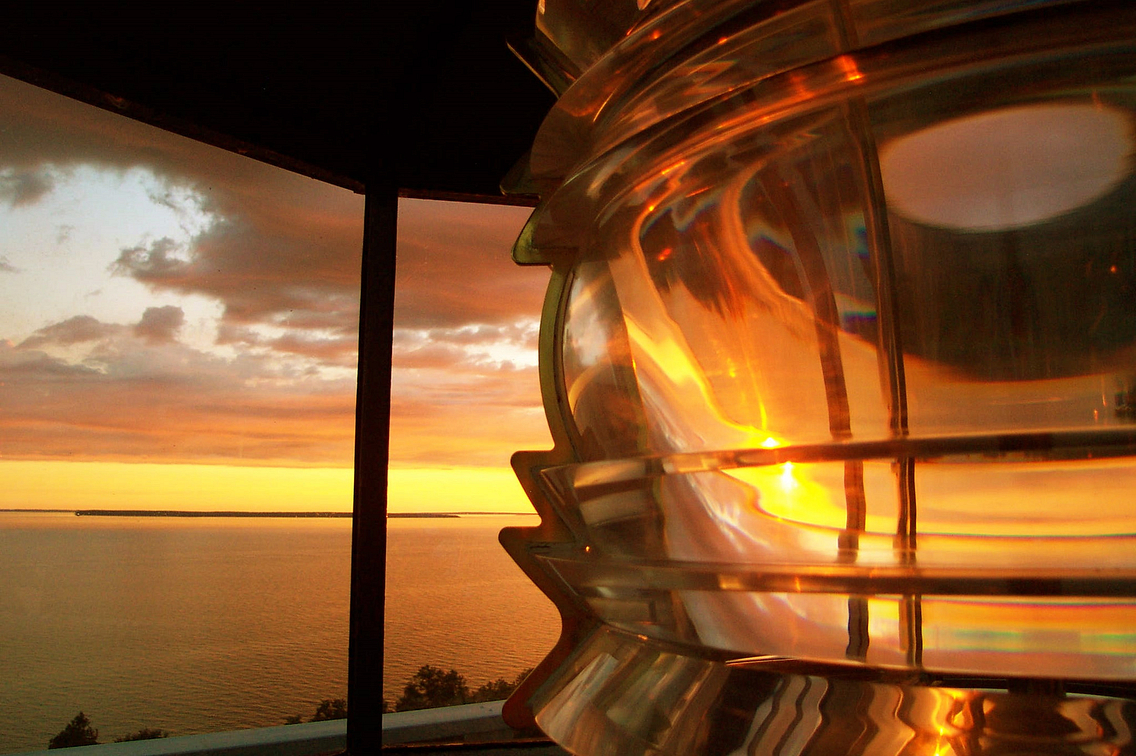 © TIM SWEET
Tours inside the keeper's dwelling include a visit to the lantern room, which features a replica of a fourth-order Fresnel lens. Donations for the free tours are appreciated, as are purchases from the gift shop — both of which fund further renovation efforts and maintenance of the building and grounds.
Those grounds are quite scenic, with Pottawatomie Lighthouse a notable attraction at this unique state park. No entry fees are required, though there is a charge for both the Washington Island and Rock Island ferries.
Getting there can be a challenge, but once on Rock Island visitors can trek the trails, lounge on sandy beaches or picnic near Thordarson's boathouse. Forty rustic tent sites and two group sites are an option for hearty campers. Motorized vehicles and bicycles are not allowed.
EAGLE BLUFF LIGHTHOUSE, PENINSULA STATE PARK
Unlike being stationed at some of the state's more desolate lighthouses, tending to Door County's Eagle Bluff Lighthouse was a plum assignment for keepers after the light was first illuminated in 1868. Only three keepers kept the Eagle Bluff light burning through the years until automation in September 1926.
The location near Fish Creek, just a few miles away, meant access to a large dock and convenient dry goods stores. Neighbors lived even closer and social events were common at the lighthouse. Several settlers and summer artists retained life leases nearby even after the state purchased the land around the lighthouse in 1909 to create Peninsula State Park.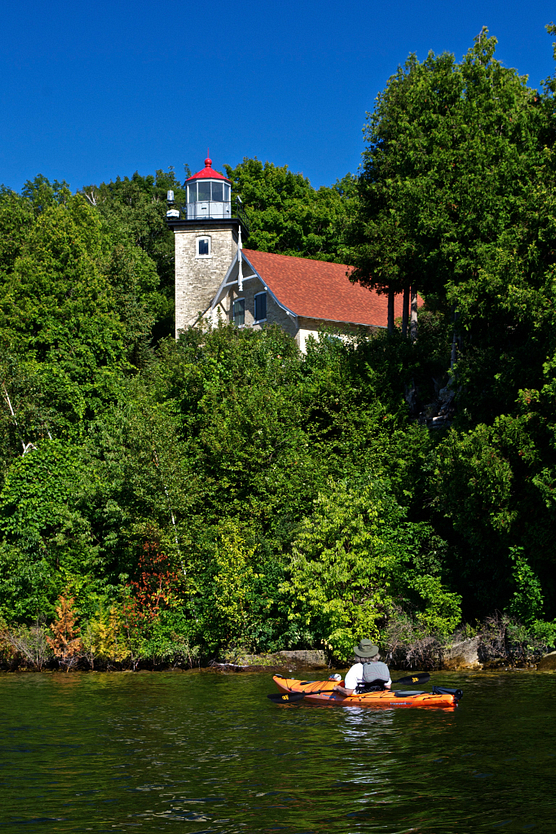 © TIM SWEET
Eagle Bluff Lighthouse stands on a 40-foot cliff within the state park. The light tower, placed diagonally in the northwest corner of the dwelling, was constructed with yellow "Cream City" brick from Milwaukee.
Among the trio of keepers in the lighthouse's history, William Duclon had the longest tenure, living there with his wife, Julia, from 1883-1918. During their stay, William and Julia raised seven sons, who sometimes were enlisted to help with lifesaving rescues as ships navigated area waters.
Steadfast in guiding the way
This active light still guides vessels through the narrow Strawberry Passage, a shallow channel that lies between the mainland and Chambers Island several miles offshore. A lighthouse on Chambers Island, which also went into service in 1868, directs larger ships through the deeper waters of Green Bay.
A stone patio at Eagle Bluff Lighthouse overlooks the waterway and the Strawberry Islands, closer than Chambers Island and scattered like small emeralds in a sea of blue. American white pelicans, bright white with black wing tips, are often seen gliding overhead.
Visitors can walk the Eagle Bluff Lighthouse grounds at no charge aside from the usual state park vehicle entry fees. But the best way to learn the light's maritime legacy is by taking a tour (see related story).
The Door County Historical Society offers public tours — something it has done for more than 50 years since restoring the lighthouse in the early 1960s. Fees vary and help to fund continuing upkeep and renovations of the historic lighthouse.
Kathleen Harris is the DNR naturalist at Peninsula State Park.
EAGLE BLUFF LIGHTHOUSE TOUR INFORMATION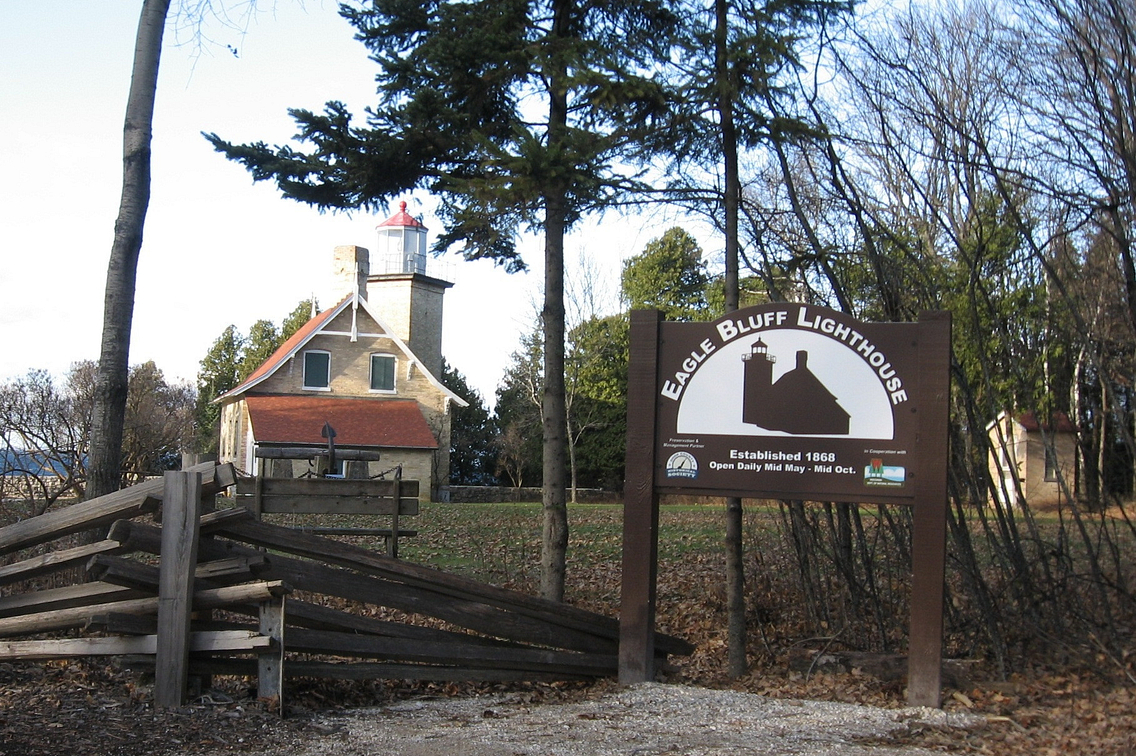 © ED MILLER
The Eagle Bluff Lighthouse, 10249 Shore Road in Fish Creek, is at the northern end of Door County's Peninsula State Park on Green Bay. It is open from 10 a.m. to 3:30 p.m. daily during the season, mid-May through mid-October.
Tours are offered every half hour, with special twilight tours on Sept. 28 and Oct. 12. Admission is $8.50 for adults, $5.50 for ages 13-17, $3.50 for 6-12, and free for 5 and under. Ages 55 and older get in for $5 on Fridays.
Special Saturday rates are $20 for two adults and up to four children under 17, while Sunday features $5 walk-through tours and tower climbs. And as a newly registered Blue Star Museum — the only one in Door County — the lighthouse offers free admission for active military members and their families.
Call 920-421-3636 to check for open tour slots or to make a reservation.
A Wisconsin State Park System admission sticker is required for entry to Peninsula State Park. For lighthouse information, check Door County Historical Society. For park information, see Peninsula State Park.
Expanded coverage: Of lands and lighthouses