Expanded coverage: Of lands and lighthouses
On Cana Island, an icon stands guard
Andrea Zani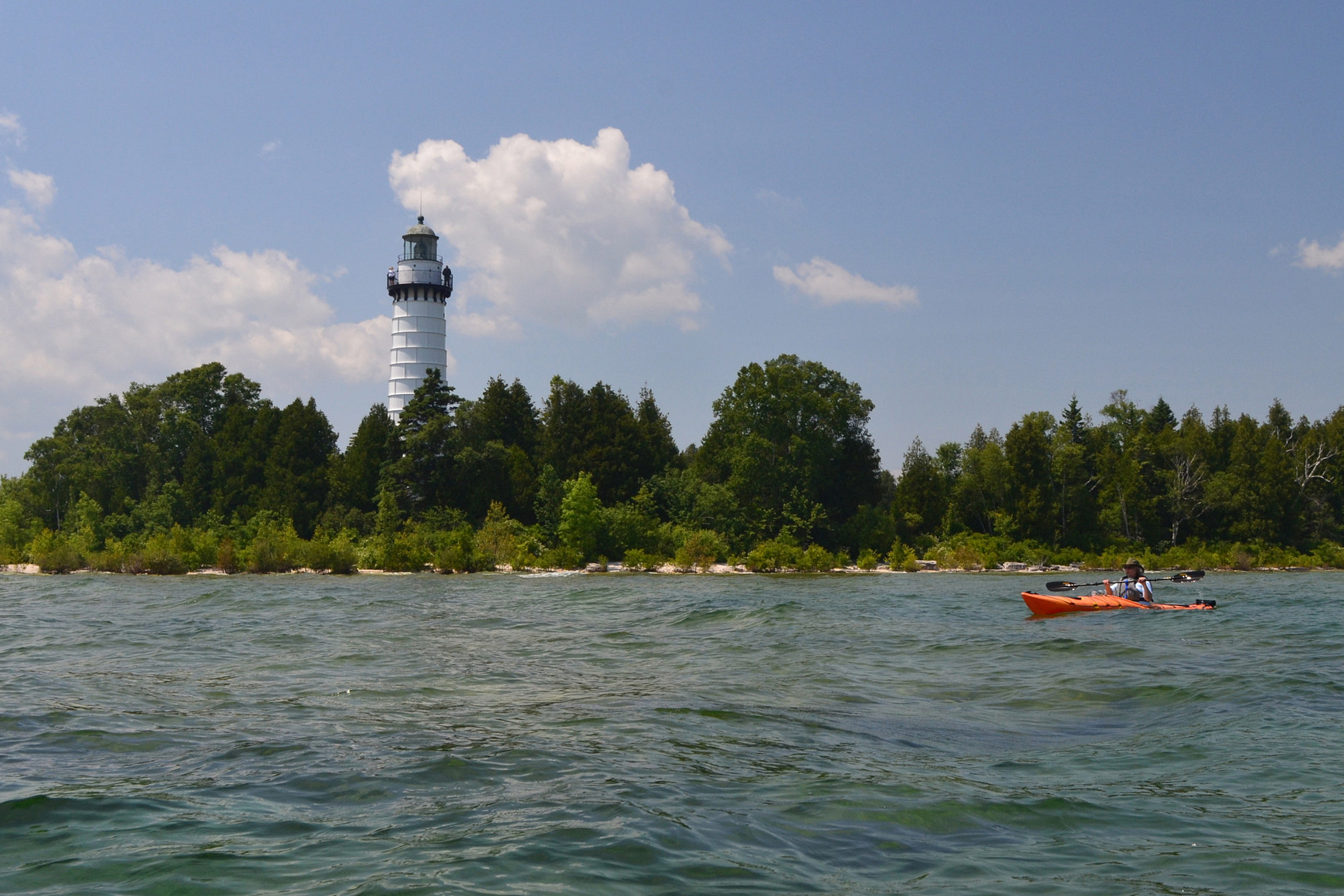 © TIM SWEET
Just a stone's throw from two scenic State Natural Areas in Door County is one of the peninsula's most photographed and recognizable sights, the Cana Island Lighthouse. The picturesque and historic lighthouse is celebrating its 150th anniversary this year.
Featuring an imposing 89-foot white tower, the lighthouse rises high above the treetops on an island east of Spike Horn Bay — a hop, skip and a scenic stroll from the Baileys Harbor Boreal Forest, and Moonlight Bay Bedrock Beach. Nearby are two other SNAs, the Ridges Sanctuary (non-DNR owned) and Mud Lake SNA within the Mud Lake Wildlife Area.
The Cana Island Lighthouse, built in 1869, is one of 11 historic lighthouses in Door County. It remains an active beacon, now powered by electricity instead of the original lard oil of decades ago.
Added to the National Register of Historic Places in 1976, the lighthouse offers tours conducted by the Door County Maritime Museum. A construction project is underway to build a new interpretive center on the grounds.
A causeway connects Cana Island to the mainland, where a public parking area is available. Visitors can walk to the lighthouse, though recent higher water levels make it more of a wade than a walk.
For those who prefer to stay dry, the museum operates free haywagon rides to transport people to the island. It also can be reached by paddlers.
The highlight of a visit to the Cana Island Lighthouse is climbing the tower's spiral staircase — all 97 steps — to the deck, where spectacular views of Lake Michigan and the Door Peninsula await. Visitors also can tour areas including the keeper's quarters, last occupied in 1995.
Andrea Zani is managing editor of Wisconsin Natural Resources magazine.
INFORMATION
Cana Island Lighthouse, 8800 Cana Island Road in Baileys Harbor, is open daily from 10 a.m. to 5 p.m., May through October. Admission is $12 for adults, $10 for ages 5-17, and free for 4 and under. Children must be at least 5 years old and 42 inches tall to climb the tower. For details, check the website of the Door County Maritime Museum.
CELEBRATE DOOR LIGHTHOUSES
Boasting 11 historic lighthouses plus a museum dedicated to nautical history, Door County is a mecca for maritime enthusiasts.
The Door County Maritime Museum in Sturgeon Bay features a variety of exhibits recognizing the area's rich maritime history. The museum is open year-round; hours vary by season. It offers an occasional tugboat tour in-season.
Museum admission is $10 for adults, $9 for 65-plus and retired military, $5 for ages 5-17, and free for 4-under and active military. The tugboat tour, when available, is extra.
The museum also organizes Door County's annual lighthouse festivals in spring and fall. The latter is planned for Oct. 12-13 this year.
The festival features several boat trips and kayak excursions to see and tour historic lighthouses, including some not typically open to the public. Eagle Bluff Lighthouse in Peninsula State Park is part of the fall festival, including a chance to sail on a historic tall ship to visit the site.
Festival costs vary by tour, with most outings ranging from $52-$80. See the Door County Maritime Museum website for details and to buy tickets for October events. The Door County Visitor Bureau also has information about area lighthouses at Lighthouses in Door County: Beacons Then and Now.
Expanded coverage: Of lands and lighthouses