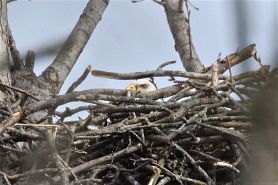 Bald eagles have made a remarkable recovery since their listing in the 1970s as an endangered species. The national ban on the pesticide DDT added protections under state and federal endangered species laws and public support of nest monitoring and protection efforts allowed bald eagles to fly off the state endangered species list in 1997 and the federal list a decade later.
Maps show bald eagles' comeback
DNR's annual aerial surveys documenting active bald eagle nests show the bird's dramatic recovery. Compare active nests in 1974, one of the earliest years of the survey, with the most recent results.
Eagle watching events
Wisconsin offers numerous opportunities to view eagles and learn more about these majestic birds. All organized events occur in winter when eagles congregate to open waters to find food. Check back in the fall when you can find links to eagle events near you.
Protections in place to keep bald eagle populations strong
Bald eagle nests are federally protected by the Bald and Golden Eagle Protection Act. The U.S. Fish and Wildlife Service's eagle permit pages provide guidance for landowners to avoid impacting eagle nests on their property.
Nest monitoring surveys and winter surveys continue to keep tabs on the population and to provide landowners with the best guidance on how to avoid impacting eagle nests. DNR aerial nest surveys in 2019 found 1,684 occupied nests, up from 108 in the 1970s.
Report nests
71 of 72 Wisconsin counties now have documented active eagle nests. Report suspected new, or "smallish" nests to DNR, particularly nests in Milwaukee County, the only county where no active nests have been documented.
Partners keep the recovery going strong
Volunteers and organizations ranging from local conservation groups like Ferry Bluff Eagle Council in Sauk Prairie to wildlife rehabilitators like the Raptor Education Group, Inc. in Antigo to tourism groups along the Wisconsin, Fox and Mississippi rivers have played a key role in restoring bald eagle populations and raising awareness about this bird and its habitat. Their continued commitment to monitoring eagles and hosting educational birdwatching events keeps eagle populations strong.
Help protect Wisconsin's eagles
Celebrate eagles and help support the next conservation success by buying a bald eagle license plate. DNR's work with bald eagles is funded by license plate sales and through donations to the Endangered Resources Fund.