FOR IMMEDIATE RELEASE: 2022-03-09
DNR Welcomes Brady USA Inc. To Wisconsin's Green Tier Program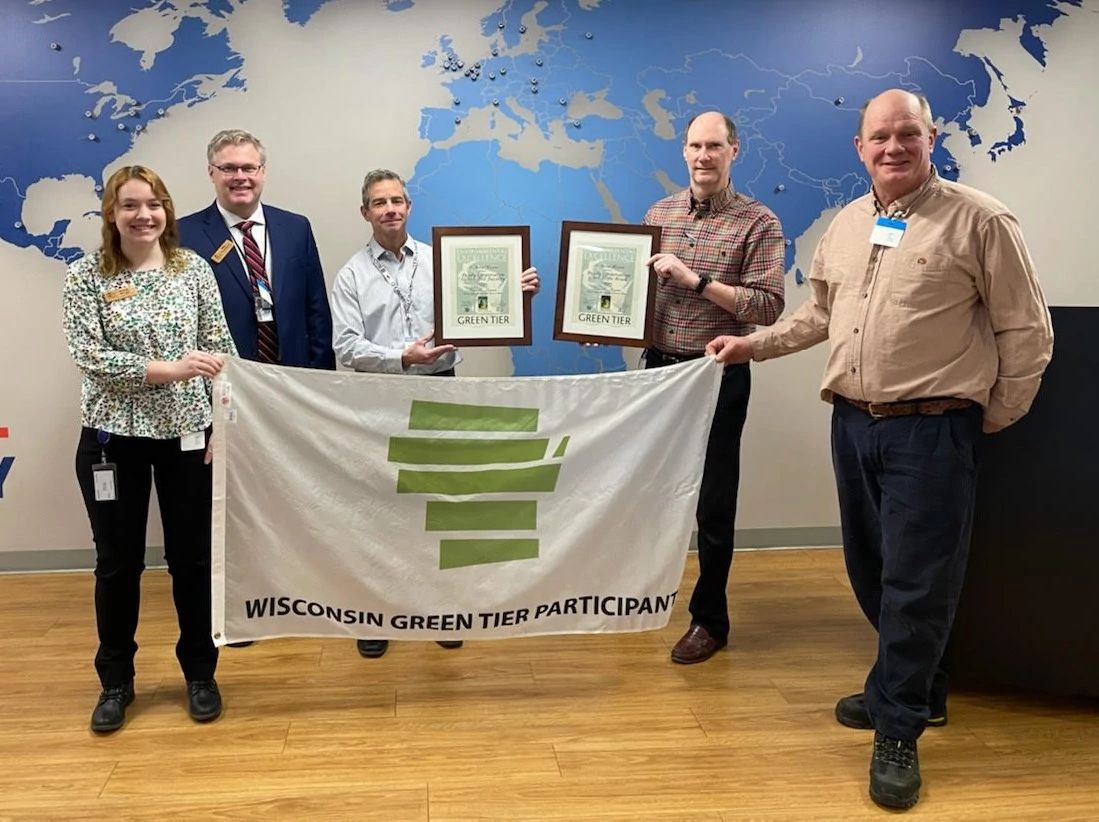 Photo credit: Wisconsin DNR
MADISON, Wis. – The Wisconsin Department of Natural Resources (DNR) welcomes Brady USA Inc.'s Good Hope Road facility as a Tier 1 participant of the state's Green Tier program.
The DNR's Green Tier program recognizes organization commitments to going above and beyond compliance to achieve continual improvement. Tier 1 of Green Tier encourages, recognizes and rewards companies committed to superior environmental performance. As a Tier 1 participant, Brady Good Hope road commits to improving its environmental impacts through its environmental management system. 
Brady manufactures safety, identification and compliance solutions, including signage, labels and printers, for organizations to improve their productivity and performance of meeting all safety and environmental regulations. Brady has facilities around the globe and is committed to environmentally friendly and sustainable initiatives worldwide.
"The Wisconsin DNR welcomes Brady Good Hope Road into the Green Tier program," said Michael Thompson, DNR Secretary's Director, Southeast Region. "We look forward to growing our relationship with the Brady Corporation as they strive to reduce their impacts on our natural resources."
The DNR celebrated Brady's acceptance into the program with a small event at the facility on Tuesday, March 8, 2022. Secretary Director Thompson presented a framed certificate and Green Tier flag to representatives from two of Brady's facilities, including Good Hope Road and the Florist Avenue location that joined Green Tier in August 2021.
Brady uses their ISO 14001 certified environmental management system, an internationally accepted certification standard for businesses, to manage and improve their environmental performance to drive their environmental goals and strategy.
Brady's leadership team focuses on improving its environmental footprint by reducing the impact of wastewater discharges, air emissions and hazardous waste. They are also working on reducing their energy consumption through efficiencies and completing automated storage system projects, cooling tower replacements and a compressed air survey.
"Brady is proud to be part of the Green Tier program," said Tom DeBruine, Director of Operations for Brady North America. "At both of our Wisconsin sites, we have worked hard to put environmentally forward initiatives in place."
"We're a global company, but our roots are in Wisconsin. We're committed to doing the right thing for our company, our employees and the environment everywhere that we have operations."
More information about Green Tier and Brady USA's Good Hope Road manufacturing facility's participation is available here.