Wisconsin DNR Naturalists and Virtual Learning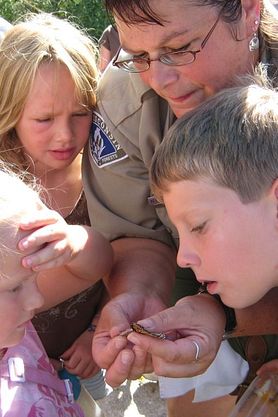 Wisconsin DNR naturalists are passionate environmental educators who are dedicated to teaching Wisconsin's residents and visitors about the natural world. Naturalists offer field trips to school groups, lead nature hikes, and provide programs on topics ranging from ecology, geography, wildlife biology, history and cultural studies to all areas of outdoor recreation and outdoor skills and safety.
DNR naturalists are located at different properties around the state. During summer, many additional Wisconsin state park system properties have part-time naturalists or volunteers to staff nature centers and lead programs.
How to request a virtual class with a DNR naturalist
While property offices are closed, if you are an educator interested in scheduling a virtual class, please reach out to one of the DNR naturalists below via their contact information and the desired topic you would like to cover. Naturalist schedules vary and they will work with you directly to best meet the needs of your request. 
Andy Brawn - Havenwoods State Forest

Lauren Finch - Crex Meadows State Wildlife Area

Liz Herzmann - Horicon Marsh State Wildlife Area

Sue Johansen-Mayoleth - Devil's Lake State Park

Pamela (Pam) Resech - Mead State Wildlife Area

Jackie Scharfenberg - Kettle Moraine State Forest - Northern Unit

Joan Voigt - Wild Rose Fish Hatchery and Mead Wildlife Area

MacKenzie Center Staff